Abstract
The engraving of projectile is of great importance during interior ballistics when a gun is fired. In order to investigate the effect of loading speed on the engraving process, quasi-static and dynamic engraving tests are performed, respectively. Small caliber projectiles were engraved by using an MTS809 under predetermined low loading speeds and a specially designed gas gun-based test rig under high loading speeds. The hoop strain of the exterior surface of gun barrel during engraving process was measured. Surface morphology of copper jacket after engraving was observed. Microstructural evolution in cross section of copper jacket was investigated. The present study demonstrates the critical role of strain hardening at low loading speeds and strain rate effect as well as thermal effect at high loading speeds during the engraving process.
This is a preview of subscription content, log in to check access.
Access options
Buy single article
Instant access to the full article PDF.
US$ 39.95
Price includes VAT for USA
Subscribe to journal
Immediate online access to all issues from 2019. Subscription will auto renew annually.
US$ 199
This is the net price. Taxes to be calculated in checkout.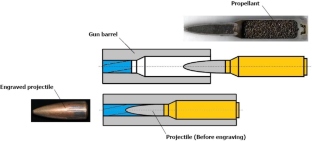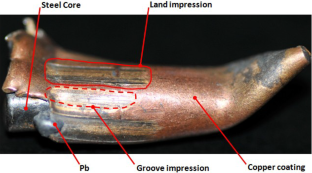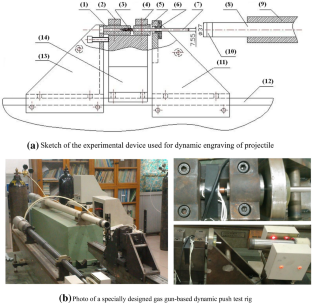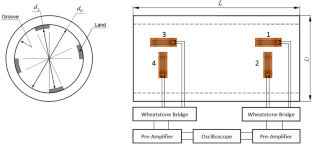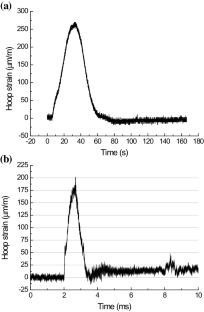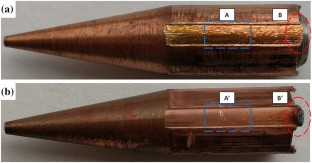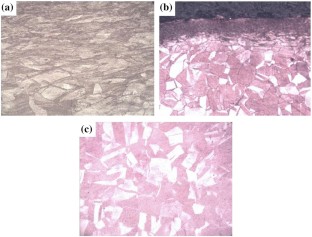 References
1.

Hartman, W.F., Stirbis, P.P.: Rotating band pressures and engraving forces in 155 mm artillery shell. Trans. ASME J. Eng. Mater. Technol. 95, 124–129 (1973)

2.

Montgomery, R.S.: Muzzle wear of cannon. Wear 33(2), 359–368 (1975)

3.

Montgomery, R.S.: Interaction of copper-containing rotating band metal with gun bores at the environment present in a gun tube. Wear 33(1), 109–128 (1975)

4.

Montgomery, R.S.: Surface melting of rotating bands. Wear 38(2), 235–243 (1976)

5.

Montgomery, R.S.: Friction and wear at high sliding speeds. Wear 36(3), 275–298 (1976)

6.

Montgomery, R.S.: Projectile lubrication by melting rotating bands. Wear 39(1), 181–183 (1976)

7.

Montgomery, R.S.: Friction of gilding metal sliding on chromium-plated steel. Wear 50(2), 387–392 (1978)

8.

Montgomery, R.S.: Wear of projectile rotating bands. Wear 101(4), 347–356 (1985)

9.

Chen, P.C.T.: (1999) Analysis of Engraving and Wear in a Projectile Rotating Band. Technical Report ARCCB-TR-99012. US Armament Research, Watervliet

10.

Chen, P.C.T., Leach, M.: Modeling of Barrel/Projectile Interaction in a Rotating Band. Technical Report ARCCB-TR-01011. US Armament Research, Watervliet (2001)

11.

Siewert, J.: Small caliber engraving force measurements. In: 50th Annual Joint Services Small Arms Systems Section Annual Symposium. NDIA Small Arms, Las Vegas (2004)

12.

Siewert, J., Cytron, S.: Rifling Profile Push Tests: An Assessment of Bullet Engraving Forces in Various Rifling Designs. Contractor Report ARAET-CR-04002. United States Army Armament Research, Picatinny Arsenal (2005)

13.

South, J., Powers, B., Minnicino, M.: Evaluations of computational techniques for the engraving of projectiles. WIT Trans. Modell. Simul. Comput. Ballist. III 45, 193–202 (2007)

14.

White, L., Siewert, J.: Final Report of the Rifling Profile Push Test. ARL-CR-593. U.S. Army Research Laboratory, Aberdeen (2007)

15.

South, J., Yiournas, A., Wagner, J., Brown, J., Kaste, R.: A Study of the Engraving of the M855 5.56-mm Projectile. ARL-TR-4743. U.S. Army Research Laboratory, Aberdeen (2009)

16.

Sequard–Base, J., Haas, R., Tomastik, C., Vernes, A., Franek, F.: Barrel friction in sport rifles. Tribol. Lett. 66, 3 (2018)

17.

Wu, B., Zheng, J., Tian, Q.T., Zou, Z.Q., Chen, X.L., Zhang, K.S.: Friction and wear between rotating band and gun barrel during engraving process. Wear 318(1–2), 106–113 (2014)

18.

Johnson, R.G., Cook, W.H.: A constitutive model and data for metals subjected to large strains, high strain rates and high temperatures. Int. Symp. Ballis. 7, 541–547 (1983)

19.

Wu, B., Zheng, J., Tian, Q.T., Zou, Z.Q., Yu, X.H., Zhang, K.S.: Tribology of rotating band and gun barrel during engraving process under quasi-static and dynamic loading. Friction 2(4), 330–342 (2014)

20.

Tanner, A.B., McDowell, D.L.: Deformation, temperature and strain rate sequence experiments on OFHC Cu. Int. J. Plasticity 15, 375–399 (1999)

21.

Bhattacharyya, A., Rittel, D., Ravichandran, G.: Effect of strain rate on deformation texture in OFHC copper. Scr. Mater. 52, 657–661 (2005)

22.

Wang, K., Tao, N.R., Liu, G., Lu, J., Lu, K.: Plastic strain-induced grain refinement at the nanometer scale in copper. Acta Mater. 54, 5281–5291 (2006)

23.

Andrews, T.D.: Projectile driving band interactions with gun barrels. J. Pressure Vessel Technol. 128, 273–278 (2006)

24.

Toivola, J., Moilanen, S., Jussila, H.R.: Force, pressure and strain measurements for traditional heavy mortar launch cycle. J. Struct. Mech. 44(4), 309–329 (2011)

25.

Deng, S.Q., Godfrey, A., Liu, W., Zhang, C.L.: Microstructural evolution of pure copper subjected to friction sliding deformation at room temperature. Mater. Sci. Eng. A 639, 448–455 (2015)

26.

Deng, S.Q., Godfrey, A., Liu, W., Hansen, N.: A gradient nanostructure generated in pure copper by platen friction. Scr. Mater. 117, 41–45 (2016)
Acknowledgements
The authors acknowledge the financial support from the Natural Science Foundation of China (51475471 and 51175512).
Additional information
Publisher's Note
Springer Nature remains neutral with regard to jurisdictional claims in published maps and institutional affiliations.
About this article
Cite this article
Wu, B., Fang, L.H., Zheng, J. et al. Strain Hardening and Strain-Rate Effect in Friction Between Projectile and Barrel During Engraving Process. Tribol Lett 67, 39 (2019). https://doi.org/10.1007/s11249-019-1151-1
Received:

Accepted:

Published:
Keywords
Gun barrel

Projectile

Interaction

Engraving

Friction

Strain hardening

Strain-rate effect