Abstract
In addition to a chemical component in the washing of fabrics, mechanical actions play an important role that have scarcely being investigated in a systematic way. For this purpose, it is developed a washing simulator rig capable to stretch, bend, and abrade fabrics in a controllable and monitored environment. Important friction parameters between cotton fabrics are determined and compared with those obtained from a commercial tribometer. Using fluorescence microscopy and fluorescent hydrophobic dyes, the washing simulator rig can monitor in situ and in real time the removal of fats from fabrics undergoing abrasion inside a water bath, even in the presence of detergents.
This is a preview of subscription content, log in to check access.
Access options
Buy single article
Instant unlimited access to the full article PDF.
US$ 39.95
Price includes VAT for USA
Subscribe to journal
Immediate online access to all issues from 2019. Subscription will auto renew annually.
US$ 199
This is the net price. Taxes to be calculated in checkout.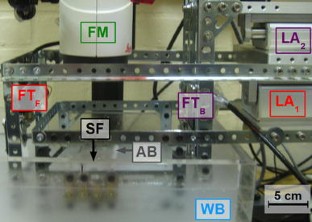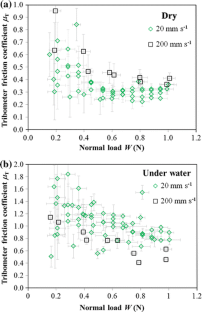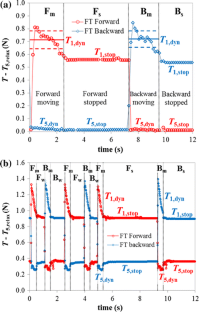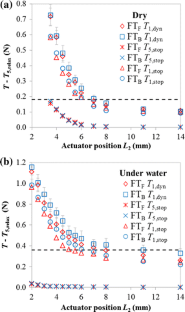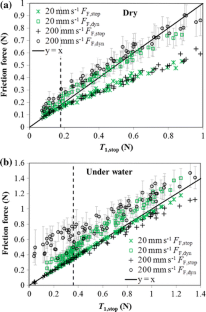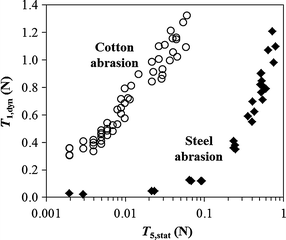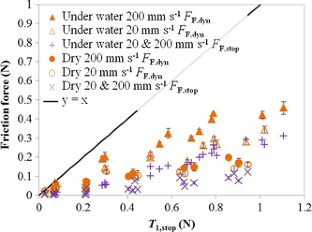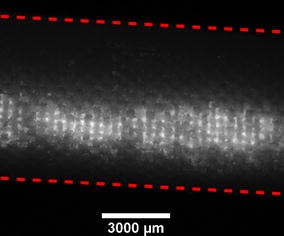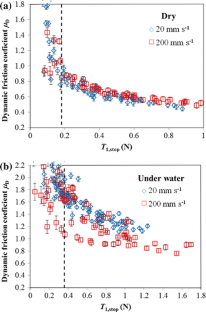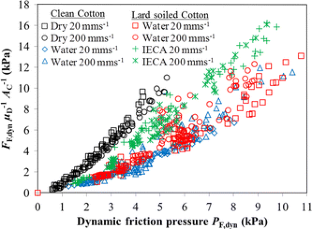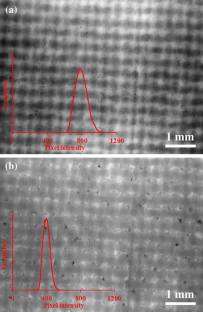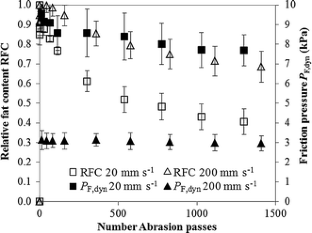 References
1.

Mercadé-Prieto R, Bakalis S. Text Res J, In Press, Doi: 10.1177/0040517513490059 (2013)

2.

Gotoh, K.: Text. Res. J. 80, 548–556 (2010)

3.

Hasegawa T, Sen-I Gakkaishi 61, 232–234 (2005)

4.

Lee, A., Seo, M.H., Yang, S., Koh, J., Kim, H.: Fibers Polym 9, 101–106 (2008)

5.

Baussan, E., Bueno, M.-A., Rossi, R.M., Derler, S.: Wear 268, 1103–1110 (2010)

6.

Bertaux, E., Lewandowski, M., Derler, S.: Text. Res. J. 77, 387–396 (2007)

7.

Bilisik, K., Yolacan, G.: Textile Res. J. 79, 1625–1632 (2009)

8.

Ramkumar, S.S., Rajanala, R., Parameswaran, S., Paige, R., Shaw, A., Shelly, D.C., Anderson, T.A., Cobb, G.P., Mahmud, R., Roedel, C., Tock, R.W.: J. Appl. Polym. Sci. 91, 3879–3885 (2004)

9.

Koç, İ.M., Aksu, C.: Tribol. Int. 59, 339–349 (2013)

10.

Guo, F., Zhang, Z., Zhang, H., Wang, K., Jiang, W.: Tribol. Int. 43, 1466–1471 (2010)

11.

Malone, M.E., Appelqvist, I.A.M., Norton, I.T.: Food Hydrocol 17, 763–773 (2003)

12.

Garrec, D.A., Norton, I.T.: Food Hydrocol 26, 389–397 (2012)

13.

Cassin, G., Heinrich, E., Spikes, H.A.: Tribology Lett 11, 95–102 (2001)

14.

De Vicente, J., Stokes, J.R., Spikes, H.A.: Tribology Int 38, 515–525 (2005)

15.

Edelstein A, Amodaj N, Hoover K, Vale R, Stuurman N. Curr Protoc Mol Biol 14.20, DOI: 10.1002/0471142727.mb1420s92 (2010)

16.

Gerhardt, L.-C., Mattle, N., Schrade, G.U., Spencer, N.D., Derler, S.: Skin Res Technol 14, 77–88 (2008)

17.

Derler, S., Schrade, U., Gerhardt, L.-C.: Wear 263, 1112–1116 (2007)

18.

Gerhardt, L.-C., Strässle, V., Lenz, A., Spencer, N.: Derler S. J Royal Soc Interf 5, 1317–1328 (2008)

19.

Aliouche, D., Viallier, P.: Text. Res. J. 70, 939–944 (2000)

20.

Fujimoto, T., Sunderland, M.R., Tandona, S.K., Asano, C.M., Asano, A., Murata, C., Fukuyama, H.: Ind. J. Fib. Text Res. 33, 253–257 (2008)

21.

Hermann, D., Ramkumar, S.S., Seshaiyer, P., Parameswaran, S.: J. Appl. Polym. Sci. 92, 2420–2424 (2004)

22.

Blau, P.J.: Friction Science and Technology: From Concepts to Applications, 2nd edn. CRC Press, Boca Raton (2009)

23.

Rotaru G-M, Pille D, Lehmeier F, Stämpfli R, Scheel-Sailer A, Rossi RM, Derler S. Tribol Int, In Press, http://dx.doi.org/10.1016/j.triboint.2013.02.005 (2013)

24.

Brar JS, Bansal RK. Belts, Ropes and Chain Drives, Chapter 7, in: A Textbook of Theory of Machines (In S.I. Units), 5th Edition. New Dehli, India: Laxmi Publications (2010)

25.

Werkmeister, J., Slocum, A.: Precis Eng. 21, 55–67 (2007)

26.

Sonesson, A.W., Callisen, T.H., Elofsson, U.M., Brismar, H.: J. Surfactants Deterg. 10, 211–218 (2007)

27.

Mercadé-Prieto, R., Pan, X., Fernández-González, A., Zhang, Z., Bakalis, S.: Ind. Eng. Chem. Res. 51, 16741–16749 (2012)
Acknowledgments
This work was supported by the Engineering and Physical Sciences Research Council (EPRSC), UK, through Grant Number EP/H035540/1.
Electronic supplementary material
Below is the link to the electronic supplementary material.
Supplementary material 1 (MPG 2639 kb)
Supplementary material 2 (MPG 9992 kb)
About this article
Cite this article
Mercadé-Prieto, R., Bakalis, S. Washing Simulator Rig to Study the Effect of Abrasion on the Removal of Soils from Fabrics. Tribol Lett 52, 175–183 (2013) doi:10.1007/s11249-013-0236-5
Received:

Accepted:

Published:

Issue Date:
Keywords
Detergents

Textile manufacturing

Friction test methods

Fluorescence

Cotton