Abstract
Low temperature diffusion treatments with nitrogen and carbon have been widely used to increase the tribological performance of austenitic stainless steels. These processes produce a layer of supersaturated austenite, usually called expanded austenite or S-phase, which exhibits good corrosion and wear resistance. The novel active screen technology is said to provide benefits over the conventional DC plasma technology. The improvements result from the reduction in the electric potential applied to the treated components, and the elimination of such defects and processing instabilities as edge effects, hollow cathode effects and arcing. In this study, AISI 316 coupon samples were plasma carburised in DC and active screen plasma furnaces. The respective layers of carbon expanded austenite were characterised and their tribological performance was studied and compared. Detailed post-test examinations included SEM observations of the wear tracks and of the wear debris, EDX mapping of the wear track, EBSD crystal orientation mapping of the cross sections of the wear tracks, and cross-sectional TEM. Based on the results of wear tests and post-test examinations, the wear mechanisms involved are discussed.
This is a preview of subscription content, log in to check access.
Access options
Buy single article
Instant access to the full article PDF.
US$ 39.95
Price includes VAT for USA
Subscribe to journal
Immediate online access to all issues from 2019. Subscription will auto renew annually.
US$ 199
This is the net price. Taxes to be calculated in checkout.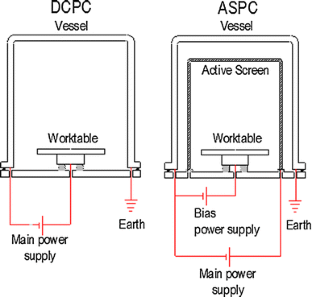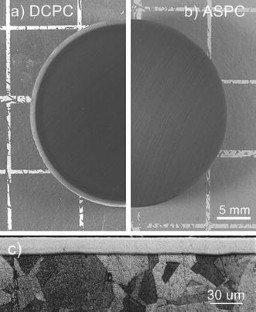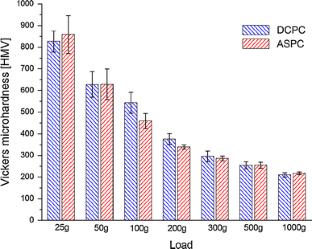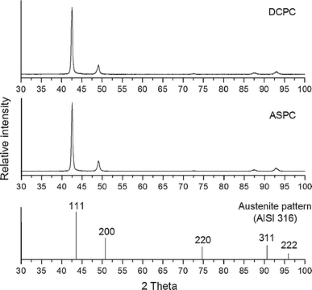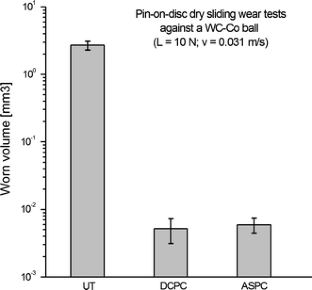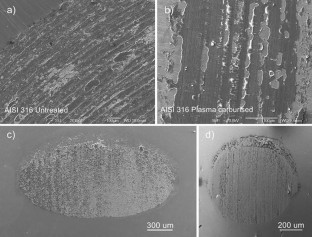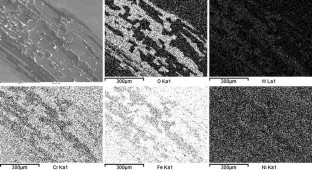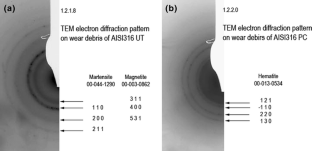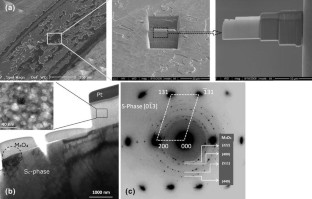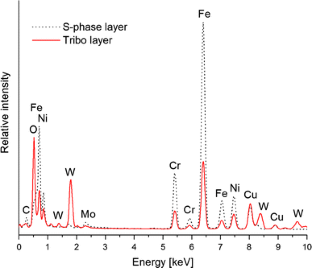 References
1.

Aoki, K., Shirahata, T., Tahara, M., Kitano, K.: Low temperature gas carburising for austenitic stainless steels: the NV-Pionite process. Paper presented at the Stainless Steel 2000, Osaka, November 2000

2.

van der Jagt, R.H., Kolster, B.H., Gillham, M.W.H.: Anti-wear/corrosion treatment of finished austenitic stainless steel components: the Hardcor process. Mater. Design. 12(1), 41–46 (1991)

3.

Bos, M.J.: Case hardening of austenitic stainless steel pump components. In: World Pumps, pp. 30-34. Elsevier, Oxford (1998)

4.

Dong, H.: S-phase surface engineering of Fe-Cr, Co-Cr and Ni-Cr alloys. Mater. Rev. 55(2), 65–98 (2010)

5.

Dong, H., Qi, P.-Y., Li, X.Y., Llewellyn, R.J.: Improving the erosion-corrosion resistance of AISI 316 austenitic stainless steel by low-temperature plasma surface alloying with N and C. Mat. Sci. Eng. A. 431, 137–145 (2006)

6.

Sun, Y., Haruman, E.: Effect of electrochemical potential on tribocorrosion behavior of low temperature plasma carburized 316L stainless steel in 1 M H2SO4 solution. Surf. Coat. Tech. 205(17-18), 4280–4290 (2011)

7.

Qu, J., Blau, P.J., Jolly, B.C.: Tribological properties of stainless steel treated by colossal carbon supersaturation. Wear 263(1–6), 719–726 (2007)

8.

Sun, Y., Bell, T.: Dry sliding wear resistance of low temperature plasma carburised austenitic stainless steel. Wear 253(5–6), 689–693 (2002)

9.

Sun, Y., Bell, T.: Effect of layer thickness on the rolling-sliding wear behavior of low-temperature plasma-carburized austenitic stainless steel. Tribol. Lett. 13(1), 29–34 (2002)

10.

Li, X.Y.: Low temperature plasma nitriding of 316 stainless steel - Nature of S-phase and its thermal stability. Surf. Eng. 17(2), 147–152 (2001)

11.

Li, X.Y., Thaiwatthana, S., Dong, H., Bell, T.: Thermal stability of carbon S phase in 316 stainless steel. Surf. Eng. 18(6), 448–452 (2002)

12.

Christiansen, T.: Somers, M.: Characterisation of low temperature surface hardened stainless steel. Struers J Mater 9, 1–17 (2006)

13.

Bell, T.: Surface engineering of austenitic stainless steel. Surf. Eng. 18(6), 415–422 (2002)

14.

Bell, T., Sun, Y., Suhadi, A.: Environmental and technical aspects of plasma nitrocarburising. Vacuum 59(1), 14–23 (2000)

15.

Georges, J.: Nitriding process and nitriding furnace therefor. United States of America Patent US Patent 5,989,363, 1999

16.

Corujeira Gallo, S., Dong, H.: Corrosion behaviour of direct current and active screen plasma carburised AISI 316 stainless steel in boiling sulphuric acid solutions. Corros. Eng. Sci. Techn. 46(1), 8–16 (2009)

17.

Sun, Y., Li, X., Bell, T.: Low temperature plasma carburising of austenitic stainless steels for improved wear and corrosion resistance. Surf. Eng. 15(1), 49–54 (1999)

18.

Sun, Y., Li, X.Y., Bell, T.: X-ray diffraction characterisation of low temperature plasma nitrided austenitic stainless steels. J. Mater. Sci. 34(19), 4793–4802 (1999)

19.

Christiansen, T., Somers, M.: On the crystallographic structure of S-phase. Scripta. Mater. 50, 35–37 (2004)

20.

Quinn, T.F.J.: Review of oxidational wear. Part I: The origins of oxidational wear. Tribol. Int. 16(5), 257–271 (1983)

21.

Shipway, P.H., Hogg, J.J.: Dependence of microscale abrasion mechanisms of WC-Co hardmetals on abrasive type. Wear 259(1–6), 44–51 (2005)
Acknowledgments
Dr. S. Corujeira Gallo would like to acknowledge the financial contribution made by Roberto Rocca Education Program to the present project.
About this article
Cite this article
Corujeira Gallo, S., Li, X. & Dong, H. Dry Sliding Wear of Active Screen Plasma Carburised Austenitic Stainless Steel. Tribol Lett 45, 153–160 (2012). https://doi.org/10.1007/s11249-011-9875-6
Received:

Accepted:

Published:

Issue Date:
Keywords
Steel

Surface modification

S-phase

Unlubricated wear

Wear mechanisms

Metallurgical analysis