Abstract
An instrument has been developed that allows in situ optical analysis and tribological measurements for contacts between solid bodies; an interferometric optical analysis can be used to measure and observe contact size, contact geometry, near contact topography, tribofilm formation, tribofilm motion, tribofilm thickness, wear debris formation, and wear debris morphology. The optical arrangement is in such a way that a 0th order interference fringe highlights the real contact area of contact, while near contact regions are height-mapped with higher order Newton's rings interference fringes. Images synchronized with force and position measurements allow for the potential to test and validate models for contact mechanics, adhesion, and sliding. The contact and friction measurement between a rough rubber sphere and a polished glass counterface were studied over a range of loads from 1 to 50 mN.
This is a preview of subscription content, log in to check access.
Access options
Buy single article
Instant access to the full article PDF.
US$ 39.95
Price includes VAT for USA
Subscribe to journal
Immediate online access to all issues from 2019. Subscription will auto renew annually.
US$ 199
This is the net price. Taxes to be calculated in checkout.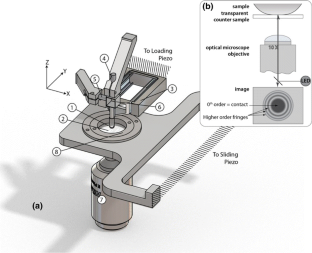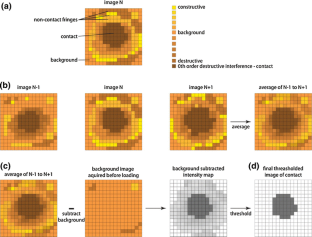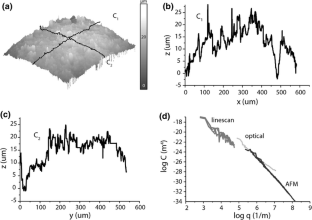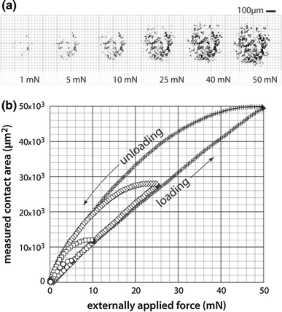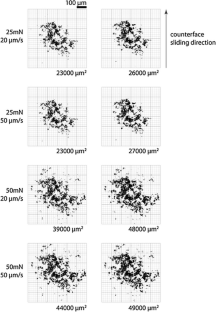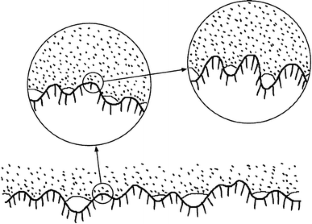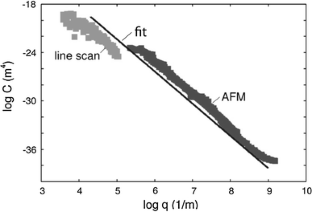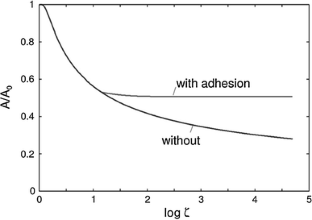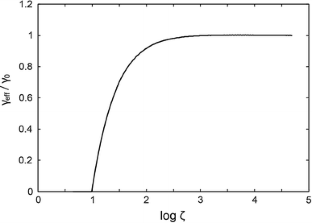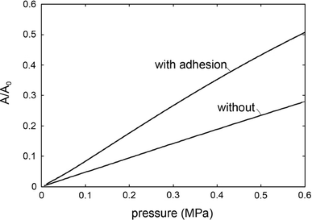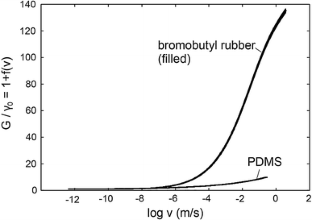 References
1.

Sawyer, W.G., Wahl, K.J.: Accessing inaccessible interfaces: in situ approaches to materials tribology. MRS Bull. 33, 1145–1148 (2008)

2.

Wahl, K.J., Sawyer, W.G.: Observing interfacial sliding processes in solid–solid contacts. MRS Bull. 33, 1159–1167 (2008)

3.

Scharf, T.W., Singer, I.L.: Monitoring transfer films and friction instabilities with in situ Raman tribometry. Tribol. Lett. 14, 3–8 (2003)

4.

Rebelo de Figueiredo, M., Muratore, C., Franz, R., Chromik, R., Wahl, K., Voevodin, A., O'Sullivan, M., Lechthaler, M., Mitterer, C.: In situ studies of tic1 − xnx hard coating tribology. Tribol. Lett. 40, 365–373 (2010)

5.

Murarash, B., Varenberg, M.: Tribometer for in situ scanning electron microscopy of microstructured contacts. Tribol. Lett. 41, 319–323 (2011)

6.

Merkle, A.P., Marks, L.D.: Liquid-like tribology of gold studied by in situ tem. Wear 265, 1864–1869 (2008)

7.

Dyson, J., Hirst, W.: The true contact area between solids. Proc. Phys. Soc. Lond. Sect. B 67, 309–312 (1954)

8.

Bowden, F.P., Tabor, D.: The Friction and Lubrication of Solids. Oxford University Press, Oxford (1954)

9.

Holm, R.: Electric Contacts Handbook. Springer-Verlag, Berlin (1958)

10.

Mccutchen, C.W.: Optical systems for observing surface topography by frustrated total internal reflection and interference. Rev. Sci. Instrum. 35, 1340–1345 (1964)

11.

O'Callaghan, P.W., Probert, S.D.: Prediction and measurement of true areas of contact between solids. Wear 120, 29–49 (1987)

12.

Chromik, R.R., Baker, C.C., Voevodin, A.A., Wahl, K.J.: In situ tribometry of solid lubricant nanocomposite coatings. Wear 262, 1239–1252 (2007)

13.

Wahl, K.J., Chromik, R.R., Lee, G.Y.: Quantitative in situ measurement of transfer film thickness by a Newton's rings method. Wear 264, 731–736 (2008)

14.

Federle, W., Barnes, W.J.P., Baumgartner, W., Drechsler, P., Smith, J.M.: Wet but not slippery: boundary friction in tree frog adhesive toe pads. J. R. Soc. Interface 3, 689–697 (2006)

15.

Federle, W., Endlein, T.: Locomotion and adhesion: dynamic control of adhesive surface contact in ants. Arthropod Struct. Dev. 33, 67–75 (2004)

16.

Federle, W., Riehle, M., Curtis, A.S.G., Full, R.J.: An integrative study of insect adhesion: mechanics and wet adhesion of pretarsal pads in ants. Integr. Comp. Biol. 42, 1100–1106 (2002)

17.

Bowden, F.P., Tabor, D.: The area of contact between stationary and between moving surfaces. Proc. R. Soc. Lond. Ser. A 169, 391–413 (1939)

18.

Archard, J.F.: Elastic deformation and the laws of friction. Proc. R. Soc. Lond. Ser. A 243, 190–205 (1957)

19.

Greenwood, J.A., Williamson, J.B.P.: Contact of nominally flat surfaces. Proc. R. Soc. Lond. Ser. A 295, 300–319 (1966)

20.

Whitehouse, D.J., Archard, J.F.: The properties of random surfaces of significance in their contact. Proc. R. Soc. Lond. Ser. A 316, 97–121 (1970)

21.

Johnson, K.L., Kendall, K., Roberts, A.D.: Surface energy and the contact of elastic solids. Proc. R. Soc. Lond. Ser. A 324, 301–313 (1971)

22.

Kendall, K.J.: Adhesion and surface energy of elastic solids. J. Phys. D 4, 1186–1195 (1971)

23.

Derjaguin, B.V., Muller, V.M., Toporov, Y.P.: Effect of contact deformations on the adhesion of particles. J. Colloid Interface Sci. 53, 314–326 (1975)

24.

Tabor, D.: Surface forces and surface interactions. J. Colloid Interface Sci. 58, 2–13 (1977)

25.

Maugis, D.: Adhesion of spheres: The jkr-dmt transition using a dugdale model. J. Colloid Interface Sci. 150, 243–269 (1992)

26.

Greenwood, J.A.: Adhesion of elastic spheres. Proc. Math. Phys. Eng. Sci. 453, 1277–1297 (1997)

27.

Johnson, K.L.: Mechanics of adhesion. Tribol. Int. 31, 413–418 (1998)

28.

Persson, B.N.J.: Theory of rubber friction and contact mechanics. J. Chem. Phys. 115, 3840–3861 (2001)

29.

Persson, B.N.J.: Contact mechanics for randomly rough surfaces. Surf. Sci. Rep. 61, 201–227 (2006)

30.

Varenberg, M., Peressadko, A., Gorb, S., Arzt, E., Mrotzek, S.: Advanced testing of adhesion and friction with a microtribometer. Rev. Sci. Instrum. 77, 066105 (2006)

31.

Persson, B.N.J., Albohr, O., Heinrich, G., Ueba, H.: Crack propagation in rubber-like materials. J. Phys. Condens. Matter 17, R1071–R1142 (2005)

32.

Persson, B.N.J., Brener, E.A.: Crack propagation in viscoelastic solids. Phys. Rev. E 71, 036123 (2005)

33.

Vorvolakos, K., Chaudhury, M.K.: The effects of molecular weight and temperature on the kinetic friction of silicone rubbers. Langmuir 19, 6778–6787 (2003)

34.

Persson, B.N.J.: Adhesion between an elastic body and a randomly rough hard surface. Eur. Phys. J. E 8, 385–401 (2002)

35.

Barquins, M., Roberts, A.D.: Rubber-friction variation with rate and temperature—some new observations. J. Phys. D 19, 547–563 (1986)

36.

Chateauminois, A., Danh, T.N., Paolino, P., Audry, M.C., Fretigny, C., Le Chenadec, Y., Portigliatti, M., Barthel, E.: Surface pressure and shear stress fields within a frictional contact on rubber. J. Adhes. 87, 235–250 (2011)

37.

Wu-Bavouzet, F., Clain-Burckbuchler, J., Buguin, A., De Gennes, P.G., Brochard-Wyart, F.: Stick-slip: wet versus dry. J. Adhes. 83, 761–784 (2007)

38.

Savkoor, A.R., Briggs, G.A.D.: Effect of tangential force on contact of elastic solids in adhesion. Proc. R. Soc. Lond. Ser. A 356, 103–114 (1977)

39.

Persson, B.N.J., Sivebaek, I.M., Samoilov, V.N., Zhao, K., Volokitin, A.I., Zhang, Z.: On the origin of Amonton's friction law. J. Phys. Condens. Matter 20, 395006 (2008)

40.

Carbone, G., Mangialardi, L.: Adhesion and friction of an elastic half-space in contact with a slightly wavy rigid surface. J. Mech. Phys. Solids 52, 1267–1287 (2004)

41.

Persson, B.N.J., Volokitin, A.I.: Rubber friction on smooth surfaces. Eur. Phys. J. E 21, 69–80 (2006)
Acknowledgments
The authors gratefully acknowledge Bertrand Bellaton at CSM instruments for collaboration and development of a low profile optical path for the objective, camera, and light source. We would also like to thank David Hahn, Dan Dickrell, Pete Dillinger, and Nicolas Argibay at the University of Florida and Nestor Rodriguez and Paolo Mangiagalli at Becton–Dickinson for useful discussion and collaboration.
About this article
Cite this article
Krick, B.A., Vail, J.R., Persson, B.N.J. et al. Optical In Situ Micro Tribometer for Analysis of Real Contact Area for Contact Mechanics, Adhesion, and Sliding Experiments. Tribol Lett 45, 185–194 (2012). https://doi.org/10.1007/s11249-011-9870-y
Received:

Accepted:

Published:

Issue Date:
Keywords
Contact area

In situ

Optical

Tribometer

Tribology

Contact mechanics

Rubber

Friction