Abstract
Polished, grinded, and milled samples made of 40Cr stainless steel were prepared for the cavitation erosion experiment. A typical phenomenon of "pits chain", which consisted of two contact pits and a smaller pit on the ridge between them, was found on the sample surfaces after 15-minute experiment. Numerical simulation indicated that the pressure fluctuation caused by the sequentially formed pits on the solid surface was the main reason for the formation of the "pits chain". It proves that the early-formed pits affect the formation of the subsequent erosion pits, and the whole cavitation erosion process is not a probability event. Based on the numerical analyses, the development of erosion is divided into four stages, which describe how a pit develops vertically and horizontally under the effect of the pressure perturbation. The development was validated by the characteristics of the damaged surface observed at different experimental time.
This is a preview of subscription content, log in to check access.
Access options
Buy single article
Instant access to the full article PDF.
US$ 39.95
Price includes VAT for USA
Subscribe to journal
Immediate online access to all issues from 2019. Subscription will auto renew annually.
US$ 199
This is the net price. Taxes to be calculated in checkout.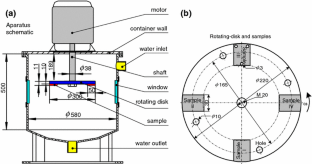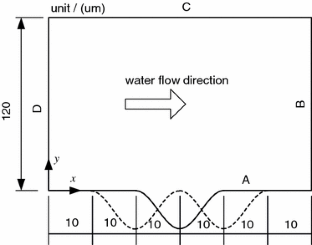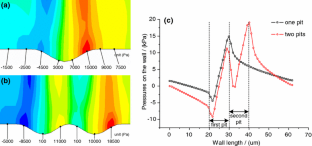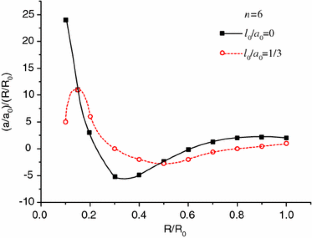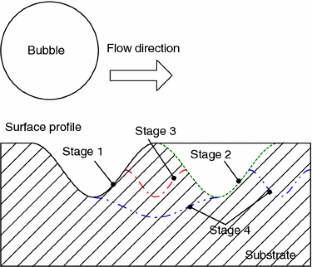 References
1.

F.G. Hammitt, Cavitation and multiphase flow phenomena (McGraw-Hill Inc., USA, 1980).

2.

C.L. Kling, A high speed photographic study of cavitation bubble collapse, Ph.D. thesis, University of Michigan, 1970.

3.

N.D. Shutlera and R.B. Mesler, Transaction of ASME, J. Basic Engr. 87 (1965) 511.

4.

P.V. Marques, E.T. Roseana, Mater. Charact. 41(1998) 193.

5.

Iwai Yoshiro, Li. Shengcai, Wear 254 (2003) 1

6.

G. Birkhoff, Q. Appl. Math. 25 (1954)

7.

K.A. Mørch, J. Fluids Eng. 122 (2000) 494

8.

M. Pohl, J. Stella, Wear 252 (2002) 501

9.

S.F. Jones, G.M. Evans, K.P. Galvin, Adv. Colloid Interface Sci. 80 (1999) 27

10.

FLUENT User's guide handbook, Release version: 6.1.18, 1998 Fluent Inc

11.

M.S. Plesset, R.B. Chapman, J. Fluid Mech. 47 (1971) 283

12.

M.S. Plesset, T.P. Mitchell, Q. Appl. Mathematics 13 (1956)

13.

J.T. Huang, Theory and Application of Cavitation and Cavitation Erosion (Tsinghua Univ. Press, 1991) pp. 50–51. In Chinese

14.

J.T. Huang, Theory and Application of Cavitation and Cavitation Erosion (Tsinghua Univ. Press, 1991) pp. 24–25. In Chinese

15.

F.G. Hammitt, Mechanical cavitation damage phenomena and corrosion fatigue, UMICH report, No. 03371–7-T, University of Michigan, 1971

16.

A. Shima, K. Takayama and Y. Tomita, Mechanisms of the bubble collapse near a solid wall and the induced impact pressure generation, Rep. Inst. High Speed Mech., Tohoku Univ., Vol. 48 (1984)

17.

R. Hickling, M.S. Plesset, Phys. Fluids 7 (1964) 7
Acknowledgments
The authors would like to thank Ms. Jiang nana and Mr. Qin Li (Tsinghua University) for their help in preparing the experiment. This work is supported by the Research Fund for the Doctoral Program of Higher Education(No. 20030003026), NSFC Project (No. 50505020), and NSFC Project (No. 50475018).
About this article
Cite this article
Haosheng, C., Yongjian, L., Darong, C. et al. Experimental and numerical investigations on development of cavitation erosion pits on solid surface. Tribol Lett 26, 153–159 (2007). https://doi.org/10.1007/s11249-006-9188-3
Received:

Accepted:

Published:

Issue Date:
Keywords
cavitation erosion

cavitation

wear

surface roughness