Abstract
Thin fluid film is thought to be formed between the wafer surface and the pad asperity. Hydrodynamic pressure on the surface asperity is periodically generated when particles are passing through it. Fatigue fracture occurs under the effect of periodic pressure, and the fatigue begins from the top to the bottom of the asperity. The removal rate is calculated based on the energy-balance fracture theory. Particle size and its relative velocity are important parameters that affect the polishing effect. Using the multiphase model and the power–law viscosity model of the slurry, particle's velocity and its distribution in the slurry are numerically calculated. The results indicate that the slurry film thickness needs to be in the same order of the particle size that the particle can generate effective hydrodynamic pressure to remove the asperity materials.
This is a preview of subscription content, log in to check access.
Access options
Buy single article
Instant access to the full article PDF.
US$ 39.95
Price includes VAT for USA
Subscribe to journal
Immediate online access to all issues from 2019. Subscription will auto renew annually.
US$ 199
This is the net price. Taxes to be calculated in checkout.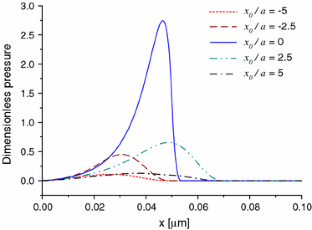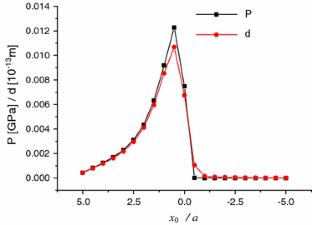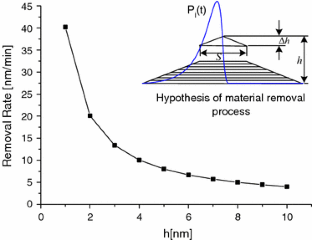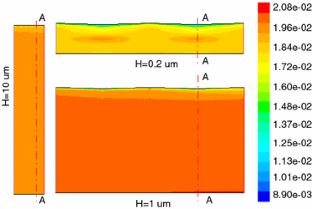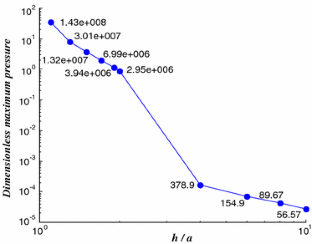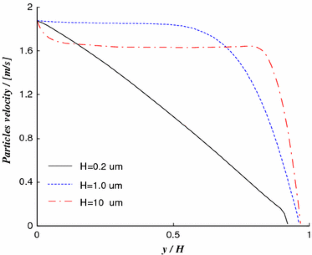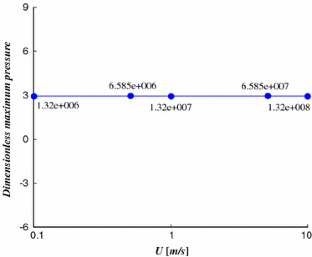 References
1.

M. Bielmann, U. Mahajan, Solid-state Lett. 2 (1999) 401–403

2.

C.H. Zhou, L. Shan, Tribol. Trans. 45 (2002) 230–232

3.

Y. Liu, K. Zhang, Microelectron. Eng. 66 (2003) 438–444

4.

G.B. Basim, J.J. Adler, J. Electronchem. Soc. 147 (2000) 3523–3528

5.

C.H. Zhou, L. Shan, Lubric. Eng. 58 (2002) 35–41

6.

H. Lei, J. Luo, Wear 257 (2004) 461–470

7.

Y. Zhao, L. Chang, Wear 252 (2002) 220–226

8.

J. Larsen-Basse, H. Liang, Wear 233–235 (1999) 647–654

9.

S.R. Runnels, L.M. Eyman, J. Electrochem. Soc. 141(6) (1994) 1698–1701

10.

S. Sundararajan, D.G. Thakurta, J. Electrochem. Soc. 146(2) (1999) 761–766

11.

S.M. Allameh, P. Shrotriya, J. Microelectromech. Syst. 3 (2003) 313–323

12.

Y. Moon, Mechanical aspect of the material removal mechanism in chemical mechanical polishing, PhD Thesis University of California, Berkeley, 1999, 170

13.

G. Dipto, B. Thakurtaa, L. Christopher, B. Borsta, W. Donald, Thin Solid Films 366 (2000) 181–190

14.

D.J. Stein, J.L. Cecchi, J. Mater. Res. 14(9) (1999) 3695–3706

15.

M. Bielman, U. Mahajan, R.K. Singh, Electrochem. Solid-state Lett. 2(8) (1999) 401–403

16.

H.G. Elrod, A general theory for laminar lubrication with Reynolds roughness [J], 101(1) (1979) 8–14

17.

O. Reynolds, Philos. Trans. R. Soc. Lond. 177 (1886) 157–234

18.

J.S. Zhao, Fracture Mechanics and Fracture Physics (Huazhong Keji Press, China, 2003)

19.

J. Furthmuller, J. Hafner, G. Kresse, Phys. Rev. B. 155(3) (1996) 7334–7351

20.

H. Lua, 1.B. Fookesa, Y. Obengb, S. Machinskia, K.A. Richardsona, Mater. Charact. 49 (2002) 35–44

21.

W.D. Li, W.S. Dong et al., Thin Solid Films 270 (1995) 601–606
Acknowledgments
This work is supported by the Research Fund for the Doctoral Program of Higher Education, No. 20030003026. It is also supported by NSFC Project No. 50475018 and NSFC Project No. 50505020.
About this article
Cite this article
Haosheng, C., Jiang, L., Darong, C. et al. Nano particles' behavior in non-Newtonian slurry in mechanical process of CMP. Tribol Lett 24, 179–186 (2006). https://doi.org/10.1007/s11249-006-9133-5
Keywords
non-Newtonian fluid

chemical mechanical polishing

nano particle

multiphase flow