Abstract
Canada is the world's largest producer and exporter of flaxseed. In 2009, DNA from deregistered genetically modified (GM) CDC Triffid was detected in a shipment of Canadian flaxseed exported to Europe, causing a large decrease in the amount of flax planted in Canada and a major shift in export markets. The flax industry in Canada undertook major changes to ensure the removal of transgenic flax from the supply chain. To demonstrate compliance, Canada adopted a protocol involving testing grain samples (post-harvest) using an RT-PCR test for the construct found in CDC Triffid. Efforts to remove the presence of GM flax from the value chain included reconstituting major flax varieties from GM-free plants. The reconstituted varieties represented the majority of planting seed in 2014. This study re-evaluates GM flax presence in Canadian grain stocks for an updated dataset (2009–2015) using a previously described simulation model to estimate low-level GM presence. Additionally, losses to the Canadian economy resulting from the reduction in flax production and export opportunities, costs associated with reconstituting major flax varieties, and testing for the presence of GM flax along the flax value chain are estimated.
This is a preview of subscription content, log in to check access.
Access options
Buy single article
Instant access to the full article PDF.
US$ 39.95
Price includes VAT for USA
Subscribe to journal
Immediate online access to all issues from 2019. Subscription will auto renew annually.
US$ 199
This is the net price. Taxes to be calculated in checkout.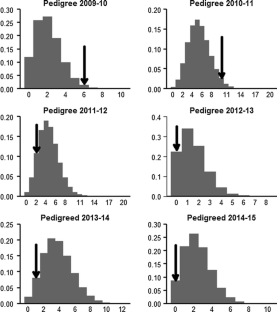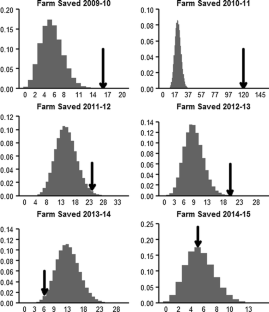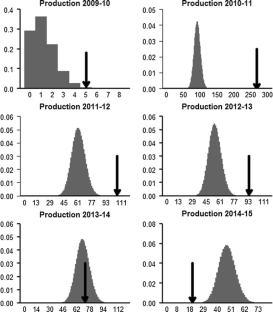 Notes
1.

The CDC at the University of Saskatchewan did submit variety registration documents to the United Kingdom's Ministry of Food and Fisheries for regulatory approval in the mid 1990s. At the time, EU approval was done through a specific member state. The regulatory review process was underway when Triffid was deregistered, hence ending the variety approval in mid-process.
References
Angevin F, Bensadoun A, Meillet A, Monod H, Huby G, Messéan A (2016) Can we set up flexible and cost-effective coexistence measures? EuroChoices 15(1):36–37

Atici C (2014) Low levels of genetically modified crops in international food and feed trade: FAO 352 International Survey and Economic Analysis. FAO Commodity and Trade Policy Research 353 Working Paper #44. Rome, Food and Agriculture Organization of the United Nations. http://www.fao.org/fileadmin/user_upload/agns/topics/LLP/AGD803_3_Final_En.pdf. Accessed 8 Nov 2016

Begg G, Cullen D, Iannetta P, Squire G (2007) Sources of uncertainty in the quantification of genetically modified oilseed rape contamination in seed lots. Transgenic Res 16(1):51–63

Blakeney M (2016) Organic versus GM agriculture in the courtroom in Australia and the USA, Chapter 11. In: Kalaitzandonakes N, Phillips PWB, Smyth SJ, Wesseler J (eds) The coexistence of genetically modified, organic and conventional foods: government policies and market practices. Springer, New York

Booker HM, Lamb EG (2012) Quantification of low-level GM seed presence in Canadian commercial flax stocks. AgBioForum 15:31–35

Booker HM, Mischkolz JM, St. Louis M, Lamb EG (2014) Analysis of the prevalence of CDC Triffid transgenic flax in Canadian grain stocks. AgBioForum 17:75–83

Canadian Grain Commission (2010) Sampling and testing protocol for Canadian flaxseed exported to the European Union. CGC, Winnipeg

Canadian Grain Commission (2015) Canadian grain exports (annual). CGC, Winnipeg. http://www.grainscanada.gc.ca/statistics-statistiques/cge-ecg/cgem-mecg-eng.htm. Accessed 28 Aug 2015

Clarkson L (2016) Organic label rules and market tensions: the challenge of satisfying buyers, chapter 5. In: Kalaitzandonakes N, Phillips PWB, Smyth SJ, Wesseler J (eds) The coexistence of genetically modified, organic and conventional foods: government policies and market practices. Springer, New York

Coelho MVS (2016) Coexistence in Brazil, chapter 8. In: Kalaitzandonakes N, Phillips PWB, Smyth SJ, Wesseler J (eds) The coexistence of genetically modified, organic and conventional foods: government policies and market practices. Springer, New York

Dayananda B (2011) The European Union policy of zero tolerance: insights from the discovery of CDC triffid. Unpublished M.Sc. thesis, University of Saskatchewan, Saskatoon, Canada [online]. http://library2.usask.ca/theses/available/etd-06272011-111926/unrestricted/BuwaniDayanandaMScThesis.pdf

Dillen K, Rizov I, Rodriguez-Cerezo E (2016) Developing solutions for coexistence in the EU—legal, technical, and economic issues, chapter 6. In: Kalaitzandonakes N, Phillips PWB, Smyth SJ, Wesseler J (eds) The coexistence of genetically modified, organic and conventional foods: government policies and market practices. Springer, New York

Flax Council of Canada (2009) GMO flax update 28 September 2009 (corrected report). FCC, Winnipeg. http://flaxcouncil.ca/wp-content/uploads/2015/02/GMO-Flax-Update-1-REVISED-Flax-Council-of-Canada-28-September-2009.pdf. Accessed 28 Aug 2015

Flax Council of Canada (2010) GMO flax update. FCC, Winnipeg. http://flaxcouncil.ca/wp-content/uploads/2015/02/GMO-Flax-Update-20-Jan-2010-Brazil.pdf. Accessed 28 Aug 2015

Flax Council of Canada (2012) UoS purifies breeding lines. AgKnowledge. http://mfga.ca/wp-content/uploads/2013/04/121205_AgKnowledge_NewFlaxSeed.pdf. Accessed 28 Aug 2015

Flax Council of Canada (2013a) Re-constituted flax seed now available. FCC, Winnipeg. http://www.saskflax.com/industry/reconstitutedflaxseed.php?page=46. Accessed 28 Aug 2015

Flax Council of Canada (2013b) Start fresh with your flax this year. FCC, Winnipeg. http://flaxcouncil.ca/wp-content/uploads/2015/02/Start-Fresh-With-Your-Flax-This-Year-R2-FINAL.pdf. Accessed 28 Aug 2015

Giroux R (2016) Economic and legal principles of coexistence policy in North America, chapter 4. In: Kalaitzandonakes N, Phillips PWB, Smyth SJ, Wesseler J (eds) The coexistence of genetically modified, organic and conventional foods: government policies and market practices. Springer, New York

Government of Canada (2016) Canada-European Union: Comprehensive Economic and Trade Agreement (CETA). http://www.international.gc.ca/trade-agreements-accords-commerciaux/agr-acc/ceta-aecg/index.aspx?lang=eng. Accessed 24 May 2016

Hobbs JE, Kerr WA, Smyth SJ (2014) The perils of zero tolerance: Technology management, supply chains and thwarted globalisation. Int J Technol Glob 7(3):203–216

Kalaitzandonakes N, Zahringer K, Kruse J (2016) The economic impacts of regulatory delays: the case of HT soybeans, chapter 19. In: Kalaitzandonakes N, Phillips PWB, Smyth SJ, Wesseler J (eds) The coexistence of genetically modified, organic and conventional foods: government policies and market practices. Springer, New York

Lamb EG, Booker HM (2011) Quantification of low-level genetically modified (GM) seed presence in large seed lots: a case study of GM seed in Canadian flax breeder seed lots. Seed Sci Res 21:315–321

McHughen A, Rowland GG, Holm FA, Bhatty RS, Kenaschuk EO (1997) CDC Triffid transgenic flax. Can J Plant Sci 77(4):641–643

Nadal A, Pla M, Messeguer J, Melé E, Piferrer X, Serra J, Capellades G (2016) Asynchronous flowering or buffer zones: technical solutions for small-scale farming. EuroChoices 15(1):24–30

Passuello F, Boccaletti S (2016) Corporate strategy on GMOs under alternative futures: the case of a large food retailer in Italy. EuroChoices 15(1):52–58

Phillips PWB (2016) Market solutions to coexistence and regulatory asynchrony, chapter 26. In: Kalaitzandonakes N, Phillips PWB, Smyth SJ, Wesseler J (eds) The coexistence of genetically modified, organic and conventional foods: government policies and market practices. Springer, New York

Phillips PWB, Smyth SJ (2004) Managing the value of new-trait varieties in the canola supply chain in Canada. Supply Chain Manag. 9(4):313–322

Phillipson M, Smyth SJ (2016a) The legal and international trade implications of regulatory lags in GM crop approvals. Estey J Int Law Trade Policy 17(2):76–90

Phillipson M, Smyth SJ (2016b) Regulatory lags for genetically modified crops: legal and political perspectives, chapter 17. In: Kalaitzandonakes N, Phillips PWB, Smyth SJ, Wesseler J (eds) The coexistence of genetically modified, organic and conventional foods: government policies and market practices. Springer, New York

R Development Core Team (2011) R: a language and environment for statistical computing. R Foundation for Statistical Computing, Vienna. http://www.R-project.org

Remund KM, Dixon DA, Wright DL, Holden LR (2001) Statistical considerations in seed purity testing for transgenic traits. Seed Sci Res 11(02):101–120

Ryan CD, Smyth SJ (2012) Economic implications of low-level presence in a zero-tolerance European import market: the case of Canadian Triffid flax. AgBioForum 15(1):21–30

Sachs E (2016) Regulatory approval asynchrony, LLP, and implications for biotech R&D and innovation, chapter 18. In: Kalaitzandonakes N, Phillips PWB, Smyth SJ, Wesseler J (eds) The coexistence of genetically modified, organic and conventional foods: government policies and market practices. Springer, New York

Schenkelaars P, Wesseler J (2016) Farm-level GM coexistence policies in the EU: context, concepts and developments. EuroChoices 15(1):5–11

Smyth SJ, Phillips PWB (2001) Competitors co-operating: establishing a supply chain to manage genetically modified canola. Int Food Agribus Manag Rev 4(1):51–66

Smyth SJ, Phillips PWB, Kerr WA (2015) Food security and the evaluation of risk. Glob Food Secur 4(1):16–23

Tillie P, Dillen K, Rodríguez-Cerezo E (2016) Perception of coexistence measures by farmers in five European Union member states. EuroChoices 15(1):17–23

Varacca A, Soregaroli C (2016) Identity preservation in international feed supply chains. EuroChoices 15(1):38–43

Whitaker TB, Freese L, Giesbrecht FG, Slate AB (2001) Sampling grain shipments to detect genetically modified seed. J AOAC Int 84(6):1941–1946

Wilson WW, Dahl B (2016) Potential economic impacts of low level presence (LLP) in the global wheat market, chapter 20. In: Kalaitzandonakes N, Phillips PWB, Smyth SJ, Wesseler J (eds) The coexistence of genetically modified, organic and conventional foods: government policies and market practices. Springer, New York
About this article
Cite this article
Booker, H.M., Lamb, E.G. & Smyth, S.J. Ex-post assessment of genetically modified, low level presence in Canadian flax. Transgenic Res 26, 399–409 (2017). https://doi.org/10.1007/s11248-017-0012-7
Received:

Accepted:

Published:

Issue Date:
Keywords
CDC Triffid

Linum usitatissimum

Seed purity analysis

Seed testing

Reconstituted seed

Testing costs