Abstract
Bronchopulmonary dysplasia (BPD) is the most common complication of preterm birth characterized by blunted post-natal lung development. BPD can be modelled in mice by exposure of newborn mouse pups to elevated oxygen levels. Little is known about the mechanisms of perturbed lung development associated with BPD. The advent of transgenic mice, where genetic rearrangements can be induced in particular cell-types at particular time–points during organogenesis, have great potential to explore the pathogenic mechanisms at play during arrested lung development. Many inducible, conditional transgenic technologies available rely on the application of the estrogen-receptor modulator, tamoxifen. While tamoxifen is well-tolerated and has been widely employed in adult mice, or in healthy developing mice; tamoxifen is not well-tolerated in combination with hyperoxia, in the most widely-used mouse model of BPD. To address this, we set out to establish a safe and effective tamoxifen dosing regimen that can be used in newborn mouse pups subjected to injurious stimuli, such as exposure to elevated levels of environmental oxygen. Our data reveal that a single intraperitoneal dose of tamoxifen of 0.2 mg applied to newborn mouse pups in 10 μl Miglyol vehicle was adequate to successfully drive Cre recombinase-mediated genome rearrangements by the fifth day of life, in a murine model of BPD. The number of recombined cells was comparable to that observed in regular tamoxifen administration protocols. These findings will be useful to investigators where tamoxifen dosing is problematic in the background of injurious stimuli and mouse models of human and veterinary disease.
This is a preview of subscription content, log in to check access.
Access options
Buy single article
Instant access to the full article PDF.
US$ 39.95
Price includes VAT for USA
Subscribe to journal
Immediate online access to all issues from 2019. Subscription will auto renew annually.
US$ 199
This is the net price. Taxes to be calculated in checkout.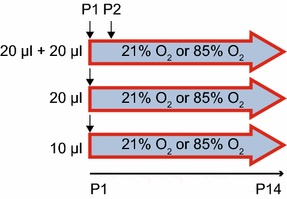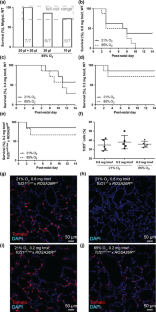 Acknowledgments
This study was supported by the Max Planck Society (J. R.-C., J.A.R.C., W.S., K.A. and R.E.M.); Rhön Klinikum AG grant Fl_66 (R.M.) and Fl_71 (K.A.); the Federal Ministry of Higher Education, Research and the Arts of the State of Hessen LOEWE Programme (all except M.D.T.); the German Center for Lung Research (Deutsches Zentrum für Lungenforschung, DZL; all except M.D.T.); and the German Research Foundation (Deutsche Forschungsgemeinschaft, DFG) through Excellence Cluster 147 (all except M.D.T.) and individual grant Mo 1789/1 (R.M.); and National Heart, Lung, and Blood Institute grants HL074257 and HL100401 (M.D.T.).
About this article
Cite this article
Ruiz-Camp, J., Rodríguez-Castillo, J.A., Herold, S. et al. Tamoxifen dosing for Cre-mediated recombination in experimental bronchopulmonary dysplasia. Transgenic Res 26, 165–170 (2017). https://doi.org/10.1007/s11248-016-9987-8
Received:

Accepted:

Published:

Issue Date:
Keywords
Tamoxifen

Transgenic

Lung

Bronchopulmonary dysplasia

Hyperoxia