Abstract
The aim of this study was to investigate the spermatogenesis in ksr2 −/− mice. Spermatogenesis in 12–15 week-old C57BL/6 wt and ksr2 −/− mice was observed in testicular tissue and epididymal sperm by light and transmission electron microscopy. The reproductive capacity of male ksr2 −/− mice was strongly impaired. Concentration, morphology and motility of epididymal spermatozoa were altered in ksr2 −/− mice. In seminiferous tubules from ksr2 −/− mice, all stages of spermatogenetic process were represented; spermatids displayed defects concerning nuclear and acrosomal shape and periaxonemal structures of the tail; detached head and spermatozoa with an altered head–tail connection were observed; the interstitial tissue was severely disorganized, the Leydig cells have lost their connections. TEM analysis of epididymal spermatozoa confirmed the presence of such kind of alterations. We reported, for the first time, an ultrastructural study of ksr2 −/− mice spermatogenesis. Remarkable findings regard the altered spermiogenetic process concomitant with a severe disorganization of interstitial tissue. Further studies are needed to assess the ksr2 −/− mice hormonal status, focussing on testosterone levels since the interstitial tissue, where the Leydig cells reside, was compromised.
This is a preview of subscription content, log in to check access.
Access options
Buy single article
Instant access to the full article PDF.
US$ 39.95
Price includes VAT for USA
Subscribe to journal
Immediate online access to all issues from 2019. Subscription will auto renew annually.
US$ 199
This is the net price. Taxes to be calculated in checkout.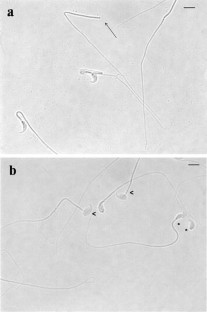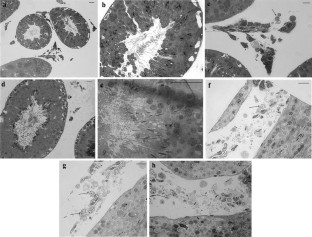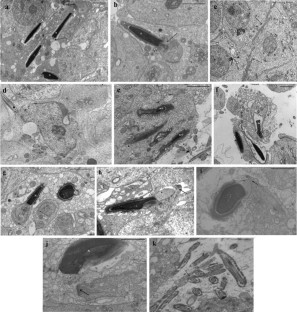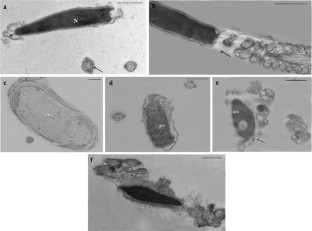 References
Baccetti B, Bruni E, Gambera L, Moretti E, Piomboni P (2004) An ultrastructural and immunocytochemical study of a rare genetic sperm tail defect that causes infertility in humans. Fertil Steril 82:463–468. doi:10.1016/j.fertnstert.2003.12.049

Chang C, Chen YT, Yeh SD, Xu Q, Wang RS, Guillou F, Lardy H, Yeh S (2004) Infertility with defective spermatogenesis and hypotestosteronemia in male mice lacking the androgen receptor in Sertoli cells. Proc Natl Acad Sci USA 101:6876–6881. doi:10.1073/pnas.0307306101

Channavajhala PL, Wu L, Cuozzo JW, Hall JP, Liu W, Lin LL, Zhang Y (2003) Identification of a novel human kinase supporter of Ras (hKSR-2) that functions as a negative regulator of Cot (Tpl2) signaling. J Biol Chem 278:47089–47097. doi:10.1074/jbc.M306002200

Chemes HE, Alvarez Sedo C (2012) Tales of the tail and sperm head aches: changing concepts on the prognostic significance of sperm pathologies affecting the head, neck and tail. Asian J Androl 14:14–23. doi:10.1038/aja.2011.168

Costanzo-Garvey DL et al (2009) KSR2 is an essential regulator of AMP kinase, energy expenditure, and insulin sensitivity. Cell Metab 10:366–378. doi:10.1016/j.cmet.2009.09.010

Dougherty MK, Ritt DA, Zhou M, Specht SI, Monson DM, Veenstra TD, Morrison DK (2009) KSR2 is a calcineurin substrate that promotes ERK cascade activation in response to calcium signals. Mol Cell 34:652–662. doi:10.1016/j.molcel.2009.06.001

Duale N, Steffensen IL, Andersen J, Brevik A, Brunborg G, Lindeman B (2014) Impaired sperm chromatin integrity in obese mice. Andrology 2:234–243. doi:10.1111/j.2047-2927.2013.00178.x

Eisenberg ML, Kim S, Chen Z, Sundaram R, Schisterman EF, Buck Louis GM (2014) The relationship between male BMI and waist circumference on semen quality: data from the LIFE study. Hum Reprod 29:193–200. doi:10.1093/humrep/det428

El-Eshmawy MM, Abdel Aal IA, El Hawary AK (2010) Association of ghrelin and leptin with reproductive hormones in constitutional delay of growth and puberty. Reprod Biol Endocrinol 8:153. doi:10.1186/1477-7827-8-153

Fernández IF, Pérez-Rivas LG, Blanco S, Castillo-Dominguez AA, Lozano J, Lazo PA (2012) VRK2 anchors KSR1-MEK1 to endoplasmic reticulum forming a macromolecular complex that compartmentalizes MAPK signaling. Cell Mol Life Sci 69:3881–3893. doi:10.1007/s00018-012-1056-8

Giblett SM, Lloyd DJ, Light Y, Marais R, Pritchard CA (2002) Expression of kinase suppressor of Ras in the normal adult and embryonic mouse. Cell Growth Differ 13:307–313

Giurisato E, Lin J, Harding A, Cerutti E, Cella M, Lewis RE, Colonna M, Shaw AS (2009) The mitogen-activated protein kinase scaffold KSR1 is required for recruitment of extracellular signal-regulated kinase to the immunological synapse. Mol Cell Biol 29:1554–1564. doi:10.1128/MCB.01421-08

Giurisato E, Gamberucci A, Ulivieri C, Marruganti S, Rossi E, Giacomello E, Randazzo D, Sorrentino V (2014) The KSR2-calcineurin complex regulates STIM1-ORAI1 dynamics and store-operated calcium entry (SOCE). Mol Biol Cell 25:1769–1781. doi:10.1091/mbc.E13-05-0292

Guerif F, Cadoret V, Plat M, Magistrini M, Lansac J, Hochereau-De Reviers MT, Royere D (2002) Characterization of the fertility of Kit haplodeficient male mice. Int J Androl 25:358–368. doi:10.1046/j.1365-2605.2002.00382.x

Guo L, Volle DJ, Lewis RE (2014) Identification of a truncated kinase suppressor of Ras 2 mRNA in sperm. FEBS Open Bio 4:420–425. doi:10.1016/j.fob.2014.04.004

Henry MD, Costanzo-Garvey DL, Klutho PJ, Lewis RE (2014) Obesity-dependent dysregulation of glucose homeostasis in kinase suppressor of ras 2-/- mice. Physiol Rep 2(7):e12053. doi:10.14814/phy2.12053

Hurtado de Llera A, Martin-Hidalgo D, Gil MC, Garcia-Marin LJ, Bragado MJ (2014) The calcium/CaMKKalpha/beta and the cAMP/PKA pathways are essential upstream regulators of AMPK activity in boar spermatozoa. Biol Reprod 90:29. doi:10.1095/biolreprod.113.112797

Kierszenbaum AL, Rivkin E, Tres LL, Yoder BK, Haycraft CJ, Bornens M, Rios RM (2011) GMAP210 and IFT88 are present in the spermatid golgi apparatus and participate in the development of the acrosome–acroplaxome complex, head–tail coupling apparatus and tail. Dev Dyn 240:723–736. doi:10.1002/dvdy.22563

Kolch W (2005) Coordinating ERK/MAPK signalling through scaffolds and inhibitors. Nat Rev Mol Cell Biol 6:827–837

Kortum RL, Costanzo DL, Haferbier J, Schreiner SJ, Razidlo GL, Wu MH, Volle DJ, Mori T, Sakaue H, Chaika NV, Chaika OV, Lewis RE (2005) The molecular scaffold kinase suppressor of Ras 1 (KSR1) regulates adipogenesis. Mol Cell Biol 225:7592–7604. doi:10.1128/MCB.25.17.7592-7604.2005

Krapf D, O'Brien E, Maidagán PM, Morales ES, Visconti PE, Arranz SE (2014) Calcineurin regulates progressive motility activation of Rhinella (Bufo) arenarum sperm through dephosphorylation of PKC substrates. J Cell Physiol 229:1378–1386. doi:10.1002/jcp.24571

Liska F, Gosele C, Rivkin E, Tres L, Cardoso MC, Domaing P, Krejcí E, Snajdr P, Lee-Kirsch MA, de Rooij DG, Kren V, Krenová D, Kierszenbaum AL, Hubner N (2009) Rat hd mutation reveals an essential role of centrobin in spermatid head shaping and assembly of the head–tail coupling apparatus. Biol Reprod 81:1196–1205. doi:10.1095/biolreprod.109.078980. Erratum in: Biol Reprod (2010);82:804. Rooij, Dirk G de [corrected to de Rooij, Dirk G]

Liu L, Channavajhala PL, Rao VR, Moutsatsos I, Wu L, Zhang Y, Lin LL, Qiu Y (2009) Proteomic characterization of the dynamic KSR-2 interactome, a signaling scaffold complex in MAPK pathway. Biochim Biophys Acta 1794:1485–1495. doi:10.1016/j.bbapap.2009.06.016

Lozano J, Xing R, Cai Z, Jensen HL, Trempus C, Mark W, Cannon R, Kolesnick R (2003) Deficiency of kinase suppressor of Ras1 prevents oncogenic ras signaling in mice. Cancer Res 63:4232–4238

Masoudi N, Fancsalszky L, Pourkarimi E, Vellai T, Alexa A, Reményi A, Gartner A, Mehta A, Takács-Vellai K (2013) The NM23-H1/H2 homolog NDK-1 is required for full activation of Ras signaling in C. elegans. Development 140:3486–3495. doi:10.1242/dev.094011

Moretti E, Collodel G (2012) Electron microscopy in the study of human sperm pathologies. In: Méndez-Vilas Antonio (ed) Current microscopy contributions to advances in science and technology. Formatex Research Center, Badajoz, pp 343–351

Moriya M, Fujinaga K, Yazawa M, Katagiri C (1995) Immunohistochemical localization of the calcium/calmodulin-dependent protein phosphatase, calcineurin, in the mouse testis: its unique accumulation in spermatid nuclei. Cell Tissue Res 281:273–281

Nguyen A, Burack WR, Stock JL, Kortum R, Chaika OV, Afkarian M, Muller WJ, Murphy KM, Morrison DK, Lewis RE, McNeish J, Shaw AS (2002) Kinase suppressor of Ras (KSR) is a scaffold which facilitates mitogen-activated protein kinase activation in vivo. Mol Cell Biol 22:3035–3045. doi:10.1128/MCB.22.9.3035-3045.2002

Nozawa Y, Yao E, Gacayan R, Xu SM, Chuang PT (2014) Mammalian Fused is essential for sperm head shaping and periaxonemal structure formation during spermatogenesis. Dev Biol 388:170–180. doi:10.1016/j.ydbio.2014.02.002

Ohmachi M, Rocheleau CE, Church D, Lambie E, Schedl T, Sundaram MV (2002) C. elegans ksr-1 and ksr-2 have both unique and redundant functions and are required for MPK-1 ERK phosphorylation. Curr Biol 12:427–433

Pearce LR et al (2013) KSR2 mutations are associated with obesity, insulin resistance, and impaired cellular fuel oxidation. Cell 155:765–777. doi:10.1016/j.cell.2013.09.058

Rawe VY, Díaz ES, Abdelmassih R, Wójcik C, Morales P, Sutovsky P, Chemes HE (2008) The role of sperm proteasomes during sperm aster formation and early zygote development: implications for fertilization failure in humans. Hum Reprod 23:573–580. doi:10.1093/humrep/dem385

Revelli JP et al (2011) Profound obesity secondary to hyperphagia in mice lacking kinase suppressor of ras 2. Obesity (Silver Spring) 19:1010–1018. doi:10.1038/oby.2010.282

Rey RA, Nagle CA, Chemes H (1996) Morphometric study of the testicular interstitial tissue of the monkey Cebus apella during postnatal development. Tissue Cell 28:31–42

Shukla KK, Chambial S, Dwivedi S, Misra S, Sharma P (2014) Recent scenario of obesity and male fertility. Andrology. doi:10.1111/andr.270

Svechnikov K, Landreh L, Weisser J, Izzo G, Colón E, Svechnikova I, Söder O (2010) Origin, development and regulation of human Leydig cells. Horm Res Paediatr 73:93–101. doi:10.1159/000277141

Tartarin P et al (2012) Inactivation of AMPKα1 induces asthenozoospermia and alters spermatozoa morphology. Endocrinology 153:3468–3481. doi:10.1210/en.2011-1911

Teerds KJ, de Rooij DG, Keijer J (2011) Functional relationship between obesity and male reproduction: from humans to animal models. Hum Reprod Update 17:667–683. doi:10.1093/humupd/dmr017

Therrien M, Chang HC, Solomon NM, Karim FD, Wassarman DA, Rubin GM (1995) KSR, a novel protein kinase required for RAS signal transduction. Cell 83:879–888

Therrien M, Michaud NR, Rubin GM, Morrison DK (1996) KSR modulates signal propagation within the MAPK cascade. Genes Dev 10:2684–2695

Tokuhiro K, Isotani A, Yokota S, Yano Y, Oshio S, Hirose M, Wada M, Fujita K, Ogawa Y, Okabe M, Nishimune Y, Tanaka H (2009) OAZ-t/OAZ3 is essential for rigid connection of sperm tails to heads in mouse. PLoS Genet 5:e1000712. doi:10.1371/journal.pgen.1000712
Acknowledgments
This work was supported by the Italian Ministry for University and Research (PRIN 2009 to E. Giurisato).
Conflict of interest
All the authors declare that there is no conflict of interest that could be perceived as prejudicing the impartiality of the research reported.
About this article
Cite this article
Moretti, E., Collodel, G., Mazzi, L. et al. Ultrastructural study of spermatogenesis in KSR2 deficient mice. Transgenic Res 24, 741–751 (2015). https://doi.org/10.1007/s11248-015-9886-4
Received:

Accepted:

Published:

Issue Date:
Keywords
Epididymal sperm

KSR2 deficient mice

Spermatogenesis

Testis