Abstract
β1,4-Galactosylation of plant N-glycans is a prerequisite for commercial production of certain biopharmaceuticals in plants. Two different types of galactosylated N-glycans have initially been reported in plants as the result of expression of human β1,4-galactosyltransferase 1 (GalT). Here we show that these differences are associated with differences at its N-terminus: the natural short variant of human GalT results in hybrid type N-glycans, whereas the long form generates bi-antennary complex type N-glycans. Furthermore, expression of non-mammalian, chicken and zebrafish GalT homologues with N-termini resembling the short human GalT N-terminus also induce hybrid type N-glycans. Providing both non-mammalian GalTs with a 13 amino acid N-terminal extension that distinguishes the two naturally occurring forms of human GalT, acted to increase the levels of bi-antennary galactosylated N-glycans when expressed in tobacco leaves. Replacement of the cytosolic tail and transmembrane domain of chicken and zebrafish GalTs with the corresponding region of rat α2,6-sialyltransferase yielded a gene whose expression enhanced the level of bi-antennary galactosylation even further.
This is a preview of subscription content, log in to check access.
Access options
Buy single article
Instant access to the full article PDF.
US$ 39.95
Price includes VAT for USA
Subscribe to journal
Immediate online access to all issues from 2019. Subscription will auto renew annually.
US$ 199
This is the net price. Taxes to be calculated in checkout.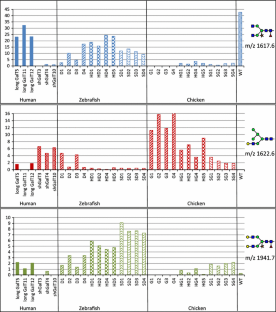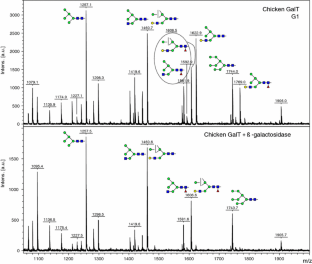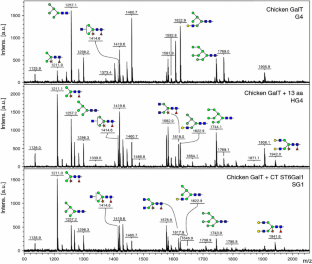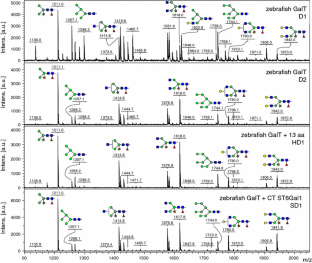 References
Bakker H, Bardor M, Molthoff JW, Gomord V, Elbers I, Stevens LH, Jordi W, Lommen A, Faye L, Lerouge P, Bosch D (2001) Galactose-extended glycans of antibodies produced by transgenic plants. Proc Natl Acad Sci USA 98:2899–2904

Bakker H, Rouwendal GJA, Karnoup AS, Florack DEA, Stoopen GM, Helsper JPFG, van Ree R, van Die I, Bosch D (2006) An antibody produced in tobacco expressing a hybrid ß-1,4-galactosyltransferase is essentially devoid of plant carbohydrate epitopes. Proc Natl Acad Sci USA 103:7577–7582

Boevink P, Oparka K, Santa Cruz S, Martin B, Betteridge A, Hawes C (1998) Stacks on tracks: the plant Golgi apparatus traffics on actin/ER network. Plant J 15:441–447

Castilho A, Bohorova N, Grass J, Bohorov O, Zeitlin L, Whaley K, Altmann F, Steinkellner H (2011) Rapid high yield production of different glycoforms of Ebola virus monoclonal antibody. PLoS ONE 6(10):e26040

Giraudo CG, Maccioni HJF (2003) Endoplasmic reticulum export of glycosyltransferases depends on interaction of a cytoplasmic dibasic motif with Sar1. Mol Biol Cell 14:3753–3766

Goddijn OJM, Lindsey K, Lee FM, Klap JC, Sijmons PC (1993) Differential gene expression in nematode-induced feeding structures of transgenic plants harbouring promoter-gusA fusion constructs. Plant J 4:863–873

Harduin-Lepers A, Shaper JH, Shaper NL (1993) Characterization of two cis-regulatory regions in the murine ß-1,4-galactosyltransferase gene. Evidence for a negative regulatory element that controls initiation at the proximal site. J Biol Chem 268:14348–14359

Huether CM, Lienhart O, Baur A, Stemmer C, Gorr G, Reski R, Decker EL (2005) Glyco-engineering of moss lacking plant-specific sugar residues. Plant Biol 7:292–299

Lo N-W, Shaper JH, Pevsner J, Shaper NL (1998) The expanding ß4-galactosyltransferase gene family: messages from the databanks. Glycobiology 8:517–526

Machingo QJ, Fritz A, Shur BD (2006) A ß1,4-galactosyltransferase is required for convergent extension movements in zebrafish. Dev Biol 297:471–482

Masri KA, Appert HE, Fukuda MN (1988) Identification of the full-length coding sequence for human galactosyltransferase (ß-N-acetylglucosaminide: ß1,4-galactosyltransferase). Biochem Biophys Res Commun 157:657–663

Misaki R, Kimura Y, Palapac NQ, Yoshida S, Fujiyama K, Seki T (2002) Plant cultured cells expressing human ß-1,4-galactosyltransferase secrete glycoproteins with galactose-extended N-linked glycans. Glycobiology 13:199–205

Palacpac NQ, Yoshida S, Sakai H, Kimura Y, Fujiyama K, Yoshida T, Seki T (1999) Stable expression of human ß1,4-galactosyltransferase in plant cells modifies N-linked glycosylation patterns. Proc Natl Acad Sci USA 96:4692–4697

Rajput B, Shaper NL, Shaper JH (1996) Transcriptional regulation of murine ß1,4-galactosyltransferase in somatic cells. Analysis of a gene that serves both a housekeeping and a mammary gland-specific function. J Biol Chem 271:5131–5142

Russo RN, Shaper NL, Shaper JH (1990) Bovine ß1 → 4-galactosyltransferase: two sets of mRNA transcripts encode two forms of the protein with different amino-terminal domains. In vitro translation experiments demonstrate that both the short and the long forms of the enzyme are type II membrane-bound glycoproteins. J Biol Chem 265:3324–3331

Russo RN, Shaper NL, Taatjes DJ, Shaper JH (1992) ß-1,4-Galactosyltransferase: a short NH2-terminal fragment that includes the cytoplasmic and transmembrane domain is sufficient for Golgi retention. J Biol Chem 267:9241–9247

Saint-Jore-Dupas C, Gomord V, Paris N (2004) Protein localization in the plant Golgi apparatus and the trans-Golgi network.l. Cell Mol Life Sci 61:159–171

Schachter H, Narasimhan S, Gleeson P, Vella G (1983) Control of branching during the biosynthesis of asparagine-linked oligosaccharides. Can J Biochem Cell Biol 61:1049–1066

Schoberer J, Vavra U, Stadlmann J, Hawes C, Mach L, Steinkellner H, Strasser R (2009) Arginine/lysine residues in the cytoplasmic tail promote ER export of plant glycosylation enzymes. Traffic 10:101–115

Shaper NL, Hollis GF, Douglas JG, Kirsch IR, Shaper JH (1988) Characterization of the full length cDNA for murine ß-1,4-galactosyltransferase. Novel features at the 5′-end predict two translational start sites at two in-frame AUGs. J Biol Chem 263:10420–10428

Shaper Nl, Meurer JA, Joziasse DH, Chou T-DD, Smith EJ, Schnaar RL, Shaper JH (1997) The chicken genome contains two functional nonallelic ß1,4-galactosyltransferase genes. Chromosomal assignment to syntenic regions tracks fate of the two gene lineages in the human genome. J Biol Chem 272:31389–31399

Snovida SI, Perreault H (2007) A 2,5-dihydroxybenzoic acid/N, N-dimethylaniline matrix for the analysis of oligosaccharides by matrix-assisted laser desorption/ionization mass spectrometry. Rapid Commun Mass Spectrom 21:3711–3715

Strasser R, Bondili JS, Schoberer J, Svoboda B, Liebminger E, Glössl J, Altmann F, Steinkellner H, Mach L (2007) Enzymatic properties and subcellular localization of Arabidopsis ß-N-acetylhexosaminidases. Plant Physiol 145: 5-16. Erratum in: (2008) Plant Physiol 147: 931

Strasser R, Castilho A, Stadlmann J, Kunert R, Quendler H, Gattinger P, Jez J, Rademacher T, Altmann F, Mach L, Steinkellner H (2009) Improved virus neutralization by plant-produced anti-HIV antibodies with a homogeneous ß1,4-galactosylated N-glycan profile. J Biol Chem 284:20479–20485

Vézina L-P, Faye L, Lerouge P, D'Aoust M-A, Marquet-Blouin E, Burel C, Lavoie P-O, Bardor M, Gomord V (2009) Transient co-expression for fast and high-yield production of antibodies with human-like N-glycans in plants. Plant Biotechnol J 7:442–455

Wee EG, Sherrier DJ, Prime TA, Dupree P (1998) Targeting of active sialyltransferase to the plant Golgi apparatus. Plant Cell 10:1759–1768

Youakim A, Dubois DH, Shur BD (1994) Localization of the long form of ß-1,4-galactosyltransferase to the plasma membrane and Golgi complex of 3T3 and F9 cells by immunofluorescence confocal microscopy. Proc Natl Acad Sci USA 91:10913–10917
Acknowledgments
We thank Dr. Aart Lammers (Animal Sciences Group, Wageningen UR) and Dr. Joop Arts (Animal Sciences Group, Wageningen UR) for chicken and zebrafish cDNA, respectively, and Pim Vergeer, Koen Varossieau and Anne Miltenburg for carrying out plant transformations.
Electronic supplementary material
Below is the link to the electronic supplementary material.
About this article
Cite this article
Hesselink, T., Rouwendal, G.J.A., Henquet, M.G.L. et al. Expression of natural human β1,4-GalT1 variants and of non-mammalian homologues in plants leads to differences in galactosylation of N-glycans. Transgenic Res 23, 717–728 (2014). https://doi.org/10.1007/s11248-014-9806-z
Received:

Accepted:

Published:

Issue Date:
Keywords
Biopharmaceutical

β1,4-galactosyltransferase

N-glycosylation

MALDI-TOF MS

Non-mammalian

Tobacco