Abstract
We generated a transgenic (Tg) mouse line expressing Cre recombinase under the control of the Gpr88 promoter within a bacterial artificial chromosome clone. We crossed the established Tg mice with reporter mice (CAG-CAT-Z Tg), which express Escherichia coli lacZ in response to Cre-mediated excision of the loxP-flanked chloramphenicol acetyltransferase gene, and examined the Cre activity in the Tg mouse brains by assessing β-galactosidase activity. Cre activity was specifically detected in the caudate-putamen, nucleus accumbens, and olfactory tubercle of the Gpr88-Cre Tg mouse brain. Medium spiny neurons within the caudate-putamen exhibited Cre activity. Thus, Gpr88-Cre Tg mice could be a useful tool for analyzing the function of the basal ganglia by using Cre/loxP systems.
This is a preview of subscription content, log in to check access.
Access options
Buy single article
Instant access to the full article PDF.
US$ 39.95
Price includes VAT for USA
Subscribe to journal
Immediate online access to all issues from 2019. Subscription will auto renew annually.
US$ 199
This is the net price. Taxes to be calculated in checkout.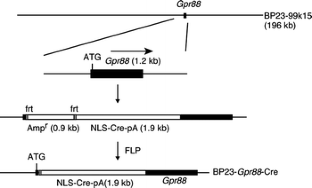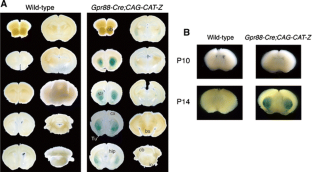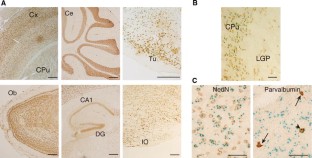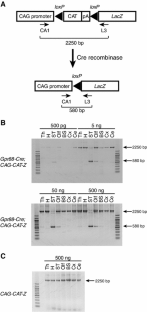 References
Albin MS (1989) The control of quality. J Neurosurg Anesthesiol 1:303

Alexander GE, DeLong MR, Strick PL (1986) Parallel organization of functionally segregated circuits linking basal ganglia and cortex. Annu Rev Neurosci 9:357–381

Befort K, Filliol D, Ghate A, Darcq E, Matifas A, Muller J, Lardenois A, Thibault C, Dembele D, Le Merrer J, Becker JA, Poch O, Kieffer BL (2008) Mu-opioid receptor activation induces transcriptional plasticity in the central extended amygdala. Eur J Neurosci 27:2973–2984

Cepeda C, Wu N, André VM, Cummings DM, Levine MS (2007) The corticostriatal pathway in Huntington's disease. Prog Neurobiol 81:253–271

Graybiel AM (1990) Neurotransmitters and neuromodulators in the basal ganglia. Trends Neurosci 13:244–254

Graybiel AM (2000) The basal ganglia. Curr Biol 10:R509–R511

Graybiel AM (2008) Habits, rituals, and the evaluative brain. Annu Rev Neurosci 31:359–387

Kreitzer AC, Malenka RC (2008) Striatal plasticity and basal ganglia circuit function. Neuron 60:543–554

Logue SF, Grauer SM, Paulsen J, Graf R, Taylor N, Sung MA, Zhang L, Hughes Z, Pulito VL, Liu F, Rosenzweig-Lipson S, Brandon NJ, Marquis KL, Bates B, Pausch M (2009) The orphan GPCR, GPR88, modulates function of the striatal dopamine system: a possible therapeutic target for psychiatric disorders? Mol Cell Neurosci 42:438–447

Massart R, Guilloux JP, Mignon V, Sokoloff P, Diaz J (2009) Striatal GPR88 expression is confined to the whole projection neuron population and is regulated by dopaminergic and glutamatergic afferents. Eur J Neurosci 30:397–414

Mizushima K, Miyamoto Y, Tsukahara F, Hirai M, Sakaki Y, Ito T (2000) A novel G-protein-coupled receptor gene expressed in striatum. Genomics 69:314–321

Quintana A, Sanz E, Wang W, Storey GP, Guler AD, Wanat MJ, Roller BA, La Torre A, Amieux PS, McKnight GS, Bamford NS, Palmiter RD (2012) Lack of GPR88 enhances medium spiny neuron activity and alters motor- and cue-dependent behaviors. Nat Neurosci 15:1547–1555

Reiner A, Medina L, Veenman CL (1998) Structural and functional evolution of the basal ganglia in vertebrates. Brain Res Brain Res Rev 28:235–285

Sakai K, Miyazaki J (1997) A transgenic mouse line that retains Cre recombinase activity in mature oocytes irrespective of the cre transgene transmission. Biochem Biophys Res Commun 237:318–324

Tepper JM, Bolam JP (2004) Functional diversity and specificity of neostriatal interneurons. Curr Opin Neurobiol 14:685–692

Tepper JM, Abercrombie ED, Bolam JP (2007) Basal ganglia macrocircuits. Prog Brain Res 160:3–7

Yagi T, Ikawa Y, Yoshida K, Shigetani Y, Takeda N, Mabuchi I, Yamamoto T, Aizawa S (1990) Homologous recombination at c-fyn locus of mouse embryonic stem cells with use of diphtheria toxin A-fragment gene in negative selection. Proc Natl Acad Sci USA 24:9918–9922

Yang XW, Model P, Heintz N (1997) Homologous recombination based modification in Escherichia coli and germline transmission in transgenic mice of a bacterial artificial chromosome. Nat Biotechnol 15:859–865
Acknowledgments
We thank CHRCO for a BAC clone (RP23-99k15), and Dr. Jun-ichi Miyazaki for providing the CAG-CAT-Z Tg mice. We also thank Dr. Shigeyoshi Itohara and Dr. Yoshikazu Saito (Lab. for Behavioral Genetics, RIKEN) for the NLS-Cre-poly(A) cassette and technical advice and help, and Dr. Takashi Arai (Support unit for Animal Resources Development, RIKEN) for generation of Tg mice. We also thank all member of our laboratory, especially Dr. Katsuhiro Kawaai, Dr. Takeyuki Sugawara, and Ms. Etsuko Ebisui for their kind help. Supported by The Moritani Scholarship Foundation (C. H), JSPS KAKENHI Grant Numbers, 20500301 (C. H), and 20220007 (K. M) and The Japan Science and Technology Agency (K. M).
Conflict of interest
The authors have no conflicts of interest to declare.
About this article
Cite this article
Hisatsune, C., Ogawa, N. & Mikoshiba, K. Striatum-specific expression of Cre recombinase using the Gpr88 promoter in mice. Transgenic Res 22, 1241–1247 (2013). https://doi.org/10.1007/s11248-013-9711-x
Received:

Accepted:

Published:

Issue Date:
Keywords
Transgenic mice

Bacterial artificial clone

LacZ

Basal ganglia