Abstract
Stripe rust is a devastating fungal disease of wheat worldwide which is primarily caused by Puccinia striiformis f. sp tritici. Transgenic wheat (Triticum aestivum L.) expressing rice class chitinase gene RC24 were developed by particle bombardment of immature embryos and tested for resistance to Puccinia striiformis f.sp tritici. under greenhouse and field conditions. Putative transformants were selected on kanamycin-containing media. Polymease chain reaction indicated that RC24 was transferred into 17 transformants obtained from bombardment of 1,684 immature embryos. Integration of RC24 was confirmed by Southern blot with a RC24-labeled probe and expression of RC24 was verified by RT-PCR. Nine transgenic T1 lines exhibited enhanced resistance to stripe rust infection with lines XN8 and BF4 showing the highest level of resistance. Southern blot hybridization confirmed the stable inheritance of RC24 in transgenic T1 plants. Resistance to stripe rust in transgenic T2 and T3 XN8 and BF4 plants was confirmed over two consecutive years in the field. Increased yield (27–36 %) was recorded for transgenic T2 and T3 XN8 and BF4 plants compared to controls. These results suggest that rice class I chitinase RC24 can be used to engineer stripe rust resistance in wheat.
This is a preview of subscription content, log in to check access.
Access options
Buy single article
Instant access to the full article PDF.
US$ 39.95
Price includes VAT for USA
Subscribe to journal
Immediate online access to all issues from 2019. Subscription will auto renew annually.
US$ 199
This is the net price. Taxes to be calculated in checkout.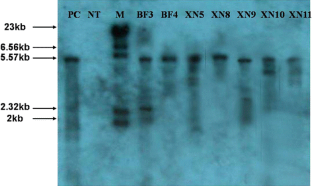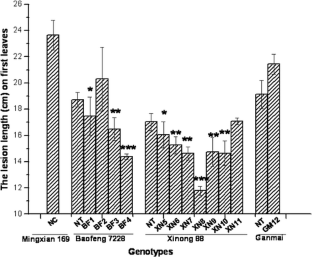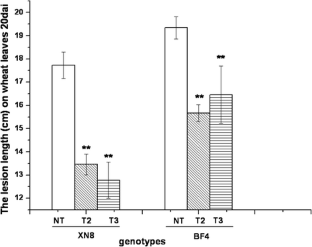 Abbreviations
NPR1:

Non-expressor of pathogensis-related genes 1

PAT:

Phosphinothricin acetyltransferase

PR:

Pathogenesis-related

RT-PCR:

Reverse transcription polymerase chain reaction

SAR:

Systemic acquired resistance

2, 4-D:

2, 4-dichlophenoxyacetic acid

dai:

Day after inoculation

TGW:

Thousand grain weight
References
Altenbach D, Robatzek S (2007) Pattern recognition receptors: from the cell surface to intracellular dynamics. Mol Plant Microbe Interact 20:1031–1039

Anand A, Zhou T, Trick HN, Gill BS, Bockus WW, Muthukrishnan S (2003) Greenhouse and field testing of transgenic wheat plants stably expressing genes for thaumatin-like protein, chitinase and glucanase against Fusarium graminearum. J Exp Bot 54:1101–1111

Balconi C, Lanzanova C, Conti E, Triulzi T, Forlani F, Cattaneo M, Lupotto E (2007) Fusarium head blight evaluation in wheat transgenic plants expressing the maize b-32 antifungal gene. Eur J Plant Pathol 117:129–140

Bialy H (1992) Transgenic wheat finally produced. Nat Biotech 10:630

Bieri S, Potrykus I, Futterer J (2003) Effects of combined expression of antifungal barley seed proteins in transgenic wheat on powdery mildew infection. Mol Breed 11:37–48

Boller T, Gehri A, Mauch F, Vögeli U (1983) Chitinase in bean leaves: induction by ethylene, purification, properties and possible function. Planta 157:22–31

Brogue K, Chet I, Holliday M, Cressman R, Biddle P, Knowlton S, Mauvais CJ, Broglie R (1991) Transgenic plants with enhanced resistance to the fungal pathogen Rhizoctonia solani. Science 254:1194–1197

Bryant J (1992) Transgenic wheat plants: the end of the beginning. Tibtech 10:342–343

Campbell MA, Fitzgerald HA, Ronald PC (2004) Engineering pathogen resistance in crop plants. In: Christou P (ed) Handbook of plant biotechnology, online. Wiley, New York

Chen X (2007) Challenges and solutions for stripe rust control in the United States. Aust J of Agric Res 58:648–655

Clausen M, Kräuter R, Schachermayr G, Potrykus I, Sautter G (2000) Antifungal activity of a virally encoded gene in transgenic wheat. Nat Biotechnol 18:446–449

Cohen KR, Chet I (1998) The molecular biology of Chitin digestion. Curr Opin Biotechnol 9:270–277

Collinge DB, Lund OS, Thordal-Christensen H (2008) What are the prospects for genetically engineered, disease resistant plants? Eur J Plant Pathol 121:217–231

Datta K, Tu J, Oliva N, Ona I, Velazhahan R, Mew TW, Muthukrishnan S, Datta SK (2001) Enhanced resistance to sheath blight by constitutive expression of infection-related rice chitinase in transgenic elite indica rice cultivars. Plant Sci 160:405–414

Dixon RA, Lamb CJ (1990) Molecular communication in interactions between plants and microbial pathogen. Annu Rev Plant Physiol Plant Mol Biol 41:339–367

Dixon RA, Harrison MJ, Lamb CJ (1994) Early events in the activation of plant defense response. Annu Rev Phytopathol 32:479–501

Fu D, Uauy C, Distelfeld A, Blechl A, Epstein L, Chen X, Sela H, Fahima T, Dubcovky J (2009) A kinase-START gene confers temperature-dependent resistance to wheat stripe rust. Science 323:1357–1360

Gurr SJ, Rushton PJ (2005) Engineering plants with increased disease resistance: how are we going to express it? Tibtech 23:275–282

Iqbal MM, Nazir F, Ali S, Asif MA, Zafer Y, Iqbal J, Ali GM (2012) Over expression of rice chitinase gene in transgenic peanut (Arachis hypogaea L.) improves resistance against leaf spot. Mol Biotechnol 50:129–136

Kim YJ, Hwang BK (1997) Isolation of a basic 34 kiloDaltonβ-1,3-glucanase with inhibitory activity against phytophthora capsici from pepper stems. Physiol Mol Plant Pathol 50:103–115

Kini RK, Vasanthi NS, Shetty HS (2000) Induction of β-1,3-glucanase in seedlings of pearl millet in response to infection by Sclerospora graminicola. Eur J Plant Pathol 106:267–274

Kishimoto K, Nishizawa Y, Tabei Y, Hibi T, Nakajima M, Akutsu K (2002) Detailed analysis of rice chitinase gene expression in transgenic cucumber plants showing different levels of disease resistance to gray mold (Botrytis cinerea). Plant Sci 162:655–662

Kovács G, Sági L, Jacon G, Arinaitwe G, Busogoro JP, Thiry E, Strosse H, Swennen R, Remy S (2013) Expression of a rice chitinase gene in transgenic banana ('Gros Michel', AAA genome group) confers resistance to black leaf streak disease. Transgenic Res 22:117–130

Leah R, Tommerup H, Svendsen I, Mundy J (1991) Biochemcial and molecular characterization of three barley seed proteins with anti-fungal properties. J Biol Chem 266:1564–1573

Li P, Pei Y, Sang X, Ling Y, Yang Z, He G (2009) Transgenic indica rice expressing a bitter melon (Momordica charantia) Class I chitinase gene (McCHIT1) confers enhanced resistance to Magnaporthe grisea and Rhizoctonia solani. Eur J Plant Pathol 125:533–543

Lin R, Qie Y, Feng J, Xu S (2010) Identification of the yellow rust resistance gene-carrying wheat landraces in china. J Shenyang Agric Uni 41:535–539

Murashige T, Skoog F (1962) A revised medium for rapid growth and Bio assays with tobacco tissue cultures. Physiol Plant 15:473–497

Nehra NS, Chibbar RN, Leung N, Caswell K, Mallard C, Steinhauer L, Baga M, Kartha KK (1994) Self-fertile transgenic wheat plants regenerated from isolated scutellar tissues following microprojectile bombardment with two distinct gene constructs. Plant J 5:285–297

Nürnberger T, Brunner F, Kemmerling B, Piater L (2004) Innate immunity in plants and animals: striking similarities and obvious differences. Immunol Rev 198:249–266

Punja ZK (2001) Genetic engineering of plants to enhance resistance to fungal pathogens-a review of progress and future prospects. Can J Plant Pathol 23:216–235

Ronald PC, Adamchak RW (2008) Tomorrow's table: organic farming, genetics, and the future of food. Oxford University Press, USA

Shetty NP, Jensen JD, Knudsen A, Finnie C, Geshi N, Blennow A, Collinge DB, Jørgensen HJL (2009) Effects of β-1,3-glucan from Septoria tritici on structural defence responses in wheat. J Exp Bot 60:4287–4300

Shin S, Mackintosh CA, Lewis J, Heinen SJ, Radmer L, Dill-Macky R, Baldridge GD, Zeyen RJ, Muehlbauer GJ (2008) Transgenic wheat expressing a barley ClassII chitinase gene has enhanced resistance against Fusarium graminearum. J Exp Bot 59:2371–2378

Stein N, Herren G, Keller B (2001) A new DNA extraction method for high throughput marker analysis in a large-genome species such as Triticum aestivum. Plant breed 120:354–356

Takahashi W, Fujimori M, Miura Y, Komatsu T, Nishizawa Y, Hibi T, Takamizo T (2005) Increased resistance to crown rust disease in transgenic Italian ryegrass (Lolium multiflorum Lam.) expressing the rice chitinase gene. Plant Cell Rep 23:811–818

Takatsu Y, Nishizawa Y, Hibi T, Akutsu K (1999) Transgenic chrysanthemum (Dendranthema grandiflorum (Ramat.) Kitamura) expressing a rice chitinase gene shows enhanced resistance to gray mold (Botrytis cinerea). Sci Hortic 82:113–123

Wan AM, Chen XM, He ZH (2007) Wheat stripe rust in China. Aus J Agric Res 58:605–619

Xu Y, Zhu Q, Panbangred W, Shirasu K, Lamb C (1996) Regulation, expression and function of a new basic chitinase gene in rice (Oryza sativa L.). Plant Mol Biol 30:387–401

Zhu Q, Maher EA, Masoud S, Dixon RA, Lamb CJ (1994) Enhanced protection against fungal attack by constitutive co-expression of chitinase and glucanase genes in transgenic tobacco. Nat Biotechnol 12:807–812
Acknowledgments
We strongly appreciate that Dr. Xu (Vanderbilt University, TN, USA) conferred this plasmid on us. This work was supported in part by grant from the National Natural Science Foundation of China (30870194, 30900914), The Natural Science Foundation of Shaanxi (2012JQ3003), Research Project of Provincial Key Laboratory of Shaanxi (08JZ70, 2010JS090), Research Project of Educational Department of Shaanxi Province (11JK0612, 11JK0613), Development Project of Science and Technology Research of Shaanxi Province (the Program for Tackling Key Problems, 2010K16-04-01) and Graduate Research Project of Northwest University (10YSY13, 10YSY12).
Electronic supplementary material
Below is the link to the electronic supplementary material.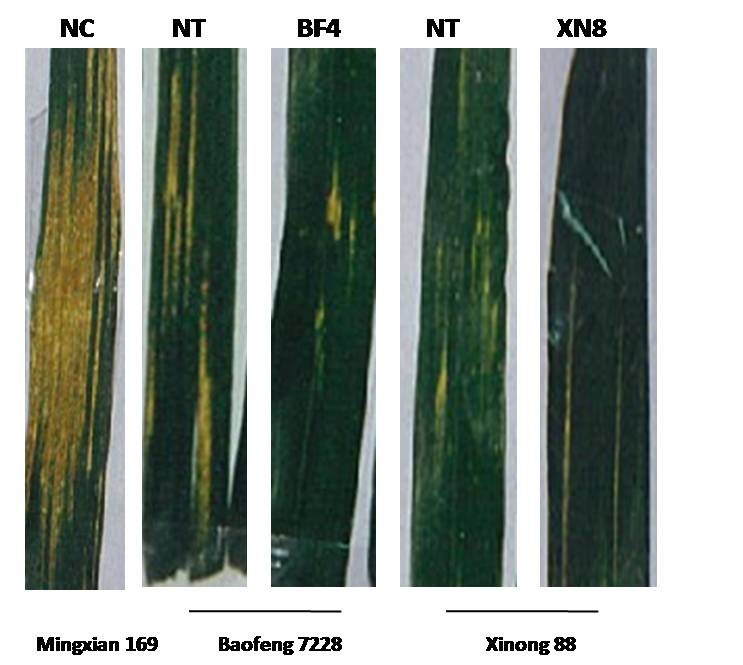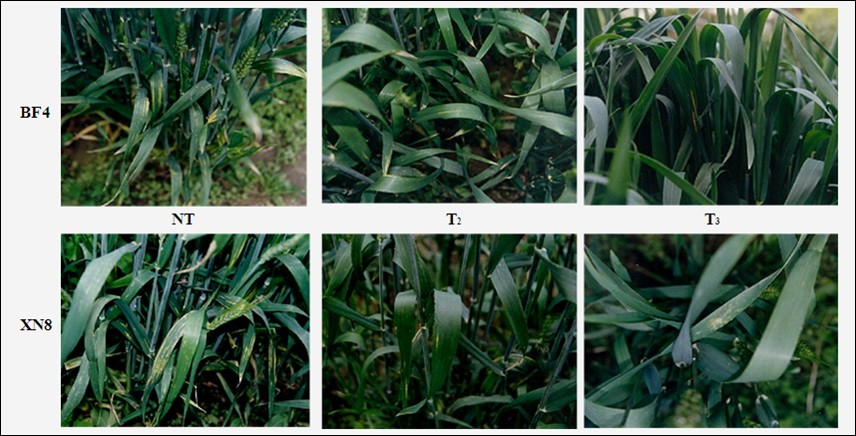 Stripe rust infection phenotypes on the first leaf of transgenic wheat in the greenhouse. From left to right: Susceptible line Mingxian 169(NC, negative control), non-transgenic (NT) line Baofeng 7228, transgenic line BF4 (showing a high resistance phenotype), non-transgenic (NT) line Xinong 88 and transgenic line XN8 (showing a high resistance phenotype). Representative pictures were taken 14 dai. (JPG 48 kb)
Stripe rust infection phenotypes on the first leaf of transgenic wheat in the greenhouse. From left to right: Susceptible line Mingxian 169(NC, negative control), non-transgenic (NT) line Baofeng 7228, transgenic line BF4 (showing a high resistance phenotype), non-transgenic (NT) line Xinong 88 and transgenic line XN8 (showing a high resistance phenotype). Representative pictures were taken 14 dai. (JPG 48 kb)
Stripe rust infection phenotypes on the first leaf of transgenic wheat in the greenhouse. From left to right: Susceptible line Mingxian 169(NC, negative control), non-transgenic (NT) line Baofeng 7228, transgenic line BF4 (showing a high resistance phenotype), non-transgenic (NT) line Xinong 88 and transgenic line XN8 (showing a high resistance phenotype). Representative pictures were taken 14 dai. (JPG 48 kb)
About this article
Cite this article
Huang, X., Wang, J., Du, Z. et al. Enhanced resistance to stripe rust disease in transgenic wheat expressing the rice chitinase gene RC24 . Transgenic Res 22, 939–947 (2013). https://doi.org/10.1007/s11248-013-9704-9
Received:

Accepted:

Published:

Issue Date:
Keywords
Chitinase

Puccinia striformis f.sp tritici

Stripe rust

Transformation

Wheat (Triticum aestivum L.)