Abstract
Despite being both Genetically Modified Organisms (GMOs), GM plants and GM animals share few similarities outside the laboratory premises. Whilst GM plants were soon embraced by industry and became a commercial success, only recently have GM animals reached the market. However, an area where GM animals are likely to follow the GM plant path is on their potential to cause social unrest. One of the major flaws of the 90s GMO crisis was the underestimation of the influence that different players can have in the adoption of new biotechnological applications. In this article we describe the unique evolution of GM animals in two of the most important fields: the pharmaceutical and the breeding sectors. For our analysis, we have subdivided the production chain into three governance domains: Science, Market and Public. We describe the influence and interaction of each of these domains as a vehicle for predicting the future adoptability of GM animals and to highlight conflicting areas.
This is a preview of subscription content, log in to check access.
Access options
Buy single article
Instant access to the full article PDF.
US$ 39.95
Price includes VAT for USA
Subscribe to journal
Immediate online access to all issues from 2019. Subscription will auto renew annually.
US$ 199
This is the net price. Taxes to be calculated in checkout.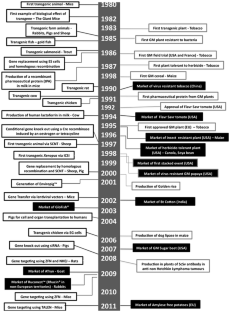 References
Chen KZ, Zhang Y (2011) Regional case study: R2. Agricultural R&D as an engine of productivity growth, China. In: Foresight project on global food and farming futures. Report from the Department of Business, innovation and skills, London

Eurobarometer (2008) European's attitudes towards animal cloning, analytical report. Survey requested by Directorate General Health and Consumers and coordinated by Directoreate General Communication (European Commission). In: Flash Eurobarometer, vol 238. The Gallup Organization, Brussels, October 2008

Gordon JW, Scangos GA, Plotkin DJ, Barbosa JA, Ruddle FH (1980) Genetic transformation of mouse embryos by microinjection of purified DNA. Proc Nat Acad Sci USA 77:7380–7384

Hammer RE, Pursel VG, Rexroad CE Jr, Wall RJ, Bolt DJ, Ebert KM, Palmiter RD, Brinster RL (1985) Production of GM rabbits, sheep and pigs by microinjection. Nature 315(6021):680–683; Jun 20–26

Houdebine LM (2010) Meeting Report: UC Davis Transgenic Animal Research Conference VII. Tahoe City, USA. Transgenic Res 19:127–130

Kalaitzandonakes N, Bijman J (2003) Who is driving biotechnology acceptance? Nat Biotechol 21:366–369

Kearnes M, Macnaghten P, Wilsdon J (2006) Governing at the nanoscale: people, policies and emerging technologies. Report by DEMOS ISBN 1 84180 156 9

Kind A, Schnieke A (2008) Animal pharming, two decades on. Transgenic Res 17:1025–1033

Ledford H (2006) The farmyard drug store. Nature 443(7107):16–17

Moon Chapotin S, Wolt JD (2007) Genetically modified crops for bioeconomy: meeting public and regulatory expectations. Transgenic Res 16:675–688

Mora C, Menozzi D, Aramyan LH, Valeeva NI, Reddy GP, Zimmermann KL, Merigo A, Pancini S (2011) PEGASUS deliverable 3.1-report on production chain context. Available at http://www.pegasus.wur.nl/UK/

Murray JC, Maga EA (2010) Is there a risk from not using GE animals? Transgenic Res 19:257–361

Neeteson-van Niewenhoven AM (1999) The future developments in farm animal breeding and reproduction and their ethical, legal and consumer implications. Report from the EC-ELSA project by Farm Animal Industrial Platform

Powell K (2003) Barnyard biotech—lame duck or golden goose? Nat Biotechnol 21(9):965–967

Ramessar K, Peremarti A, Gómez-Galera S, Naqvie S, Moralejo M, Muñoz P, Capell T, Christou P (2007) Biosafety and risk assessment framework for selectable marker genes in transgenic crop plants: a case of the science not supporting the politics. Transgenic Res 16:261–280

Reardon T, Barrett CB (2000) Agroindustrialization, globalization, and international development: an overview of issues, patterns, and determinants. Agr Econ 23(3):195–205

Renkoski MA (1997) Marketing strategies of biotechnology firms: implications for US Agriculture. J Agric Appl Econ 29(1):123–128

Rollin BE (1995) The Frankenstein syndrome: ethical and social issues in the genetic engineering of animals. Cambridge University Press, New York

Rollin WJ, Kennedy J (2011) Consumers and new food technologies. Trends Food Sci Tech 22(2–3):99–111

Tait J (2007) Systemic interactions in life science innovation. Technol Anal Strateg 19(3):257–277

Van den Hout JM, Reuser AJ, de Klerk JB, Arts WF, Smeitink JA, Van der Ploeg AT (2001) Enzyme therapy for Pompe disease with recombinant human alpha-glucosidase from rabbit milk. J Inherit Metab Dis 24(2):266–274

Vàzquez-Salat N, Salter B (2011) Policy implications of introducing genetically modified (GM) animals in the European Union. PEGASUS Work Package 6.2 Deliverable. Available at http://www.pegasus.wur.nl/UK/

Vàzquez-Salat N, Salter B, Smets G (2010) International multi-level governance of GMOs: the EU, USA and Indian cases. PEGASUS Deliverable 6.1—scoping report. Available at http://www.pegasus.wur.nl/UK/

Vàzquez-Salat N, Salter B, Smets G, Houdebine LM (2012) The current State of GMO governance: are we ready for GM animals? Biotechnol Adv (in press)
Acknowledgments
The authors would like to thank Dr Fillip Cnuddle for his comments on Fig. 1. This article draws on research conducted by the authors in the course of the PEGASUS programme. PEGASUS is an integrated project funded by the European Union in the Seventh Framework Programme (http://www.pegasus.wur.nl/UK/).
About this article
Cite this article
Vàzquez-Salat, N., Houdebine, L. Will GM animals follow the GM plant fate?. Transgenic Res 22, 5–13 (2013). https://doi.org/10.1007/s11248-012-9648-5
Received:

Accepted:

Published:

Issue Date:
Keywords
Genetically modified animals

Transgenic

Governance

Policy

Public

Market