Abstract
Tissue-specific and time-dependent control of in vivo gene disruption may be achieved using conditional knockout strategies in transgenic mice. Fusion of mutant estrogen receptor ligand-binding domains to Cre recombinase (Cre-ERT, MerCreMer) combined with cardiac-directed gene expression has been used to generate several cardiac-specific tamoxifen-inducible Cre-expressing mouse lines. Such mice have successfully been used to generate Cre-loxP-mediated gene disruption in an inducible manner in the myocardium in vivo. However, information is sparse regarding the tamoxifen dosage, the time course of gene disruption and whether different administration routes differ in efficiency in obtaining gene disruption in the myocardium. We have evaluated these parameters in Serca2 flox/flox Tg(αMHC-MerCreMer) transgenic mice (SERCA2 KO). Serca2 mRNA transcript abundance was used as a sensitive indicator of Cre-loxP-dependent gene disruption in the myocardium. We found that 2 i.p. injections of tamoxifen in oil (1 mg/day, approximate total dose 80 mg/kg) was sufficient for efficient gene disruption with maximal reduction of Serca2 mRNA as early as 4 days after tamoxifen induction. Moreover, a simple protocol using tamoxifen-supplemented non-pelleted dry feed p.o. was comparable to i.p. injections in inducing gene disruption. These improvements may significantly improve animal welfare and reduce the workload in the production of cardiac conditional knockout mice.
This is a preview of subscription content, log in to check access.
Access options
Buy single article
Instant access to the full article PDF.
US$ 39.95
Price includes VAT for USA
Subscribe to journal
Immediate online access to all issues from 2019. Subscription will auto renew annually.
US$ 199
This is the net price. Taxes to be calculated in checkout.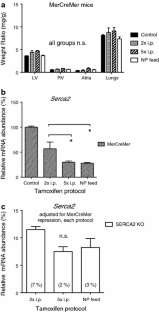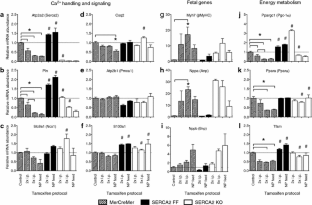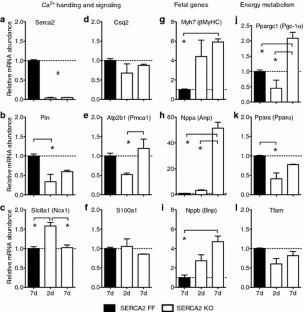 References
Andersson KB, Birkeland JA, Finsen AV, Louch WE, Sjaastad I, Wang Y, Chen J, Molkentin JD, Chien KR, Sejersted OM, Christensen G (2009a) Moderate heart dysfunction in mice with inducible cardiomyocyte-specific excision of the Serca2 gene. J Mol Cell Cardiol 47:180–187

Andersson KB, Finsen AV, Sjåland C, Winer LH, Sjaastad I, Ødegaard A, Louch WE, Wang Y, Chen J, Chien KR, Sejersted OM, Christensen G (2009b) Mice carrying a conditional Serca2(flox) allele for the generation of Ca(2+) handling-deficient mouse models. Cell Calcium 46:219–225

Buchanan CM, Buchanan NL, Edgar KJ, Klein S, Little JL, Ramsey MG, Ruble KM, Wacher VJ, Wempe MF (2007) Pharmacokinetics of itraconazole after intravenous and oral dosing of itraconazole-cyclodextrin formulations. J Pharm Sci 96:3100–3116

DeGregorio MW, Wilbur BJ, Coronado E, Osborne CK (1987) Serum tamoxifen concentrations in the athymic nude mouse after three methods of administration. Cancer Chemother Pharmacol 20:316–318

Feil R, Brocard J, Mascrez B, LeMeur M, Metzger D, Chambon P (1996) Ligand-activated site-specific recombination in mice. Proc Natl Acad Sci USA 93:10887–10890

Hayashi S, McMahon AP (2002) Efficient recombination in diverse tissues by a tamoxifen-inducible form of Cre: a tool for temporally regulated gene activation/inactivation in the mouse. Dev Biol 244:305–318

Heldring N, Nilsson M, Buehrer B, Treuter E, Gustafsson JA (2004) Identification of tamoxifen-induced coregulator interaction surfaces within the ligand-binding domain of estrogen receptors. Mol Cell Biol 24:3445–3459

Hsieh PC, Segers VF, Davis ME, MacGillivray C, Gannon J, Molkentin JD, Robbins J, Lee RT (2007) Evidence from a genetic fate-mapping study that stem cells refresh adult mammalian cardiomyocytes after injury. Nat Med 13:970–974

Jullien N, Goddard I, Selmi-Ruby S, Fina JL, Cremer H, Herman JP (2008) Use of ERT2-iCre-ERT2 for conditional transgenesis. Genesis 46:193–199

Kiermayer C, Conrad M, Schneider M, Schmidt J, Brielmeier M (2007) Optimization of spatiotemporal gene inactivation in mouse heart by oral application of tamoxifen citrate. Genesis 45:11–16

Koitabashi N, Bedja D, Zaiman AL, Pinto YM, Zhang M, Gabrielson KL, Takimoto E, Kass DA (2009) Avoidance of transient cardiomyopathy in cardiomyocyte-targeted tamoxifen-induced MerCreMer gene deletion models. Circ Res 105:12–15

Kostetskii I, Li J, Xiong Y, Zhou R, Ferrari VA, Patel VV, Molkentin JD, Radice GL (2005) Induced deletion of the N-cadherin gene in the heart leads to dissolution of the intercalated disc structure. Circ Res 96:346–354

Kühbandner S, Brummer S, Metzger D, Chambon P, Hofmann F, Feil R (2000) Temporally controlled somatic mutagenesis in smooth muscle. Genesis 28:15–22

Li J, Patel VV, Kostetskii I, Xiong Y, Chu AF, Jacobson JT, Yu C, Morley GE, Molkentin JD, Radice GL (2005) Cardiac-specific loss of N-cadherin leads to alteration in connexins with conduction slowing and arrhythmogenesis. Circ Res 97:474–481

Littlewood TD, Hancock DC, Danielian PS, Parker MG, Evan GI (1995) A modified oestrogen receptor ligand-binding domain as an improved switch for the regulation of heterologous proteins. Nucleic Acids Res 23:1686–1690

Lizotte E, Grandy SA, Tremblay A, Allen BG, Fiset C (2009) Expression, distribution and regulation of sex steroid hormone receptors in mouse heart. Cell Physiol Biochem 23:75–86

Nilsson S, Makela S, Treuter E, Tujague M, Thomsen J, Andersson G, Enmark E, Pettersson K, Warner M, Gustafsson JA (2001) Mechanisms of estrogen action. Physiol Rev 81:1535–1565

Parlakian A, Charvet C, Escoubet B, Mericskay M, Molkentin JD, Gary-Bobo G, De Windt LJ, Ludosky MA, Paulin D, Daegelen D, Tuil D, Li Z (2005) Temporally controlled onset of dilated cardiomyopathy through disruption of the SRF gene in adult heart. Circulation 112:2930–2939

Robinson SP, Langan-Fahey SM, Johnson DA, Jordan VC (1991) Metabolites, pharmacodynamics, and pharmacokinetics of tamoxifen in rats and mice compared to the breast cancer patient. Drug Metab Dispos 19:36–43

Seibler J, Zevnik B, Kuter-Luks B, Andreas S, Kern H, Hennek T, Rode A, Heimann C, Faust N, Kauselmann G, Schoor M, Jaenisch R, Rajewsky K, Kuhn R, Schwenk F (2003) Rapid generation of inducible mouse mutants. Nucleic Acids Res 31:e12

Sohal DS, Nghiem M, Crackower MA, Witt SA, Kimball TR, Tymitz KM, Penninger JM, Molkentin JD (2001) Temporally regulated and tissue-specific gene manipulations in the adult and embryonic heart using a tamoxifen-inducible Cre protein. Circ Res 89:20–25

Zhang Y, Riesterer C, Ayrall AM, Sablitzky F, Littlewood TD, Reth M (1996) Inducible site-directed recombination in mouse embryonic stem cells. Nucleic Acids Res 24:543–548

Zhang Y, Wienands J, Zurn C, Reth M (1998) Induction of the antigen receptor expression on B lymphocytes results in rapid competence for signaling of SLP-65 and Syk. EMBO J 17:7304–7310
Acknowledgments
We thank Carsten Lund for advice on feed, Dag Markus Eide, National Institute of Public Health, for lending us mouse feeders, Roy Trondsen for designing mouse feeders, Marianne Lunde Sneve for technical assistance, Heidi Kvaløy and Ulla H. Enger for help with testing tamoxifen feed pellets. KBA was funded by Southeastern Norway Regional Health Authority and University of Oslo EMBIO senior fellow grants. HKM was funded by the Norwegian Research Council.
Conflict of interest
Patent EP1699289 (WO2005063007) (K.B.A., G.C.).
Electronic supplementary material
About this article
Cite this article
Andersson, K.B., Winer, L.H., Mørk, H.K. et al. Tamoxifen administration routes and dosage for inducible Cre-mediated gene disruption in mouse hearts. Transgenic Res 19, 715–725 (2010). https://doi.org/10.1007/s11248-009-9342-4
Received:

Accepted:

Published:

Issue Date:
Keywords
Transgenic mouse

Heart

Gene disruption, Cre

Tamoxifen

Calcium ATPase