Abstract
The gene trap technique is a powerful approach for characterizing and mutating genes in the mouse. We used this method to identify a mouse gene of unknown function and to establish a mutant mouse line. We subsequently identified one gene, denoted Ayu17-449, on mouse chromosome 3 that comprised 14 exons encoding 1920 amino acids with a granin motif in its N-terminal sequence. In adult mice, this gene was highly expressed in the brain, heart, lung, muscle, stomach, and kidney. The insertion of a trap vector into the second intron of this gene resulted in the null mutation. Homozygous mice for these mutation died by 1 day after birth. Mutant mice showed a loss of acidic granules in the proximal convoluted tubules of the kidney. Our data demonstrates that Ayu17-449 is important for mouse survival.
This is a preview of subscription content, log in to check access.
Access options
Buy single article
Instant unlimited access to the full article PDF.
US$ 39.95
Price includes VAT for USA
Subscribe to journal
Immediate online access to all issues from 2019. Subscription will auto renew annually.
US$ 199
This is the net price. Taxes to be calculated in checkout.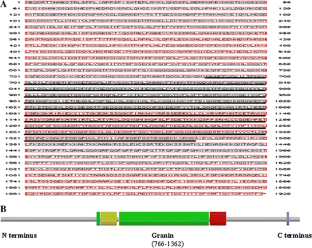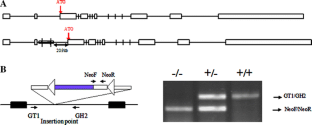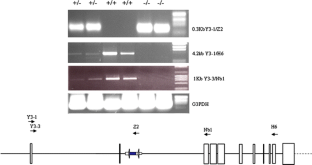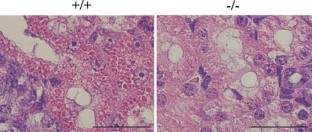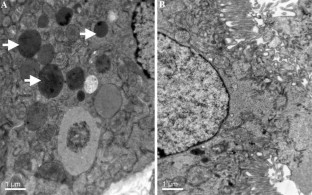 References
Araki K, Araki M, Yamamura K (2002) Site-directed integration of the cre gene mediated by Cre recombinase using a combination of mutant lox sites. Nucleic Acids Res 30:e103

Banks P, Helle KB (1965) The release of protein from the stimulated adrenal medulla. Biochem J 97:40C-41C

Birn H, Vorum H, Verroust PJ, Moestrup SK, Christensen EI (2000) Receptor associated protein is important for normal processing of megalin in kidney proximal tubules. J Am Soc Nephrol 11:191–202

Carlson CM, Largaespada DA (2005) Insertional mutagenesis in mice: new perspectives and tools. Nat Rev Genet 6:568–580

Chen Z, Saffitz JE, Latour A, Schonfeld G (1999) Truncated apoB-70.5-containing lipoproteins bind to megalin but not the LDL receptor. J Clin Invest 103:1419–1430

Christensen EI (1976) Rapid protein uptake and digestion in proximal tubule lysosomes. Kidney Int 10:301–310

Christensen EI, Nielsen S, Moestrup SK, Borre C, Maunsbach AB, de Heer E, Ronco P, Hammond TG, Verroust P (1995) Segmental distribution of the endocytosis receptor gp330 in renal proximal tubules. Eur J Cell Biol 66:349–364

Christensen EI, Birn H, Verroust P, Moestrup SK (1998) Megalin-mediated endocytosis in renal proximal tubule. Ren Fail 20:191–199

Ericsson JLE (1965) Transport and digestion of hemoglobin in the proximal tubule. II. Electron microscopy. Lab Invest 14:16–39

Evans MJ, Carlton MB, Russ AP (1997) Gene trapping and functional genomics. Trends Genet 13:370–374

Fischer-Colbrie R, Laslop A, Kirchmair R (1995) Secretogranin II: molecular properties, regulation of biosynthesis and processing to the neuropeptide secretoneurin. Prog Neurobiol 46:49–70

Frohman MA, Dush MK, Martin GR (1988) Rapid production of full-length cDNAs from rare transcripts: amplification using a single gene-specific oligonucleotide primer. Proc Natl Acad Sci USA 85:8998–9002

Gossler A, Joyner AL, Rossant J, Skarnes WC (1989) Mouse embryonic stem cells and reporter constructs to detect developmentally regulated genes. Science 244:63–465

Helle KB (1966) Some chemical and physical properties of the soluble protein fraction of bovine adrenal chromaffin granules. Mol Pharmacol 2:298–310

Huttner WB, Gerdes HH, Rosa P (1991) The granin (chromogranin/secretogranin) family. Trends Biochem Sci 16:27–30

Ischia R, Lovisetti-Scamihorn P, Hogue-Angeletti R, Wolkersdorfer M, Winkler H, Fischer-Colbrie R (1997) Molecular cloning and characterization of NESP55, a novel chromogranin-like precursor of a peptide with 5-HT1B receptor antagonist activity. J Biol Chem 272:11657–11662

Krisch K, Buxbaum P, Horvat G, Krisch I, Neuhold N, Ulrich W, Srikanta S (1986) Monoclonal antibody HISL-19 as an immunocytochemical probe for neuroendocrine differentiation: its application in diagnostic pathology. Am J Pathol 123:100–108

Lako M, Hole N (2000) Searching the unknown with gene trapping. Expert Rev Mol Med 6:1–11

Laurent T, Kimberly LH, O'Connor DT (2003) The chromogranin-secrectogranin family. N Engl J Med 348:1134–1149

Lee RW, Huttner WB (1983) Tyrosine-O-sulfated proteins of PC12 pheochromocytoma cells and their sulfation by a tyrosylprotein sulfotransferase. J Biol Chem 258:11326–11334

Mbikay M, Seidah NG, Chretien M (2001) Neuroendocrine secretory protein 7B2: structure, expression and functions. Biochem J 357:329–342

Natori S, Huttner WB (1996) Chromogranin B (secretogranin I) promotes sorting to the regulated secretory pathway of processing intermediates derived from a peptide hormone precursor. Proc Natl Acad Sci USA 93:4431–4436

Nobels FR, Kwekkeboom DJ, Bouillon R, Lambergs SW (1998) Chromogranin A: its clinical value as marker of neuroendocrine tumours. Eur J Clin Invest 28:431–440

O'Connor DT (1983) Chromogranin: widespread immunoreactivity in polypeptide. Hormone producing tissues and in serum. Regul Pept 6:263–280

O'Connor DT, Deftos LJ (1986) Secretion of chromogranin A by peptide-producing endocrine neoplasms. N Engl J Med 314:1145–1151

Ottiger HP, Battenberg EF, Tsou AP, Bloom FE, Sutcliffe JG (1990) A brain- and pituitary-specific mRNA that encodes a novel chromogranin/secretogranin-like component of intracellular vesicles. J Neurosci 10:3135–3147

Rosa P, Zanini A (1981) Characterization of adenohypophysial polypeptides by two dimensional gel electrophoresis. II. Sulfated and glycosylated polypeptides. Mol Cell Endocrinol 24:181–193

Sadaki Y, Hiroshi T, Keitaro K (1986) Immunocytochemical localization of cathepsin bin rat kidney. I. Light microscopic study using the indirect immunoenzyme technique. J Histochem Cytochem 34:891–897

Shaw E, Dean RT (1980) The inhibition of macrophage protein turnover by a selective inhibitor of thiol proteinases. Biochem J 186:385–390

Stridsberg M, Oberg K, Li Q, Engstrom U, Lundqvist G (1995) Measurements of chromogranin A, chromogranin B (secretogranin I), chromogranin C (secretogranin II) and pancreastatin in plasma and urine from patients with carcinoid tumours and endocrine pancreatic tumours. J Endocrinol 144:49–59

Taniwaki T, Haruna K, Nakamura H, Sekimoto T, Oike Y, Imaizumi T, Saito F, Muta M, Soejima Y, Utoh A, Nakagata N, Araki M, Yamamura K, Araki K (2005) Characterization of an exchangeable gene trap using pU-17 carrying a stop codon-β-geo cassette. Dev Growth Diff 47:163–172

Tooze SA, Martens GJM, Huttner WB (2001) Secretory granule biogenesis: rafting to the SNARE. Trends Cell Biol 11:116–122

Yagi T, Tokunaga T, Furuta Y, Nada S, Yoshida M, Tsukada T, Saga Y, Takeda N, Ikawa Y, Aizawa S (1993) A novel ES cell line, TT2, with high germline-differentiating potency. Anal Biochem 214:70–76

Yokota S, Tsuji H, Kato K (1985) Immunocytochemical localization of cathepsin D in lysosomes of cortical collecting tubule cells of the rat kidney. J Histochem Cytochem 33:191–200
Acknowledgments
We thank Mrs. Nakada for staining of all tissue sections. This study was supported in part by KAKENHI (Grant-in-Aid for Scientific Research) on Priority Areas "Integrative Research Toward the Conquest of Cancer" from the Ministry of Education, Culture, Sports, Science and Technology of Japan, a grant from the Osaka Foundation of Promotion of Clinical Immunology; and a grant from the National Nature Science Foundation of China (30671080).
About this article
Cite this article
Tang, H., Araki, K., Li, Z. et al. Characterization of Ayu17-449 gene expression and resultant kidney pathology in a knockout mouse model. Transgenic Res 17, 599–608 (2008) doi:10.1007/s11248-008-9170-y
Received:

Accepted:

Published:

Issue Date:
Keywords
Acidic granules

ES cells

Gene trapping

Proximal convoluted tubules