Abstract
Intercross of mice transgenic for Flp-recombinase with the CD19cre mouse strain leads to excision of the Frt-flanked neo R cassette from the CD19cre knock-in transgene. This significantly reduces the expression level of Cre by the CD19cre transgene and consequently decreases the extent of Cre-mediated recombination of loxP-flanked alleles, most likely due to the fact that this neo R cassette contains polyoma enhancer sequences. We wish to draw attention to this finding, since the Flp-deleter mouse strain is commonly used to remove Frt-flanked selection cassettes in vivo from conditional alleles. Therefore conditional alleles have to be separated from the Flp-deleter transgene by breeding before crosses with CD19cre mice are initiated. In addition our findings suggest that gene expression from the CD19 locus can be increased by the insertion of exogenous enhancer sequences, without compromising B cell specificity.
This is a preview of subscription content, log in to check access.
Access options
Buy single article
Instant access to the full article PDF.
US$ 39.95
Price includes VAT for USA
Subscribe to journal
Immediate online access to all issues from 2019. Subscription will auto renew annually.
US$ 199
This is the net price. Taxes to be calculated in checkout.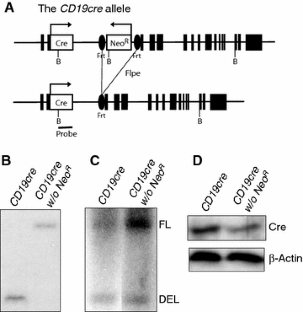 References
Brockschnieder D, Lappe-Siefke C, Goebbels S, Boesl MR, Nave KA, Riethmacher D (2004) Cell depletion due to diphtheria toxin fragment A after Cre-mediated recombination. Mol Cell Biol 24:7636–7642

de Alboran IM, Baena E, Martinez AC (2004) c-Myc-deficient B lymphocytes are resistant to spontaneous and induced cell death. Cell Death Differ 11:61–68

de Alboran IM, O'Hagan RC, Gartner F, Malynn B, Davidson L, Rickert R, Rajewsky K, DePinho RA, Alt FW (2001) Analysis of C-MYC function in normal cells via conditional gene-targeted mutation. Immunity 14:45–55

Fujimura FK, Deininger PL, Friedmann T, Linney E (1981) Mutation near the polyoma DNA replication origin permits productive infection of F9 embryonal carcinoma cells. Cell 23:809–814

Horcher M, Souabni A, Busslinger M (2001) Pax5/BSAP maintains the identity of B cells in late B lymphopoiesis. Immunity 14:779–790

Pasparakis M, Schmidt-Supprian M, Rajewsky K (2002) IkappaB kinase signaling is essential for maintenance of mature B cells. J Exp Med 196:743–752

Rickert RC, Rajewsky K, Roes J (1995) Impairment of T-cell-dependent B-cell responses and B-1 cell development in CD19-deficient mice. Nature 376:352–355

Rickert RC, Roes J, Rajewsky K (1997) B lymphocyte-specific, Cre-mediated mutagenesis in mice. Nucleic Acids Res 25:1317–1318

Rodriguez CI, Buchholz F, Galloway J, Sequerra R, Kasper J, Ayala R, Stewart AF, Dymecki SM (2000) High-efficiency deleter mice show that FLPe is an alternative to Cre-loxP. Nat Genet 25:139–140

Srinivas S, Watanabe T, Lin CS, William CM, Tanabe Y, Jessell TM, Costantini F (2001) Cre reporter strains produced by targeted insertion of EYFP and ECFP into the ROSA26 locus. BMC Dev Biol 1:4

Thomas KR, Capecchi MR (1987) Site-directed mutagenesis by gene targeting in mouse embryo-derived stem cells. Cell 51:503–512
Acknowledgements
We thank N. Barteneva for FACS purification of B cell subsets and Junrong Xia for technical help. We are grateful to F. Costantini and S. Dymecki for the R26R-EFYFP and Flp-deleter mice, respectively. This work was supported by NIH grant AI057947 to K.R.
About this article
Cite this article
Schmidt-Supprian, M., Wunderlich, F.T. & Rajewsky, K. Excision of the Frt-flanked neo R cassette from the CD19cre knock-in transgene reduces Cre-mediated recombination. Transgenic Res 16, 657–660 (2007). https://doi.org/10.1007/s11248-007-9100-4
Received:

Accepted:

Published:

Issue Date:
Keywords
CD19cre mouse stain

Conditional gene targeting efficiency

B cells

Frt-site flanked neomycin resistance gene cassette