Abstract
A process has been developed to oxidise methane at low temperatures in an excess oxygen environment using ozone as the oxidant. Ozone being more reactive than oxygen allows low temperature methane control. A range of catalysts have been screened and a commercially available current production Fe-BEA catalyst, from an automotive application has shown excellent potential for methane control with ozone in the feed, leading to a peak conversion efficiency of 81% at 168 °C in the absence of H2O and 60% conversion at 220 °C in the presence of H2O.
This is a preview of subscription content, log in to check access.
Access options
Buy single article
Instant access to the full article PDF.
US$ 39.95
Price includes VAT for USA
Subscribe to journal
Immediate online access to all issues from 2019. Subscription will auto renew annually.
US$ 199
This is the net price. Taxes to be calculated in checkout.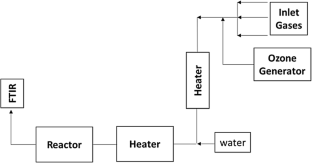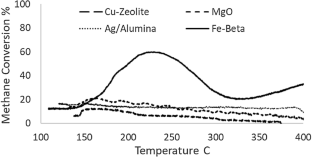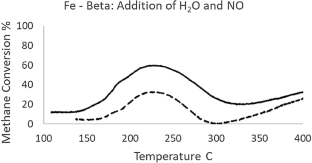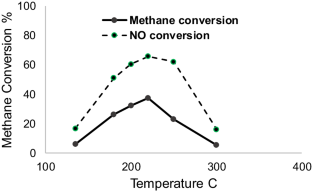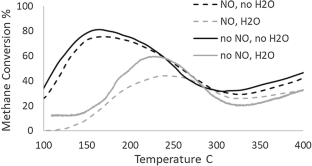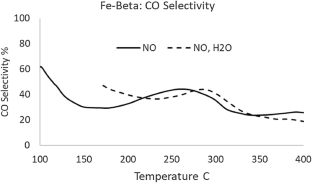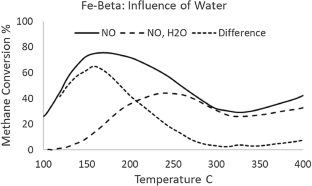 References
1.

Worth DJ et al (2016) Emiss Control Sci Technol 2:204–214. https://doi.org/10.1007/s40825-016-0047-x

2.

Kinnunen NM, Hirvi JT, Kallinen K, Maunula T, Keenan M, Suvanto M (2017) Appl Catal B 207:114–119

3.

Kinnunen NM, Kinnunen T, Kallinen K, SAE Technical Paper 2013-24-0155

4.

Raj A (2016) Johnson Matthey Technol Rev 60(4):228–235

5.

Oyama T, Li W (1996) Heterogeneous carbon oxidation, Chap. 27. ACS symposium series. ACS Publications, Washington, vol 638, pp 364–373

6.

Hui KS, Kwong CW, Chao CYH (2010) Energy Environ Sci 3:1092–1098

7.

Levendis YA, Larsen CA, SAE Technical Paper 1999-01-0114

8.

Ito Y (2016) R&D Rev Toyota CRDL 47(1):35–43

9.

Bozovoc A, Feil S, Koyangi GK, Viggiano AA, Zhang X, Schlangen M, Scharwz H, Bohme DK (2010) Chem Eur J 16:11605–11610

10.

Keenan M, SAE Technical Paper 2018-01-1702

11.

Oyama TS (2000) Catal Rev 42(3):279–322. https://doi.org/10.1081/CR-100100263

12.

Maunula T, Ahola J, Hamada H (2006) Appl Catal B 64:13–24

13.

Keenan M, SAE Technical Paper 2017-24-0120
About this article
Cite this article
Keenan, M., Nicole, J. & Poojary, D. Ozone as an Enabler for Low Temperature Methane Control Over a Current Production Fe-BEA Catalyst. Top Catal 62, 351–355 (2019). https://doi.org/10.1007/s11244-018-1098-8
Keywords
Ozone

Methane

Low temperature

Fe-BEA