Abstract
Herein, we studied the influence of calcination temperature (500–800 °C) of Ni/CeO2 and Ni/Ce0.8Zr0.2O2 catalysts on the specific surface area, pore volume, crystalline size, lattice parameter, chemical bonding and oxidation states, nickel dispersion and CH4/CO production rate in CO2 methanation. In general, the catalytic performance revealed that Zr doping catalysts could increase the CH4 production rate. Combined with the production rate and the characterizations results, we found that the combination of nickel dispersion, peak area of CO2–TPD and OII/(OII + OI)) play the critical role in increasing the CH4 production rate. It is well to be mentioned that the CO production rate is strongly influenced by the nickel dispersion. Furthermore, the in-situ DRIFTS confirmed that the CO originates from the decomposition of H-assisted formate species.
This is a preview of subscription content, log in to check access.
Access options
Buy single article
Instant access to the full article PDF.
US$ 39.95
Price includes VAT for USA
Subscribe to journal
Immediate online access to all issues from 2019. Subscription will auto renew annually.
US$ 199
This is the net price. Taxes to be calculated in checkout.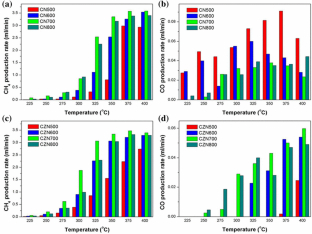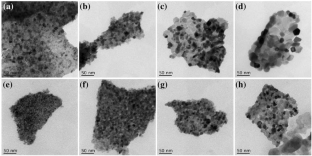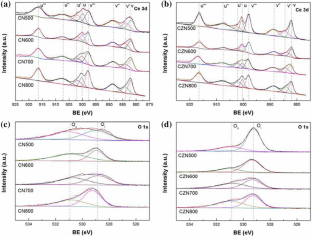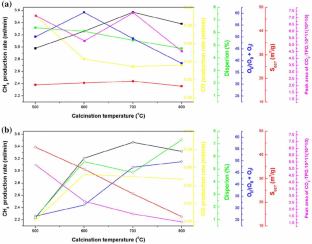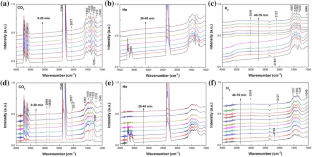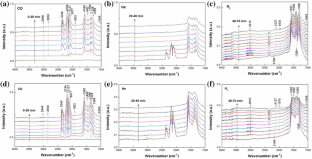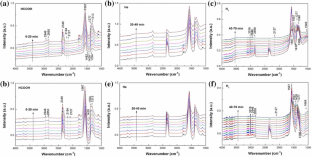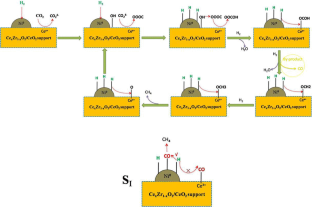 References
1.

Mikkelsen M, Jorgensen M, Krebs FC (2013) Energy Environ Sci 3:43–81

2.

Wang W, Wang SP, Ma XB, Gong JL (2011) Chem Soc Rev 40:3703–3727

3.

Lunde PJ, Kester FL (1974) Ind Eng Chem Process Des Dev 13:27–33

4.

Ma J, Sun NN, Zhang XL, Zhao N, Xiao FK, Wei W, Sun YH (2009) Catal Today 148:221–231

5.

Wang WH, Himeda Y, Muckerman JT, Manbeck GF, Fujita E (2015) Chem Rev 115:12936–12973

6.

Zhang ZF, Hu SQ, Song JL, Li WJ, Yang GY, Han BX (2009) ChemSusChem 2:234–238

7.

Li YH, Junge K, Beller M (2013) ChemCatChem 5 pp 1072–1074

8.

An X, Zuo YZ, Zhang Q, Wang DZ, Wang JF (2008) Ind Eng Chem Res 47:547–6554

9.

Song CS (2006) Catal Today 115:2–32

10.

Abe T, Tanizawa M, Watanabe K, Taguchi A (2009) Energy Environ Sci 2:315–321

11.

Kuśmierz M (2008) Catal Today 137:429–432

12.

Du GA, Lim SY, Yang YH, Wang C, Pfefferle L, Haller GL (2007) J Catal 249:370–379

13.

Hetterley RD, Mackey R, Jones JTA, Khimyak YZ, Fogg AM, Kozhevnikov IV (2008) J Catal 258:250–255

14.

Lang YQ, Wang QQ, Xing JM, Zhang B, Liu HZ (2008) AIChE J 54:2303–2309

15.

Wang Q, O'Hare D (2012) Chem Rev 112:4124–4155

16.

Wei M, Zhang X, Evans DG, Duan X, Li XJ, Chen H (2007) AIChE J 53:2916–2924

17.

Ang ML, Oemar U, Saw ET, Mo L, Kathiraser Y, Chia BH, Kawi S (2014) ACS Catal 4:3237–3248

18.

Bian ZF, Suryawinata IY, Kawi S (2016) Appl Catal B 195:1–8

19.

Peebles DE, Goodman DW, White JM (1983) J Phys Chem 87:4378–4387

20.

Marwood M, Doepper R, Renken A (1997) Appl Catal A 151:223–246

21.

Falconer JL, Zagli AE (1980) J Catal 62:280–285

22.

Fujita S, Terunuma H, Kobayashi H, Takezawa N (1987) React Kinet Catal Lett 33:179–184

23.

Schild C, Wokaun A, Baiker A (1990) J Mol Catal 63:243–254

24.

Pan QS, Peng JX, Wang S, Wang SD (2014) Catal Sci Technol 4:502–509

25.

Aldana PAU, Ocampo F, Kobl K, Louis B, Thibault-Starzyk F, Daturi M, Bazin P, Thomas S, Roger AC (2013) Catal Today 215:201–207

26.

Aziz MAA, Jalil AA, Triwahyono S, Sidik SM (2014) Appl Catal A 486:115–122

27.

Tada S, Yokoyama M, Kikuchi R, Haneda T, Kameyama H (2013) J Phys Chem C 117:14652–14658

28.

Yu Y, Zhong L, Zhong Q, Cai W (2016) RSC Adv 6:50680–50687

29.

prymak L, Kalevaru VN, Wohlrab S, Martin A (2015) Catal Sci Technol 5:2322 – 2231

30.

Gabal MA, Angari YM, Al-Juaid SS (2010) J Alloys Compd 492:411–415

31.

Wang SP, Zheng XC, Wang XY, Wang SR, Zhang SM, Yu LH, Huang WP, Wu SH (2005) Catal Let 105:163–168

32.

Deng H, Li XL, Peng Q, Wang X, Chen JP, Li YD (2005) Angew Chem Int Ed 44:2782–2785

33.

Wang N, Shen K, Yu XP, Qian WZ, Chu W (2013) Catal Sci Technol 3:2278–2287

34.

Ashok J, Ang ML, Terence PZL, Kawi S (2016) ChemCatChem 8:1308–1318

35.

Béche E, Charvin P, Peranau D, Abanades S, Flamant G (2008) Surf Interface Anal 40:264–267

36.

Si R, Zhang YW, Li SJ, Lin BX, Yan CH (2004) J Phys Chem B 108:12481–12888

37.

Roh HS, Potdar HS, Jun KW, Kim JW, Oh YS (2004) Appl Cataly A 276:231–239

38.

Pan YX, Liu CJ, Mei DH, Ge QF (2010) Langmuir 26:5551–5558

39.

Saw ET, Oemar U, Tan XR, Du Y, Borgna A, Hidajat K, Kawi S (2014) J Catal 314:32–46

40.

Graciani J, Mudiyanselage K, Xu F, Baber AE, Evans J, Senanayake SD, Stacchiola DJ, Liu P, Hrbek J, Sanz JF Rodriguez JA (2014) Science 345:546–550

41.

Holmgren B, Andersson D, Duprez (1999) Appl Catal B 22:215–230

42.

Li Y, Sakata T, Arai K, Domen KI, Maruya T, Onishi (1989) J Chem Soc Faraday Trans 85:1451–1461

43.

Vimont JC, Lavalley A, Sahibed-Dine CO, Arean MR, Delgado M, Daturi (2005) J Phys Chem B 109:9656–9664

44.

Zhu F, Zhu GL, Zhou S (2015) ChemSusChem 8:609–612

45.

Wang F, He S, Chen H, Wang B, Zheng LR, Wei M, Evans DG, Duan X (2016) J Am Chem Soc 138:6298–6305

46.

Kitla A, Safonova OV, Föttinger K (2013) Catal Lett 143:517–530

47.

Takano H, Kirihata Y, Izumiya K, Kumagai N, Habazaki H, Hashimoto K (2016) Appl Surf Sci 388:653–663

48.

Resini T, Venkov K, Hadjiivanov S, Presto P, Riani R, Marazza G, Ramis G, Busca (2009) Appl Catal A 353:137–143

49.

Gamarra C, Belver M, Fernández-Garcia A, Martínez-Arias (2011) J Am Chem Soc 129:12064–12065

50.

Hoang L, Berndt H, Lieske H (1995) Catal Lett 31:165–172

51.

Ojamäe L, Aulin C, Pedersen H, Käll PO (2006) J Colloid Interface Sci 296:71–78

52.

Busca G, Lamotte J, Lavalley J, Lorenzelli V, Erba C (1987) J Am Chem Soc 109:5197–5202

53.

Finocchio M, Daturi C, Binet JC, Lavalley G, Blanchard (1999) Catal Today 52:53–63

54.

Avdeev VI, Parmon VN (2011) J Phys Chem C 115:21755–21762

55.

Benitez JJ, Carrizosa I, Odriozola JA (1993) Appl Surf Sci 68:565–573
Acknowledgements
This work was financially supported by the National University of Singapore and NEA Project (ETRP 1501103, R279-000-491-279), A*STAR for the funding from AME IRG 2017 Project R279-000-509-305, Industry-Academia Cooperation Innovation Fund Projects of Jiangsu Province (BY2016004-09), Jiangsu Province Scientific and Technological Achievements into a Special Fund Project (BA2015062, BA2016055 and BA2017095), A Project Funded by the Priority Academic Program Development of Jiangsu Higher Education of Jiangsu Higher Education Institutions. Yang Yu would like to thank the China Scholarship Council for financially supporting his Ph.D. work.
Electronic supplementary material
Below is the link to the electronic supplementary material.
About this article
Cite this article
Yu, Y., Bian, Z., Song, F. et al. Influence of Calcination Temperature on Activity and Selectivity of Ni–CeO2 and Ni–Ce0.8Zr0.2O2 Catalysts for CO2 Methanation. Top Catal 61, 1514–1527 (2018). https://doi.org/10.1007/s11244-018-1010-6
Keywords
CO2 methanation
Ni/CeO2
Ni/Ce0.8Zr0.2O2

Calcination temperature

In-situ DRIFTS