Abstract
An ordered thin film of niobium oxide (NbO) was formed on the Nb(100) surface by heating the niobium single crystal at 1023 K for 2 min under an oxygen atmosphere. The surface composition was analyzed by X-ray photoelectron spectroscopy (XPS), and the surface structure was characterized by low energy electron diffraction (LEED) and X-ray photoelectron diffraction (XPD) generated by synchrotron radiation. Annealing at 1223 K in ultra-high vacuum yielded a reconstructed (3 × 1) LEED pattern. XPS measurements indicated that the surface comprised of metallic and oxidized niobium species. The comparison between experimental and theoretical XPD results indicated that 60% of the Nb(100) surface was covered by two-layered nanoislands of NbO, and 40% had bare patches.
This is a preview of subscription content, log in to check access.
Access options
Buy single article
Instant access to the full article PDF.
US$ 39.95
Price includes VAT for USA
Subscribe to journal
Immediate online access to all issues from 2019. Subscription will auto renew annually.
US$ 199
This is the net price. Taxes to be calculated in checkout.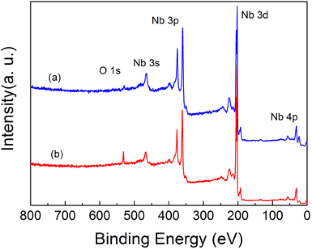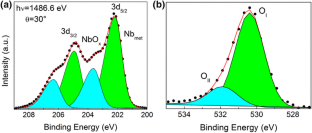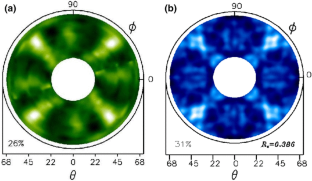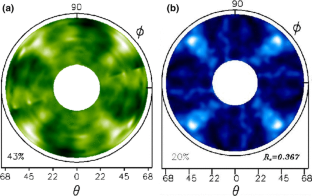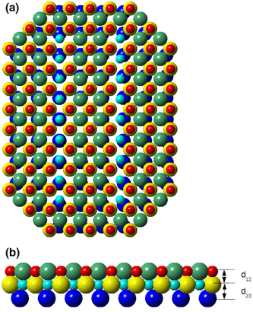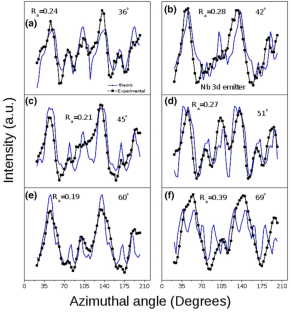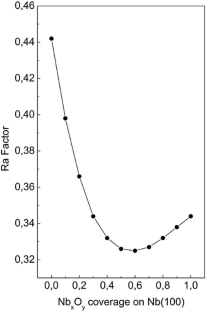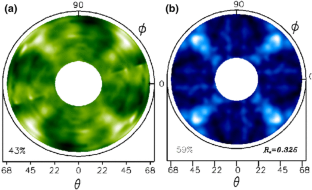 References
1.

Kuznetsov MA, Razinkin AS, Ivanovskii AL (2010) Phys Uspekhi 53:995

2.

Shirakashi J, Matsumoto K, Miura N, Konagai M (1998) J Appl Phys 83:5567

3.

Silly F, Castell MR (2005) Phys Rev Lett 94:46103

4.

Gol'tsman GN, Okunev O, Chulkova G, Lipatov A, Semenov A, Smirnov K, Voronov B, Dzardanov A, Williams C, Sobolewski (2001) Appl Phys Lett 79:705

5.

Nilius N, Risse T, Schauermann S, Shaikhutdinov S, Sterrer M, Freund H-J (2011) Top Catal 54:4

6.

Schauermann S, Nilius N, Freund H-J (2013) Acc Chem Res 46:1673

7.

Renaud G, Lazzari R, Leroy F (2009) Surf Sci Rep 64:255

8.

Kádas K, Nabi Z, Kwon SK, Vitos L, Ahuja R, Johansson B, Kollár J (2006) Surf Sci 600:395

9.

D'Alkaine CV, De Souza LMM, Nart FC (1993) Corros Sci 34:109

10.

Olszta M, Dickey EC (2008) Microsc Microanal 14:451

11.

Dacca A, Gemme G, Mattera L, Parodi R (1998) Appl Surf Sci 126:219

12.

Kadir RA, Rani RA, Alsaif MMYA., Ou JZ, Wlodarski W, O'Mullane AP, Kalantar-zadeh K (2015) ACS Appl Mater Interfaces 7:4751

13.

Marin ML, Hallett-Tapley GL, Impellizzeri S, Fasciani C, Simoncelli S, Netto-Ferreira JC, Scaiano JC (2015) Catal Sci Technol 4:3044

14.

Farell HH, Strongin (1973) Surf Sci 38:18

15.

Lindau I, Spicer WE (1974) J Appl Phys 45:3720

16.

Grundner M, Halbritter J (1080) J Appl Phys 51:397

17.

Franchy R, Bartke TU, Gassmann P (1996) Surf Sci 366:60

18.

An B, Fukuyama S, Yokogawa K, Yoshimura M (2003) Phys Rev B 68:115423

19.

Shalaeva EV, Kuznetsov MV (2003) Phys Met Metallogr 96:514

20.

Shein KI, Shein IR, Medvedva NI, Shalaeva EV, Kuznetsov MV, Ivanovskii AL (2006) Phys Met Metallogr 102:604

21.

Kuznetsov MV, Razinkin AS, Shalaeva EV (2009) J Struct Chem 50:514

22.

Wang QG, Shang JX (2012) J Phys Condens Matter 24:225005

23.

Tafen D, Gao MC (2013) JOM 65:1473

24.

Coupeau C, Durinck J, Drouet M, Douat B, Bonneville J, Colin J, Grilhé J (2015) Surf Sci 632:60

25.

Pancotti A, Nascente PAP, De Siervo A, Landers R, Carazzolle MF, Tallarico DA, Kleiman GG (2011) Top Catal 54:70

26.

Pancotti A, De Siervo A, Carazzolle MF, Landers R, Kleiman GG (2011) Top Catal 54:90

27.

Shirley DA (1972) Phys Rev B 5:4709

28.

Doniach S, Sinjic M (1970) J Phys C 3:285

29.

Chen Y, Van Hove MA, MSCD-multiple scattering calculation diffraction package. http://www.ap.cityu.edu.hk/personalwebsite/VanHove_files/mscdpack.html

30.

Pancotti A, Abreu GJP, Wang JL, Ferreira AVM, Landers R, de Siervo A (2017) CrystEngComm 19:2089

31.

Rehr JJ, Albers RC (1990) Phys Rev B 41:8139

32.

Chen Y, Garcia de Abajo FJ, Chasse A, Ynzunza RX, Kaduwela AP, Van Hove MA, Fadley CS (1998) Phys Rev B 58:13121

33.

Viana ML, Diez Muino R, Soares EA, Van Hove MA, de Carvalho VE (2007) J Phys Condens Matter 19:446002

34.

Woodruff DP, Bradshaw AM (1994) Rep Prog Phys 57:1029

35.

Arfaoui I, Cousty J, Guillot C (2004) Surf Sci 557:119

36.

Razinkin AS, Shalaeva EV, Kuznetsov MV (2008) Phys Met Metallogr 106:56

37.

Wen M, An B, Fukuyama S, Yokogawa K (2009) Surf Sci 603:216

38.

Lacina D, Erskine JL (2007) Phys Rev B 76:104103

39.

Boyle WF, Bennett JG, Shin SH, Sladek RJ (1976) Phys Rev B 14:526

40.

Weibin Z, Weidong W, Xueming W, Xinlu C, Dawei Y, Changle S, Liping P, Yuying W, Li B (2013) Surf Interface Anal 45:1206

41.

Uehara Y, Fujita T, Iwami M, Ushioda S (2001) Surf Sci 472:59
Acknowledgements
We would like to acknowledge the Brazilian research agencies Fundação de Amparo à Pesquisa do Estado de São Paulo – FAPESP and Conselho Nacional de Desenvolvimento Científico e Tecnológico – CNPq, for financial support, Fapeg-Pronem 07/2016 (23187), and the Brazilian Synchrotron Light Laboratory – LNLS (proposal # SGM 16978).
About this article
Cite this article
Pancotti, A., Wang, J., Rezende, A.C.S.A. et al. Surface Characterization of NbO Islands Formed on Nb(100) by X-Ray Photoelectron Diffraction. Top Catal 61, 784–791 (2018). https://doi.org/10.1007/s11244-018-0946-x
Keywords
Niobium

Niobium oxide

Surface reconstruction

X-ray photoelectron diffraction