Abstract
In this study, acetone formation was investigated as a side reaction in furfural hydrotreatment applying isopropanol as a solvent. Acetone formation was observed to depend strongly on the metal and metal loading of catalysts as copper, nickel, and iron catalysts supported on activated carbon were studied. Furfural has an important role in acetone formation: the initial formation rate for acetone was high as long as furfural reacted further. After furfural was consumed the acetone formation decelerated except with the catalysts including iron. Two formation mechanisms were derived: first mechanism includes direct and transfer hydrogenation of furfural and isopropanol dehydrogenation, as mechanism two consists only of isopropanol dehydrogenation. Another novel discovery of the study was the confirmation of the formation mechanism for 2-methylfuran through transfer hydrogenation of furfuryl alcohol in the experiments. In conclusion, the acetone formation as a side product was observed significant and could not be totally prevented.
This is a preview of subscription content, log in to check access.
Access options
Buy single article
Instant access to the full article PDF.
US$ 39.95
Price includes VAT for USA
Subscribe to journal
Immediate online access to all issues from 2019. Subscription will auto renew annually.
US$ 199
This is the net price. Taxes to be calculated in checkout.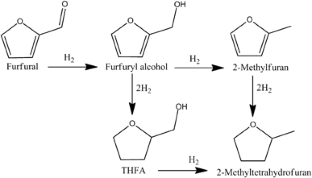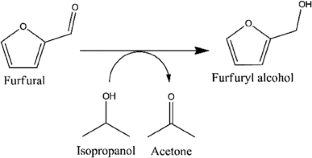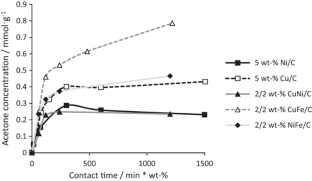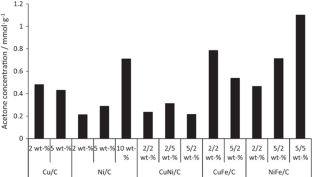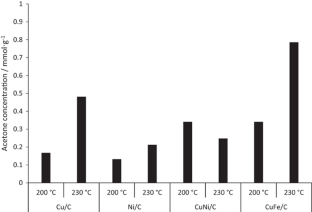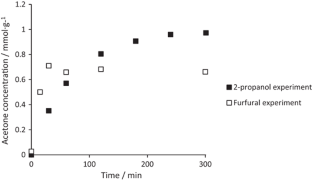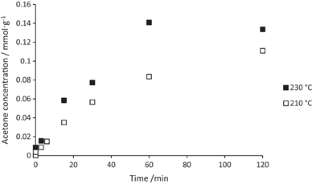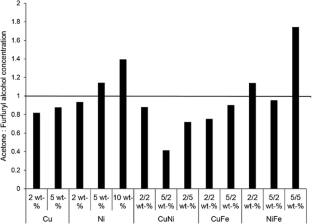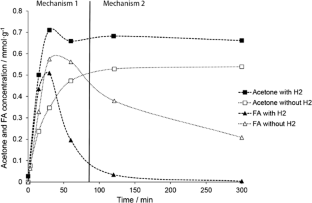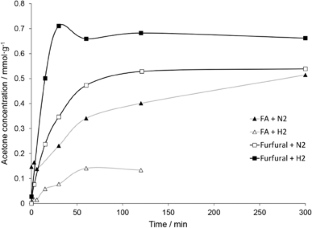 References
1.

Lange JP, van der Heide E, van Buijtenen J, Price R (2012) ChemSusChem 5:150–166

2.

Sairanen E, Vilonen K, Karinen R, Lehtonen J (2013) Top Catal 56:512–521

3.

Resasco DE, Sitthisa S, Faria J, Prasomsri T, Pilar Ruiz M (2011) Furfurals as chemical platform for biofuels production. In: Kubicka D, Kubickova I (eds) Heterogeneous catalysis in biomass to chemicals and fuels. Research Signpost, India

4.

Mariscal R, Maireles-Torres P, Ojeda M, Sadaba I, Lopez Granados M (2016) Energy Environ Sci 9:1144–1189

5.

Zheng HY, Zhu YL, Teng BT, Bai ZQ, Zhang CH, Xiang HW, Li YW (2006) J Mol Catal A 246:18–23

6.

Scholz D, Aellig C, Hermans I (2014) ChemSusChem 7:268–275

7.

Yan K, Chen A (2014) Fuel 114:101–108

8.

Ordomsky VV, Schouten JC, Van Der Schaaf J, Nijhuis TA (2013) Appl Catal A 451:6–13

9.

Yan K, Wu G, Lafleur T, Jarvis C (2014) Renew Sust Energ Rev 38:663–676

10.

Nakagawa Y, Tamura M, Tomishige K (2013) ACS Catal 3:2655–2668

11.

Panagiotopoulou P, Vlachos DG (2014) Appl Catal A 480:17–24

12.

Lokras SS, Deshpande PK, Kuloor NR (1970) Ind Eng Chem Process Des Dev 9:293–297

13.

Sitthisa S, An W, Resasco DE (2011) J Catal 284:90–101

14.

Pozzo M, Alfe D (2009) Int J Hydrogen Energy 34:1922–1930

15.

Kolb HJ, Burwell RL (1945) J Am Chem Soc 67:1084–1088

16.

Dunbar RE, Arnold MR (1945) J Org Chem 10:501–504

17.

McCaffrey EF, Ross RA (1973) Can J Chem 51:2486–2488

18.

Chacraborty S, Lagaditis PO, Förster M, Bielinski EA, Hazari N, Holthausen MC, Jones WD, Schneider S (2014) ACS Catal 4:3994–4003

19.

Bonitatibus PJ, Chakraborty S, Doherty MD, Siclovan O, Jones WD, Soloveichik GL (2015) Proc Natl Acad Sci USA 112:1687–1692

20.

Wrzyszcz J, Grabowska H, Klimkiewicz R, Syper L (1998) Catal Lett 54:55–58

21.

Sitthisa S, Sooknoi T, Ma Y, Balbuena PB, Resasco DE (2011) J Catal 277:1–13

22.

Miyata H, Minobe Y, Kubokawa Y (1974) Bull Chem Soc Jpn 47:2365–2368

23.

Roine A, Lamberg P, HSC chemistry vers. 6 (Outotec Research Oy), 1974–2012
Acknowledgements
This study was financially supported by the Finnish Funding Agency for Innovation (TEKES, Grant Number 2653/31/2013). The project concerns Novel Catalysts for Biomass Conversion (CatBio).
About this article
Cite this article
Jaatinen, S., Karinen, R. Furfural Hydrotreatment Applying Isopropanol as a Solvent: The Case of Acetone Formation. Top Catal 60, 1473–1481 (2017). https://doi.org/10.1007/s11244-017-0828-7
Keywords
Acetone

Catalyst

Furfural

Hydrotreatment

Isopropanol