Abstract
Photon upconversion element, Er, doped in bulk and nanostructured ZnO materials synthesized using a traditional hydrothermal method has been conducted in this study to promote efficient energy upconversion for better photocatalytic degradation of tartaric acids in water under the irradiation of visible light. The FE-SEM images clearly reveal that the Er/ZnO crystallites self-organized into dumbbell-like microrods with moderate addition of PVP as a dispersant agent. The photocatalytic activity was investigated by photodegradation of water containing an aqueous tartaric acid solution under visible light irradiation for 6.5 h. Among the prepared photocatalysts, the first-order rate constant reaches the maximum of 2.5 × 10−3 min−1 with Er/ZnO-4 catalyst. Moreover, the Er ions provide a favorable redox potential, which resulted in the photoproduction of electronic defects and the inhibition of electron–hole recombination. The surface favored the generation of positive holes, which were considered to be the active centers of the reaction. Thus, the generation of holes leads to an effective removal of the tartaric acid.
This is a preview of subscription content, log in to check access.
Access options
Buy single article
Instant access to the full article PDF.
US$ 39.95
Price includes VAT for USA
Subscribe to journal
Immediate online access to all issues from 2019. Subscription will auto renew annually.
US$ 199
This is the net price. Taxes to be calculated in checkout.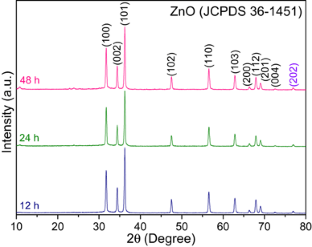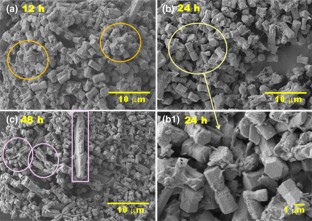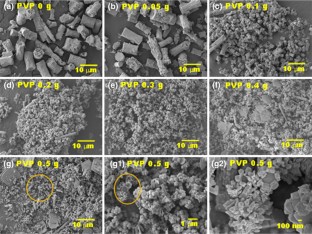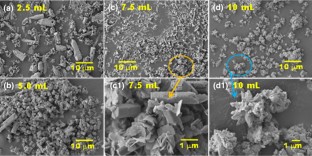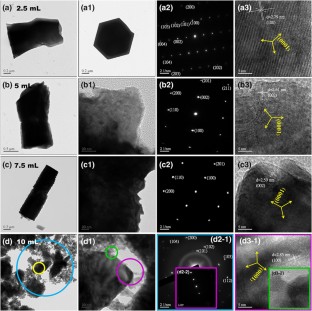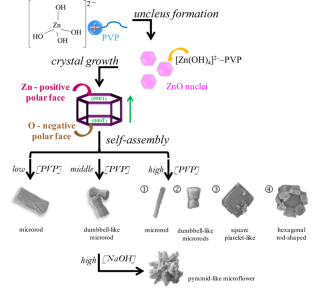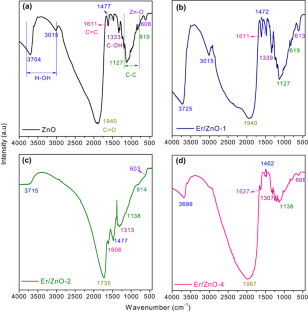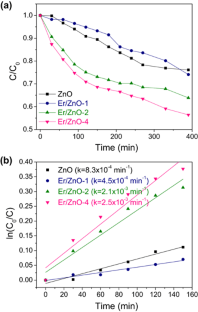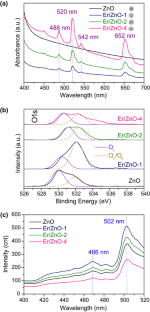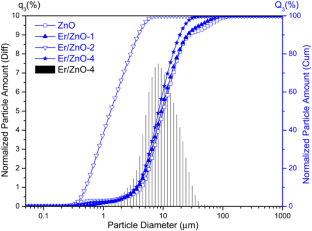 References
1.

Zamiri R, Kaushal A, Rebelo A, Ferreira J-M-F (2014) Ceram Int 40:1635–1639

2.

Yang J, Li X, Lang J, Yang L, Gao M, Liu X, Wei M, Liu Y, Wang R (2011) J Alloys Compd 509:10025–10031

3.

Amutha R, Muruganandham M, Lee G-J, Batalova V-N, Mokrousov G, Wu J-J (2010) Adv Sci Lett 3:491–495

4.

Li Z, Wang J, Hou Y, Bai X, Song H, Zhou Q, Wei T, Li Y, Liu B (2015) RSC Adv 5:3130–3134

5.

Zhou J, Liu Q, Feng W, Sun Y, Lid F (2015) Chem Rev 115:395–465

6.

Stehr J-E, Chen S-L, Reddy N-K, Tu C-W, Chen W-M, Buyanova I-A (2014) Adv Funct Mater 24:3760–3764

7.

Wang X, Kong X, Yu Y, Sun Y, Zhang H (2007) J Phys Chem C 111:15119–15124

8.

Koczkur K-M, Mourdikoudis S, Polavarapu L, Skrabalak S-E (2015) Dalton Trans 44:17883–17905

9.

Wang D, Song C (2005) J Phys Chem B 109:12697–12700

10.

Chen P-K, Lee G-J, Anandan S, Wu J-J (2012) Mater Sci Eng B 177:190–196

11.

Zhang X, Qin J, Xue Y, Yu P, Zhang B, Wang L, Liu R (2014) Sci Rep 4:1–8

12.

Raza W, Faisal S-M, Owais M, Bahnemanncd D, Muneer M (2016) RSC Adv 6:78335–78350

13.

Ahmed M-H, Byrne J-A, McLaughlin J, Ahmed W (2013) J Biomater Nanobiotechnol 4:194–203

14.

Ismail R-A, Habubi N-F, Hadi E-H (2016) WSN 33:67–78

15.

Yang C-K, Naveenraj S, Lee G-J, Wu J-J (2015) Top Catal 58:1100–1111

16.

Das R, Phadke P, Khichar N, Chawla S (2014) J Mater Chem C 2:8880–8885

17.

Kudo A, Miseki Y (2009) Chem Soc Rev 38:253–278

18.

Yu K-S, Shi J-Y, Zhang Z-L, Liang Y-M, Liu W (2013) J Nanomater 2013:1–5

19.

Divya N-K, Pradyumnan P-P (2016) Mater Sci Semicond Process 41:428–435

20.

Liu X, Chu H, Li J, Niu L, Li C, Li H, Pan L, Sun C-Q (2015) Catal Sci Technol 5:4727–4740

21.

Cheng C-T, Chan M-N, Wilson K-R (2016) J Phys Chem A 120:5887–5896

22.

Singh A-K, Singh A-K, Singh V, Ashish, Singh S-P, Singh B (2013) TOCATJ 6:8–16

23.

Wetchakun N, Incessungvorn B, Wetchakun K, Phanichphant S (2013) Mater Res Bull 48:1668–1674

24.

Wang F, Liu X (2009) Chem Soc Rev 38:976–989
Acknowledgements
The authors wish to thank for the financial support by the Ministry of Science and Technology (MOST) in Taiwan under the Contract Number of MOST-104-2221-E-035-004-MY3. The support in providing the fabrication and measurement facilities from the Precision Instrument Support Center of Feng Chia University is also acknowledged.
About this article
Cite this article
Lee, G., Lin, C. & Wu, J.J. Preparation of Dumbbell-like Er/ZnO Microrods with Efficient Energy Upconversion for the Catalytic Degradation of Tartaric Acid in Water. Top Catal 60, 1359–1369 (2017). https://doi.org/10.1007/s11244-017-0820-2
Keywords
Upconversion

Er/ZnO

Hydrothermal method

Photocatalytic degradation

Tartaric acid