Abstract
Methane utilization has been recognized as a challenging research topic because methane is very stable with strong C–H bond. Many efforts have been devoted to find an effective method for the methane activation. In this work, we examined the feasibility of decreasing the temperature of a non-oxidative methane dehydroaromatization by using DBD plasma-catalyst hybrid system. Mo/HZSM-5 catalyst was prepared and then it was used for the DBD plasma-assisted methane dehydroaromatization reaction. When the DBD plasma was applied to the Mo/HZSM-5 catalytic reactor, methane was converted at much lower temperatures than the conventional methane dehydroaromatization process. It was also confirmed that benzene selectivity could be improved by enhancing the interaction between plasma and catalyst. These results imply that the non-oxidative methane dehydroaromatization could occur effectively at milder conditions than the conventional process by using the optimized DBD plasma-catalyst hybrid system. Moreover, it was observed that the catalyst deactivation was effectively prevented when H2 gas was mixed with the reaction feed.
This is a preview of subscription content, log in to check access.
Access options
Buy single article
Instant access to the full article PDF.
US$ 39.95
Price includes VAT for USA
Subscribe to journal
Immediate online access to all issues from 2019. Subscription will auto renew annually.
US$ 199
This is the net price. Taxes to be calculated in checkout.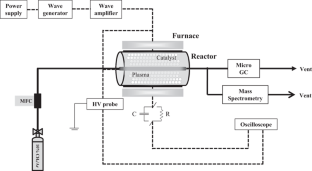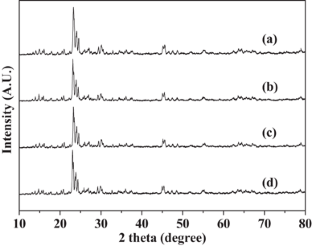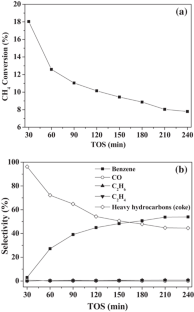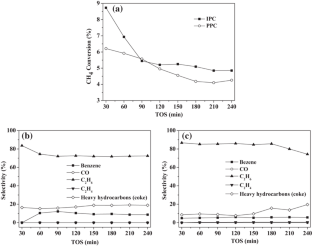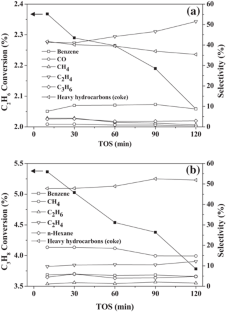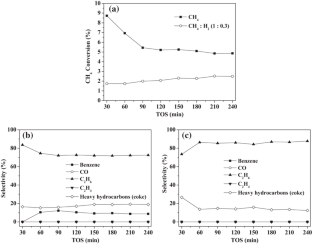 References
1.

Majhi S, Mohanty P, Wang H, Pant KK (2013) J Energy Chem 22:543–554

2.

Xu Y, Bao X, Lin L (2003) J Catal 216:386–395

3.

Tang P, Zhu Q, Wu Z, Ma D (2014) Energy Environ Sci 7:2580–2591

4.

Crabtree RH (1995) Chem Rev 95:987–1007

5.

Lunsford JH (2000) Catal Today 63:165–174

6.

Holmen A (2009) Catal Today 142:2–8

7.

Reddy PVL, Kim K-H, Song H (2013) Renew Sust Energy Rev 24:578–585

8.

Liu C-J, Mallinson R, Lobban L (1998) J Catal 179:326–334

9.

Jo S, Lee DH, Song Y-H (2015) Chem Eng Sci 130:101–108

10.

Jo S, Lee DH, Kang WS, Song Y-H (2013) Phys Plasmas 20:123507-1-8

11.

Górska A, Krawczyk K, Jodzis S, Schmidt-Szałowski K (2011) Fuel 90:1946–1952

12.

Nozaki T, Okazaki K (2013) Catal Today 211:29–38

13.

Kasinathan P, Park S, Choi WC, Hwang YK, Chang J-S, Park Y-K (2014) Plasma Chem Plasma Process 34:1317–1330

14.

Jeong M-G, Kim YD, Park S, Kasinathan P, Hwang YK, Chang J-S, Park Y-K (2016) J Korean Phys Soc 68:1221–1227

15.

Wang Q, Yan B-H, Jin Y, Cheng Y (2009) Energy Fuels 23:4196–4201

16.

Li X-S, Shi C, Xu Y, Wang K-J, Zhu A-M (2007) Green Chem 9:647–653

17.

Vandenbroucke AM, Morent R, Geyter ND, Leys C (2011) J Hazard Mater 195:30–54

18.

Kim H-H, Teramoto Y, Negishi N, Ogata A (2015) Catal Today 256:13–22

19.

Tempelman CHL, Zhu X, Hensen EJM (2015) Chin J Catal 36:829–837

20.

Liu H, Bao X, Xu Y (2006) J Catal 239:441–450

21.

Tshabalala TE, Coville NJ, Anderson JA, Scurrell MS (2015) Appl Catal A Gen 503:218–226

22.

Shu Y, Xu Y, Wong S-T, Wang L, Guo X (1997) J Catal 170:11–19

23.

Liu H, Wu S, Guo Y, Shang F, Yu X, Ma Y, Xu C, Guan J, Kan Q (2011) Fuel 90:1515–1521

24.

Zeng J-L, Xiong Z-T, Zhang H-B, Lin G-D, Tsai KR (1998) Catal Lett 53:119–124

25.

Tan PL, Au CT, Lai SY (2006) Catal Lett 112:239–245
Acknowledgements
The authors acknowledge the financial support received from the Korea Research Council for National Research Council of Science and Technology (NST) of the Republic of Korea, Grant Number B551179-11-03-00 and Korea C1 Gas Refinery Center. Y.D. Kim was supported by the Degree and Research Center (DRC) Program (2014) through the National Research Council of Science & Technology (NST) from the Ministry of Science, ICT and Future Planning.
About this article
Cite this article
Park, S., Lee, M., Bae, J. et al. Plasma-Assisted Non-Oxidative Conversion of Methane over Mo/HZSM-5 Catalyst in DBD Reactor. Top Catal 60, 735–742 (2017). https://doi.org/10.1007/s11244-017-0778-0
Keywords
DBD plasma

Plasma-catalyst hybrid system

Non-oxidative dehydroaromatization

Methane

Mo/HZSM-5