Abstract
An alternative method to determine the oxygen storage capacity (OSC) for powder materials is proposed in the current work. Dynamic and static OSC measurements were conducted at 510 °C using a thermally aged Pd loaded cerium zirconium oxide (30 wt% ceria, 1 wt% Pd). Particularly the influence of water and carbon dioxide in the gas feed on OSC determination was studied. The results demonstrate that the absence of H2O/CO2 and a static test procedure lead to overrated oxygen storage capacities. The method proposed here provides a simple, but not oversimplified method to determine the oxygen storage capacity under conditions closer to real applications by imitating the transient working mode of a gasoline engine and paying more attention to the exhaust gas composition.
This is a preview of subscription content, log in to check access.
Access options
Buy single article
Instant access to the full article PDF.
US$ 39.95
Price includes VAT for USA
Subscribe to journal
Immediate online access to all issues from 2019. Subscription will auto renew annually.
US$ 199
This is the net price. Taxes to be calculated in checkout.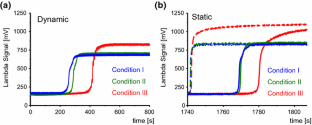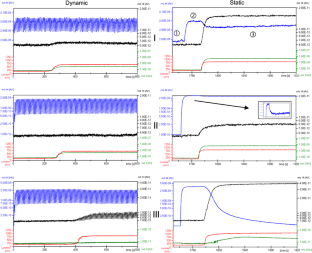 References
1.

Yao HC, Yu Yao Y (1984) Ceria in automotive exhaust catalysts. J Catal 86:254–265

2.

Perrichon V, Laachir A, Abouarnadasse S, Touret O, Blanchard G (1995) Thermal stability of a high surface area ceria under reducing atmosphere. Appl Catal A 129:69–82

3.

Logan AD, Shelef M (1993) Oxygen availability in mixed cerium/praseodymium oxides and the effect of noble metals. J Mater Res 9:468–475

4.

Reddy BM, Khan A, Lakshmanan P, Aouine M, Loridant S, Volta JC (2005) Structural characterization of nanosized CeO2-SiO2, CeO2-TiO2, and CeO2-ZrO2 catalysts by XRD, Raman, and HREM techniques. J Phys Chem B 109:3355–3363

5.

Hoebink JHBJ, Nievergeld AJL, Marin GB (1999) CO oxidation in a fixed bed reactor with high frequency cycling of the feed. Chem Eng Sci 54:4459–4468

6.

Hickey N, Fornasiero P, Di Monte R, Kaspar J, Graziani M, Dolcetti G (2001) A comparative study of oxygen storage capacity over Ce0.6Zr0.4O2 mixed oxides investigated by temperature-programmed reduction and dynamic OSC measurements. Catal Lett 72:45–50

7.

Descorme C, Taha R, Mouaddib-Moral N, Duprez D (2002) Oxygen storage capacity measurements of three-way catalysts under transient conditions. Appl Catal A: Gen 223:287–299

8.

Rajasree R, Hoebink JHBJ, Schouten JC (2004) Transient kinetics of carbon monoxide oxidation by oxygen over supported palladium/ceria/zirconia three-way catalysts in the absence and presence of water and carbon dioxide. J Catal 223:36–43

9.

Duprez D, Descorme C, Birchem T, Rohart E (2001) Oxygen storage and mobility on model three-way catalysts. Top Catal 16(17):49–56

10.

Brauer G, Gingerich KA, Holtschmid U (1960) Über die Oxide des Cers -IV. J Inorg Nucl Chem 16:77–86

11.

Bevan DJM, Kordis J (1964) Mixed oxides of the type MO2 (Fluorite)-M2O3-I. J Inorg Nucl Chem 26:1509–1523

12.

Padeste C, Cant NW, Trimm DL (1995) The influence of water on the reduction and reoxidation of ceria. Catal Lett 18:305–316

13.

Moeller R, Votsmeier M, Onder C, Guzzella L, Gieshoff J (2009) Is oxygen storage in three-way catalysts an equilibrium controlled process? Appl Catal B Env 91:30–38

14.

Mussmann L, Lindner D, Lox ES, van Yperen R, and Kreuzer TP (1997) The role of zirconium in novel three-way catalysts, SAE 970465
Acknowledgments
The authors gratefully thank Dr. Barry van Setten and Frank Diekmann from Umicore AG and Co. KG. for their help with the automation of the experimental setup.
About this article
Cite this article
Keitl, G., Rink, J., Wen, F. et al. Impact of Test Conditions on the Oxygen Storage Capacity of Pd Loaded Cerium Zirconium Oxide. Top Catal 60, 272–277 (2017). https://doi.org/10.1007/s11244-016-0611-1
Keywords
Dynamic

Static

OSC determination

Test conditions

Water

Automotive catalyst