Abstract
Soluble poly(4-alkylstyrene) containing 4-methyl-, 4-tert-butyl, 4-dodecyl-, and 4-octadecylstyrene were formed either with monomers containing dyes-, ligands, or catalysts or with 5–10 mol% of 4-chloromethylstyrene and studied as supports for ligands or catalysts. Studies with dye-labeled polymers showed that polymers containing longer alkyl groups alone or at ca. 10 mol% loading are highly soluble in heptane can be used to separate and recycle organo- and transition metal catalysts.
This is a preview of subscription content, log in to check access.
Access options
Buy single article
Instant access to the full article PDF.
US$ 39.95
Price includes VAT for USA
Subscribe to journal
Immediate online access to all issues from 2019. Subscription will auto renew annually.
US$ 199
This is the net price. Taxes to be calculated in checkout.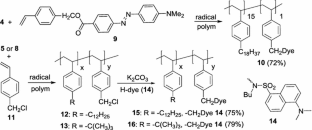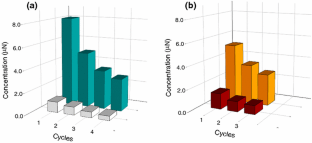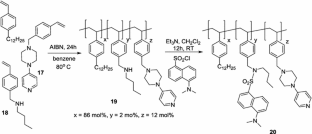 References
1.

Trost BM, Van Vranken DL (1996) Chem Rev 96:395

2.

Martin R, Buchwald SL (2011) Acc. Chem. Res. 41 (2008) 1461. G. C. Fortman and S. P. Nolan, Chem. Soc. Rev. 40 (2011) 5151. A. Suzuki. Angew Chem Int Ed 50:6722

3.

Hayashi Y, Santoro S, Azuma Y, Himo F, Ohshima T, Mashima K (2013) J Am Chem Soc 135:6192

4.

Bergbreiter DE, Weatherford DA (1989) J Org Chem 54:2726

5.

Sieber F, Wentworth P Jr, Toker JD, Wentworth AD, Metz WA, Reed NN, Janda KD (1999) J Org Chem 64:5188

6.

Zhao L-J, He HS, Shi M, Toy P (2004) J Comb Chem 6:680

7.

Bergbreiter DE, Yang Y-C, Hobbs CE (2011) J Org Chem 76:6912

8.

an der Heiden M, Plenio H (2004) Chem Eur J 10:1789

9.

Collis AEC, Horváth IT (2011) Catal. Sci. Technol. 1:912

10.

Bergbreiter DE, Li C (2003) Org Lett 5:2445

11.

Overberger CG, Frazier C, Mandelman J, Smith HF (1953) J Am Chem Soc 75:3326

12.

Bergbreiter DE, Hughes R, Besinaiz J, Li C, Osburn PL (2003) J Am Chem Soc 125:8244

13.

Bergbreiter DE, Avilés-Ramos NA, Ortiz-Acosta D (2007) J Comb Chem 9:609

14.

Clawson RW Jr, Dacko CA, Deavers RE III, Akhmedov NG, Söderberg BCG (2009) Tetrahedron 65:8786

15.

Khamatnurova TV, Bergbreiter DE (2013) Polym. Chem. 4:1617
Acknowledgments
We gratefully acknowledge support by the Qatar National Research Fund (Project Number 4-081-1-016) for the studies of separable Pd(0) catalysts and the Robert A. Welch Foundation (Grant A-0639) for studies of poly(4-alkylstyrene) solubility and its use in organocatalysis. Mr. Jakkrit Suriboot is thanked for his assistance in the ICP-MS analysis of the Pd leaching.
About this article
Cite this article
Khamatnurova, T.V., Johnson, M., Santana, D. et al. Designing Phase Selectively Soluble Polymer-Supports for Dimethylaminopyridine and Phosphine-Ligated Pd(0) Catalysts. Top Catal 57, 1438–1444 (2014). https://doi.org/10.1007/s11244-014-0315-3
Keywords
Dimethylaminopyridine

Phosphine

Palladium

Suzuki

Recycling

Cross-coupling