Abstract
Fermentation derived succinic acid ammonium salt is an ideal precursor for manufacture of renewable N-methyl pyrrolidinone (NMP) or 2-pyrrolidinone (2P) via heterogeneous catalysis. However, there are many challenges to making this a practical reality. Chief among the challenges is avoiding catalyst poisoning by fermentation by- and co-products. Battelle/Pacific Northwest National Laboratory have developed an effective technology strategy for this purpose. The technology is a combination of purely thermal processing, followed by simple catalytic hydrogenation that together avoids catalyst poisoning from fermentation impurities and provides high selectivity and yields of NMP or 2P.
This is a preview of subscription content, log in to check access.
Access options
Buy single article
Instant access to the full article PDF.
US$ 39.95
Price includes VAT for USA
Subscribe to journal
Immediate online access to all issues from 2019. Subscription will auto renew annually.
US$ 199
This is the net price. Taxes to be calculated in checkout.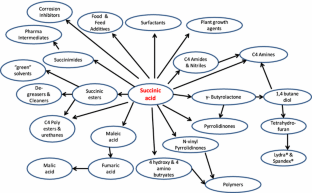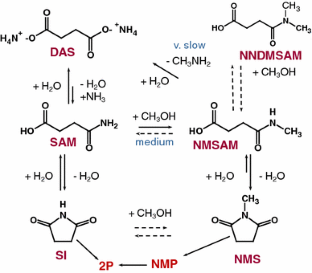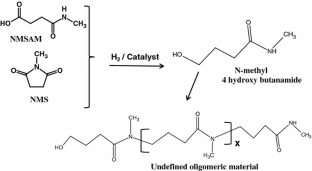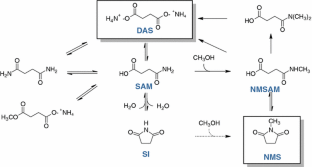 Notes
1.

Succinic acids: advances in research and applications—a scholarly brief—see 2011 Editions and also the Jan 9 2012, Dec 26 2012, and June 21 2013 editions, Ashton Acton, Ed., published by ScholarlyBriefs®, Atlanta, GA.

2.

Private discussions with various researchers.

3.

Private communications with a commercial producer of renewable succinic acid.

4.

Unpublished Battelle Internal Technical Report, NMP Commercialization Phase I, (5-2003)—a proprietary publication by Battelle/PNNL staffs.

5.

Unpublished results from CRADA # 96-0407, Administered by Oak Ridge National Laboratory, US Department of Energy Alternate Feedstock Program. (available from Oak Ridge).

6.

7.

Private discussions with Evonik and Engelhard (now BASF) staffs.

8.

Also observed by PNNL staff via titration curves of succinic acid aqueous solutions with ammonium hydroxide.

9.

Applied CarboChemicals evolved into Diversified Natural Products (DNP and is now known as BioAmber.
References
1.

Werpy TA, Peterson G (2004) Top value added chemicals from biomass, US Dept. of Energy

2.

Zeikus JG, Jain MK, Elankovan P (1999) Appl. Biotechnol. 51:545

3.

Rodgers P, Chen JS, Zidwick MJ (2006) Prokaryotics (Chap. 3.1) 1:511

4.

Guettler MV, Mahendrak J. US Patent 5,573,931 to Michigan Biotechnology Institute

5.

Rathin D. US Patent 5,143,833 to Rathin Data

6.

Glassner D, Rathin D. US Patent 5,143,834 to the inventors

7.

Rathin D, Glassner D. US Patent 5,168,055 to the inventors

8.

Burglund KA, Yedur S. US Patent 5,958,744 to ACC

9.

Fruchey OS, Manzer LE. USA patents 8084626, 8466300, and 2013/0184492 to BioAmber

10.

Werpy TA, Holladay JE, Frye JG (2006) Biorefineries-industrial processes and products: status quo and future directions (Chap. 13), vol. 2. Wiley, Weinheim, p. 367

11.

Frye JG, Zacher AH, Werpy TA, Wang Y (2005) Catalysis of organic reactions (Chap. 17), vol. 104. Taylor & Francis, Sowa, p. 145

12.

Nghiem N, Davison BH, Donnelly MI, Tsai S (2001) ACS Symp Ser 748:160

13.

Werpy TA Frye JG. US Patent 6,706,893 to Battelle

14.

Olson RJ. US Patents 4,814,464, 4,841,069 to Amoco

15.

Tosukhowong T, Roffi K. WO2013033649A1 to Myriant Corp.

16.

Werpy TA, Frye JG, White JF, Holladay JE, Zacher AH. US Patents 7,199,250, 7,674,916, 7,973,177, 8,501,963 to Battelle

17.

Elliott DC, Peterson KL, Muzatko DS, Alderson EV, Hart TR, Neuenschwander GG (2004) Appl Biochem Biotechnol 115:807

18.

Werpy TA, Frye JG, Wang Y, Zacher AH (2007) US Patents 6603021, 6632951 and 6706893 to Battelle

19.

Liu KC, Taylor PD. US Patent 4824967 to GAF Corp.

20.

Werpy TA, Frye JG, White JF, Holladay JE, Zacher AH. EP1572644 to Battelle

21.

Cerny M et al (1969) Collect Czech Chem Commun 34:1033

22.

Kertes AS, King CJ (1986) Biotechnol Bioeng 28:269

23.

Kirsch T, Maurer G (1996) Ind Eng Chem Res 35:1722

24.

Li Z, Qin W, Dai Y (2002) J Chem Eng Data 47:843

25.

Haas T, Tacke T, Schraver A. US 2011/0118504Al and references within to Evonik

26.

Cockrem MCM. US 6291708 to A.E. Staley

27.

Joglekar HG, Rahman I, Babu S, Kulkarni SD, Joshi A (2006) Separat Purif Technol 52:1
Acknowledgements
We would like to thank the US Department of Energy, Energy Efficiency and Renewable Energy Office, Battelle Memorial Institute and Archer-Daniels-Midland for financial support. In addition, we acknowledge the technical efforts and activities of E. V. Alderson, M. Butcher, T. Hart, D. S. Muzatko, D. L. Stiles, C. F. Wend and Dr. Y. Wang during various portions of this project. We also thank Battelle Memorial Institute for permission to publish.
About this article
Cite this article
White, J.F., Holladay, J.E., Zacher, A.A. et al. Challenges in Catalytic Manufacture of Renewable Pyrrolidinones from Fermentation Derived Succinate. Top Catal 57, 1325–1334 (2014). https://doi.org/10.1007/s11244-014-0299-z
Keywords
Succinic acid

Hydrogenation

N-Methyl succimide
N-Methyl-2-pyrrolidinone

2-pyrrolidinone

Renewable resources