Abstract
The transitional states of a Pt/C cathode electrocatalyst in the membrane electrode assembly of a polymer electrolyte fuel cell during loading with transient voltages were systematically analyzed by in situ time-resolved X-ray absorption fine structure with time resolution of 100 ms. The results suggest that the local coordination of the Pt cathode electrocatalyst was unaffected by the transient voltages during both rapid and gradual loading over 0–30 s.
This is a preview of subscription content, log in to check access.
Access options
Buy single article
Instant access to the full article PDF.
US$ 39.95
Price includes VAT for USA
Subscribe to journal
Immediate online access to all issues from 2019. Subscription will auto renew annually.
US$ 199
This is the net price. Taxes to be calculated in checkout.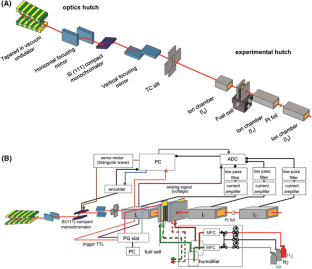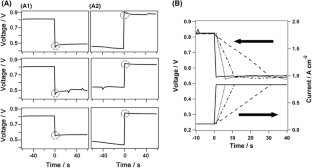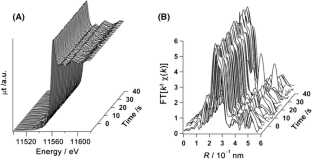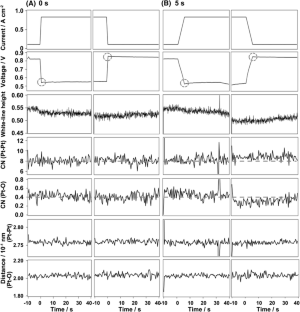 References
1.

Pukrushpan JT, Stefanopoulou AG, Peng H (2004) IEEE Contr Syst Mag 24:30

2.

Papra M, Büchi FN, Kötz R (2010) Fuel Cells 10:873

3.

Hamelin J, Agbossou K, Laperrière A, Laurencelle F, Bose TK (2001) Int J Hydrogen Energ 26:625

4.

Amphlett JC, de Oliveria EH, Mann RF, Roberge PR, Rodrigues A, Salvador JP (1997) J Power Sources 65:173

5.

Emonts B, Bøglid Hansen J, Schmidt H, Grude T, Höhlein B, Peters R, Tschauder A (2000) J Power Sources 86:228

6.

Kim S, Shimpalee S, van Zee JW (2004) J Power Sources 135:110

7.

Guilin H, Jianren F (2007) J Power Sources 165:171

8.

Amphlett JC, Mann RF, Peppley BA, Roberge PR, Rodrigues A (1996) J Power Sources 61:183

9.

Wöhr M, Bolwin K, Schnurnberger W, Fischer M, Neubrand W, Eigenberger G (1998) Int J Hydrogen Energ 23:213

10.

van Bussel HPLH, Köne FGH, Mallant RKAM (1998) J Power Sources 71:218

11.

Um S, Wang CY, Chen KS (2000) J Electrochem Soc 147:4485

12.

Yerramalla S, Davari A, Feliachi A, Biswas T (2003) J Power Sources 124:104

13.

Pathapati PR, Xue X, Tang J (2005) Renew Energ 30:1

14.

Friede W, Raël S, Devat B (2004) IEEE T Power Electr 19:1234

15.

Zhang S, Yuan X, Wang H, Mérida W, Zhu H, Shen J, Wu S, Zhang J (2009) Int J Hydrogen Energ 34:388

16.

Russell AE, Rose A (2004) Chem Rev 104:4613

17.

Tada M, Murata S, Asakoka T, Hiroshima K, Okumura K, Tanida H, Uruga T, Nakanishi H, Matsumoto S, Inada Y, Nomura M, Iwasawa Y (2007) Angew Chem Int Ed 46:4310

18.

Friebel D, Miller DJ, O'Grady CP, Anniyev T, Barger J, Bergmann U, Ogasawara H, Wikfeldt KT, Pettersson LGM, Nilsson A (2011) Phys Chem Chem Phys 13:262

19.

Imai H, Matsumoto M, Miyazaki T, Kato K, Tanida H, Uruga T (2011) Chem Commun 47:3538

20.

Imai H, Izumi K, Matsumoto M, Kubo Y, Kato K, Imai Y (2009) J Am Chem Soc 131:6293

21.

Ishiguro N, Saida T, Uruga T, Nagamatsu S, Sekizawa O, Nitta K, Yamamoto T, Ohkoshi S, Iwasawa Y, Yokoyama T, Tada M (2012) ACS Catal 2:1319

22.

Hashimasa Y, Numata T, Moriya K, Watanabe S (2002) JARI Res J 24:455

23.

Nonaka T, Dohmae K, Araki T, Hayashi Y, Hirose Y, Uruga T, Yamazaki H, Mochizuki T, Tanida H, Goto S (2012) Rev Sci Instrum 83:083112

24.

Newville M, Ravel B, Haskel D, Rehr JJ, Stern EA, Yacoby Y (1995) Phys B 208–209:154

25.

Ravel B, Newville M (2005) J Synchrotron Radiat 12(4):537

26.

Moreno MS, Jorissen K, Rehr JJ (2007) Micron 38:1

27.

Ankudinov AL, Nesvizhskii AI, Rehr JJ (2003) Phys. Rev. B 67:115120

28.

Davey WP (1925) Phys Rev 25:736

29.

Muller O, Roy R (1968) J Less-Common Met 16:129

30.

Sekizawa O, Uruga T, Tada M, Nitta K, Kato K, Tanida H, Takeshita K, Takahashi S, Sano M, Aoyagi H, Watanabe A, Nariyama N, Ohashi H, Yumoto H, Koyama T, Senba Y, Takeuchi T, Furukawa Y, Ohata T, Matsushita T, Ishizawa Y, Kudo T, Kimura H, Yamazaki H, Tanaka T, Bizen T, Seike T, Goto S, Ohno H, Takata M, Kitamura H, Ishikawa T, Yokoyama T, Iwasawa Y (2013) J Phys: Conference Series 430:012020
Acknowledgments
This work was supported by the New Energy and Industrial Technology Development Organization of the Ministry of Economy, Trade, and Industry, Japan. XAFS measurements were performed at SPring-8 (No. 2012A1013 (BL40XU) and No. 2012B7820 (BL36XU)).
Electronic Supplementary Material
Below is the link to the electronic supplementary material.
About this article
Cite this article
Kityakarn, S., Saida, T., Sode, A. et al. In Situ Time-Resolved XAFS of Transitional States of Pt/C Cathode Electrocatalyst in an MEA During PEFC Loading with Transient Voltages. Top Catal 57, 903–910 (2014). https://doi.org/10.1007/s11244-014-0250-3
Keywords
Polymer electrolyte fuel cell

Pt catalyst

Time-resolved XAFS

In situ analysis

Transient voltage