Abstract
The influence of Co addition on the activity and selectivity of Rb-promoted Mo2C/α-Al2O3 catalysts in CO hydrogenation was explored. The reaction was performed in a fixed-bed reactor system operating at 573 K, 30 bar, and CO/H2 ratio of 1. Addition of Co enhanced the production rates of hydrocarbons and higher alcohols over Rb-promoted Mo2C/α-Al2O3 by about 60 % without significantly increasing the production rate of methanol, thus shifting the alcohol selectivity toward larger molecules. The addition of Co also lessened the negative impact of CO conversion on oxygenate selectivity over Rb-promoted Mo2C/α-Al2O3. Results from X-ray absorption spectroscopy revealed that highly dispersed Co and Mo domains remained more reduced in the bimetallic carbide samples than the corresponding monometallic samples.
This is a preview of subscription content, log in to check access.
Access options
Buy single article
Instant access to the full article PDF.
US$ 39.95
Price includes VAT for USA
Subscribe to journal
Immediate online access to all issues from 2019. Subscription will auto renew annually.
US$ 199
This is the net price. Taxes to be calculated in checkout.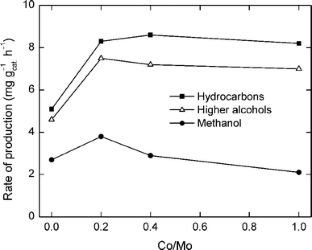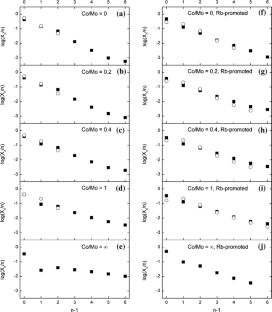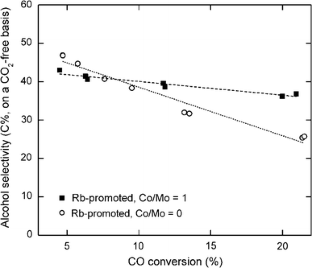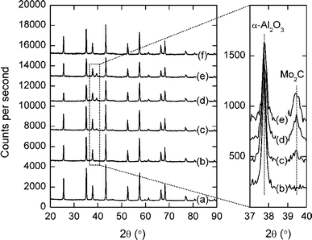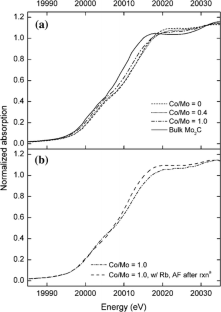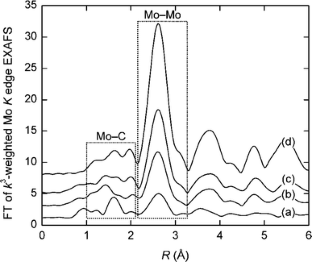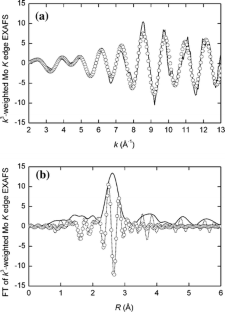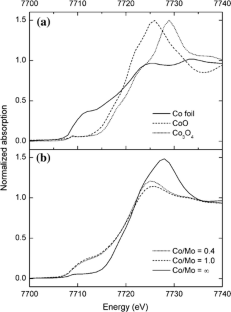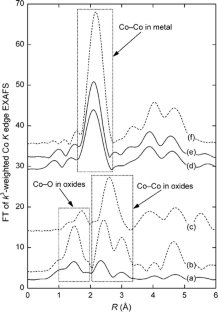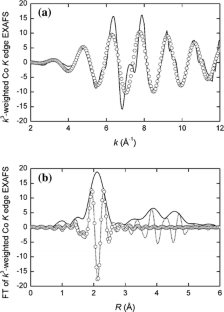 References
1.

Huber GW, Iborra S, Corma A (2006) Chem Rev 106:4044

2.

Fang K, Li D, Lin M, Xiang M, Wei W, Sun Y (2009) Catal Today 147:133

3.

Zaman S, Smith KJ (2012) Catal Rev-Sci Eng 54:41

4.

Subramani V, Gangwal SK (2008) Energy Fuel 22:814

5.

Stevens RR (1988) US Patent 4752622

6.

Conway MM, Murchison CB, Stevens RR (1987) US Patent 4675344

7.

Christensen JM, Mortensen PM, Trane R, Jensen PA, Jensen AD (2009) Appl Catal A 366:29

8.

Chen JG (1996) Chem Rev 96:1477

9.

Woo HC, Park KY, Kim YG, Nam IS, Chung JS, Lee JS (1991) Appl Catal 75:267

10.

Xiang M, Li D, Li W, Zhong B, Sun Y (2006) Fuel 85:2662

11.

Shou H, Davis RJ (2011) J Catal 282:83

12.

Shou H, Ferrari D, Barton DG, Jones CW, Davis RJ (2012) ACS Catal 2:1408

13.

Li Z, Fu Y, Bao J, Jiang M, Hu T, Liu T, Xie Y (2001) Appl Catal A 220:21

14.

Xiang M, Li D, Xiao H, Zhang J, Qi H, Li W, Zhong B, Sun Y (2008) Fuel 87:599

15.

Lucero AJ, Sethi VK, Tuminello WH (2011) US Patent 8048933

16.

Ravel B, Newville M (2005) J Synchrotron Radiat 12:537

17.

Zabinsky SI, Rehr JJ, Ankudinov A, Albers RC, Eller MJ (1995) Phys Rev B 52:2995

18.

Burch R, Petch MI (1992) Appl Catal A 88:39

19.

Bej SK, Bennett CA, Thompson LT (2003) Appl Catal A 250:197

20.

Lee JS, Kim S, Lee KH, Nam I-S, Chung JS, Kim YG, Woo HC (1994) Appl Catal A 110:11

21.

Lee JS, Kim S, Kim YG (1995) Top Catal 2:127

22.

Xiang M, Li D, Li W, Zhong B, Sun Y (2007) Catal Commun 8:503

23.

Surisetty VR, Eswaramoorthi I, Dalai AK (2012) Fuel 96:77

24.

Surisetty VR, Dalai AK, Kozinski J (2010) Appl Catal A 385:153

25.

Sun M, Nelson AE, Adjaye J (2004) J Catal 226:32

26.

Spath PL, Dayton DC (2003) Preliminary screening—technical and economic assessment of synthesis gas to fuels and chemicals with emphasis on the potential for biomass-derived syngas. Department of Energy Report, Oak Ridge

27.

Liang C, Ma W, Feng Z, Li C (2003) Carbon 41:1833

28.

Ding W, Li S, Meitzner GD, Iglesia E (2001) J Phys Chem B 105:506

29.

Lee JS, Boudart M (1993) Catal Lett 20:97

30.

Shou H, Li L, Ferrari D, Sholl DS, Davis RJ (2013) J Catal 299:150

31.

Khodakov AY, Lynch J, Bazin D, Rebours B, Zanier N, Moisson B, Chaumette P (1997) J Catal 168:16

32.

Jentys A (1999) Phys Chem Chem Phys 1:4059

33.

Xiao T, York APE, Coleman KS, Claridge JB, Sloan J, Charnock J, Green MLH (2001) J Mater Chem 11:3094

34.

Zhao Y-H, Su H-Y, Sun K, Liu J, Li W-X (2012) Surf Sci 606:598

35.

Takeuchi K, Matsukaki T, Arakawa H, Sugi Y (1985) Appl Catal 18:325

36.

Takeuchi K, Matsuzaki T, Arakawa H, Hanaoka T, Sugi Y (1989) Appl Catal 48:149

37.

Vada S, Hoff A, Ådnanes E, Schanke D, Holmen A (1995) Top Catal 2:155

38.

Feller A, Claeys M, van Steen E (1999) J Catal 185:120

39.

Bianchi CL (2001) Catal Lett 76:155

40.

Martínez A, López C, Márquez F, Díaz I (2003) J Catal 220:486

41.

Bertole CJ, Mims CA, Kiss G (2004) J Catal 221:191

42.

Chu W, Chernavskii PA, Gengembre L, Pankina GA, Fongarland P, Khodakov AY (2007) J Catal 252:215

43.

Hong J, Chernavskii PA, Khodakov AY, Chu W (2009) Catal Today 140:135

44.

Das TK, Jacobs G, Patterson PM, Conner WA, Li J, Davis BH (2003) Fuel 82:805

45.

Jacobs G, Chaney JA, Patterson PM, Das TK, Maillot JC, Davis BH (2004) J Synchrotron Radiat 11:414

46.

Guczi L, Bazin D, Kovács I, Borkó L, Schay Z, Lynch J, Parent P, Lafon C, Stefler G, Koppány Z, Sajó I (2002) Top Catal 20:129

47.

Hilmen AM, Schanke D, Holmen A (1996) Catal Lett 38:143

48.

Diehl F, Khodakov AY (2008) Oil Gas Sci Technol 64:11

49.

Hwu HH, Chen JG (2005) Chem Rev 105:185
Acknowledgments
The authors acknowledge financial support from The Dow Chemical Company and helpful discussions with Dr. David Barton and Dr. Gerolamo Budroni at The Dow Chemical Company, and Dr. Pradeep Agrawal, Dr. David Sholl, Dr. Michael Morrill and Mr. Liwei Li at the Georgia Institute of Technology. The authors also acknowledge Dr. Gary Koenig and Ms. Yue Huang at University of Virginia for the use of their glovebox for air-free sample preparation. Use of the NSLS was supported by the US Department of Energy, Office of Science, Office of Basic Energy Sciences, under Contract No. DE-AC02-98CH10886. Beamline X18B at the NSLS is supported in part by the Synchrotron Catalysis Consortium, US Department of Energy Grant No. DE-FG02-05ER15688. The authors acknowledge with gratitude the invaluable assistance received from the X-18B beam line personnel, Dr. Nebojsa Marinkovic and Dr. Syed Khalid.
Additional information
Kehua Yin and Heng Shou have contributed equally to this work.
About this article
Cite this article
Yin, K., Shou, H., Ferrari, D. et al. Influence of Cobalt on Rubidium-Promoted Alumina-Supported Molybdenum Carbide Catalysts for Higher Alcohol Synthesis from Syngas. Top Catal 56, 1740–1751 (2013). https://doi.org/10.1007/s11244-013-0110-6
Keywords
Molybdenum carbide

Co promoter

Higher alcohol synthesis

CO hydrogenation

Ethanol

Propanol