Abstract
We have performed kinetic Monte Carlo (KMC) simulations of 13 reaction processes for CO oxidation on the O-terminated Cu2O(100) surface to calculate the conversion rate of CO to CO2. We find that CO adsorption at O vacancy sites prevents dissociative adsorption of O2 onto the Cu2O(100) surface and accordingly CO oxidation of the Cu2O(100) surface is poisoned by CO. As a result, we could obtain a 100 % conversion rate only for a brief period of time.
This is a preview of subscription content, log in to check access.
Access options
Buy single article
Instant access to the full article PDF.
US$ 39.95
Price includes VAT for USA
Subscribe to journal
Immediate online access to all issues from 2019. Subscription will auto renew annually.
US$ 199
This is the net price. Taxes to be calculated in checkout.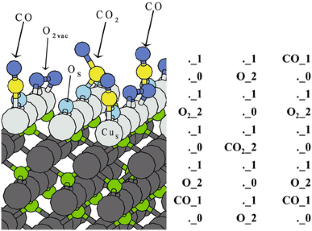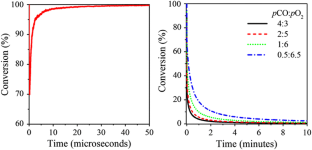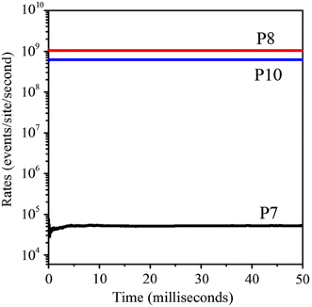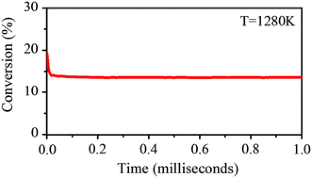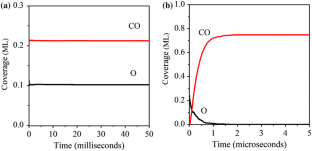 References
1.

Alavi A, Hu P, Deutsch T, Silvestrelli PL, Hutter J (1998) Phys Rev Lett 80:3650

2.

Zhang CJ, Hu PJ (2001) Am Chem Soc 123:1166

3.

Liu Z-P, Hu P (2004) Top Catal 28:71

4.

Hammer B, Morikawa Y, Nørskov JK (1996) Phys Rev Lett 76:2141

5.

Xu J, Yates JJT (1993) J Chem Phys 99:725

6.

Hendriksen BL, Frenken JW (2002) Phys Rev Lett 89:046101

7.

Over H, Kim YD, Seitsonen AP, Wendt S, Lundgren E, Schmid M, Varga P, Morgante A, Ertl G (2000) Science 287:1474

8.

Garner WE, Stone FS, Tiley PF (1952) Proc R S Lond A Math Phys Sci 211:472

9.

Jernigan GG, Somorjai GA (1994) J Catal 147:567

10.

Nagase K, Zheng Y, Kodama Y, Kakuta J (1999) J Catal 187:123

11.

Sadykov VA, Tikhov SF (1997) J Catal 165:5

12.

Huang T-J, Tsai D-H (2003) Catal Lett 87:173

13.

White B, Yin M, Hall A, Le D, Stolbov S, Rahman T, Turro N, O'Brien S (2006) Nano Lett 6:2095

14.

Soon A, Todorova M, Delley B, Stampfl C (2007) Phys Rev B 75:125420

15.

Schulz KH, Cox DF (1991) Phys Rev B 43:1610

16.

Le D, Stolbov S, Rahman TS (2009) Surf Sci 603:1637

17.

Hohenberg P, Walter K (1964) Phys Rev 136:B864

18.

Blöchl PE (1994) Phys Rev B 50:17953

19.

Kresse G, Furthmüller J (1996) Phys Rev B 54:11169

20.

Kresse G, Joubert D (1999) Phys Rev B 59:1758

21.

Perdew JP, Burke K, Ernzerhof M (1996) Phys Rev Lett 77:3865

22.

Hong S, Karim A, Rahman TS, Jacobi K, Ertl G (2010) J Catal 276:371

23.

Soon A, Sohnel T, Idriss H (2005) Surf Sci 579:131

24.

Sun B-Z, Chen W-K, Xu Y-J (2010) J Chem Phys 133:154502

25.

Lee SY, Mettlach N, Nguyen N, Sun YM, White JM (2003) Appl Surf Sci 206:102
Acknowledgments
We are grateful to Lyman Baker for careful reading of the manuscript and constructive comments. This work was supported in part by the Department of Energy, Basic Energy Sciences (DEFG02-07ER15842). The DFT calculations were performed using the computing resources at STOKES, the high-performance computational facility at UCF.
About this article
Cite this article
Hong, S., Le, D. & Rahman, T. Deactivation of Cu2O(100) by CO Poisoning. Top Catal 56, 1082–1087 (2013). https://doi.org/10.1007/s11244-013-0073-7
Keywords
Kinetic Monte Carlo simulations

Cu2O

CO oxidation

Reaction kinetics

CO poisoning