Abstract
Fe-ZSM-5 catalysts, prepared by different methods, have been characterized by BET, ICP-AES, XRD, XPS, NH3-TPD and NO-TPD and evaluated for NOx reduction according to standard NH3-SCR, NH3 oxidation and NO oxidation, in absence and presence of water. The presence of water has a significant influence on both the SCR and oxidation reactions. The most active catalyst for NH3-SCR is prepared by ion exchange using FeCl2 as iron precursor. The XPS results indicate that Fe2+ ions are the main active sites for the SCR reactions, while Fe3+ ions are the primarily active sites for oxidation of ammonia.
This is a preview of subscription content, log in to check access.
Access options
Buy single article
Instant access to the full article PDF.
US$ 39.95
Price includes VAT for USA
Subscribe to journal
Immediate online access to all issues from 2019. Subscription will auto renew annually.
US$ 199
This is the net price. Taxes to be calculated in checkout.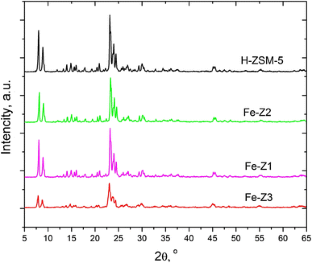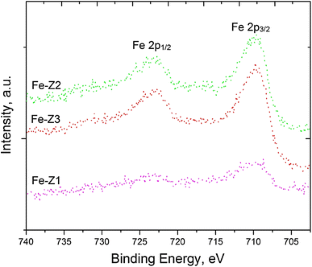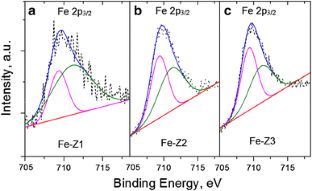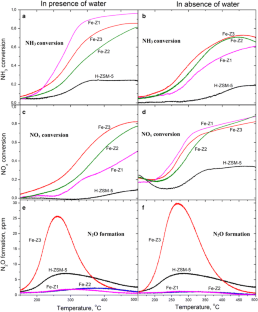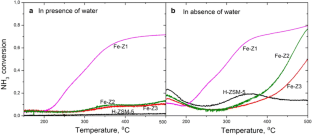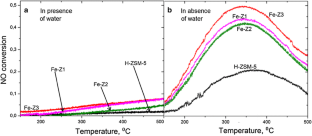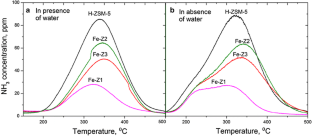 References
1.

Metkar PS, Salazar N, Muncrief R, Balakotaiah V, Harold MP (2011) Appl Catal B 104:110–126

2.

Iwasaki M, Shinjoh H (2010) Appl Catal A 390:71–77

3.

Twigg MV (2011) Catal Today 163:33–41

4.

Auvray X, Partridge WP, Choi J-S, Pihl JA, Yezerets A, Kamasamudram K, Currier NW, Olsson L (2012) Appl Catal B 126:144–152

5.

Colombo M, Nova I, Tronconi E, Schmeißer V, Bandl-Konrad B, Zimmermann L (2012) Appl Catal B 111–112:106–118

6.

Forzatti P, Nova I, Tronconi E, Kustov A, Thøgersen JR (2012) Catal Today 184:153–159

7.

Kröcher O (2007) In: Granger P, Pârvulescu VI (eds), Studies in surface science and catalysis. Elsevier, Amsterdam, pp 261–289

8.

Brandenberger S, Krocher O, Tissler A, Althoff R (2008) Catal Rev 50:492–531

9.

Rauscher M, Kesore K, Monnig R, Schwieger W, Tissler A, Turek T (1999) Appl Catal A 184:249–256

10.

Pieterse JAZ, Booneveld S, van den Brink RW (2004) Appl Catal B 51:215–228

11.

Long RQ, Yang RT (2001) Catal Lett 74:201–205

12.

Kumar MS, Schwidder M, Grunert W, Bruckner A (2004) J Catal 227:384–397

13.

Feng XB, Hall WK (1997) J Catal 166:368–376

14.

Long RQ, Yang RT (1999) J Catal 188:332–339

15.

Balle P, Geiger B, Kureti S (2009) Appl Catal B 85:109–119

16.

Shwan S, Jansson J, Korsgren J, Olsson L, Skoglundh M (2012) Catal Today 197:24–37

17.

Shi X, Liu F, Shan W, He H (2012) Chin J Catal 33:454–464

18.

IZA Synthesis Commission. http://www.iza-online.org/synthesis/. Accessed 12 April 2013

19.

Qi GS, Yang RT (2005) Appl Catal A 287:25–33

20.

Iwasaki M, Yamazaki K, Banno K, Shinjoh H (2008) J Catal 260:205–216

21.

Delahay G, Valade D, Guzman-Vargas A, Coq B (2005) Appl Catal B 55:149–155

22.

Shi XY, Liu FD, Shan WP, He H (2012) Chin J Catal 33:454–464

23.

Okpalugo TIT, Papakonstantinou P, Murphy H, McLaughlin J, Brown NMD (2005) Carbon 43:153–161

24.

Sjövall H, Olsson L, Fridell E, Blint RJ (2006) Appl Catal B 64:180–188

25.

Brandenberger S, Krocher O, Tissler A, Althoff R (2010) Appl Catal B 95:348–357

26.

Brandenberger S, Krocher O, Tissler A, Althoff R (2010) Appl Catal A 373:168–175

27.

Devadas M, Krocher O, Elsener M, Wokaun A, Mitrikas G, Soger N, Pfeifer M, Demel Y, Mussmann L (2007) Catal Today 119:137–144

28.

Moulder JF, Stickle WF, Sobol PE, Bomben KD (1992) Handbook of X-ray photoelectron spectroscopy. Perkin-Elmer Corp., Eden Prairie, MN, pp 80–81

29.

Shwan S, Nedyalkova R, Jansson J, Korsgren J, Olsson L, Skoglundh M (2012) Ind Eng Chem Res 51(39):12762–12772

30.

Skarlis SA, Berthout D, Nicolle A, Dujardin C, Granger P (2012) J Phys Chem C 116:8437–8448

31.

Lonyi F, Valyon J (2001) Microporous Mesoporous Mater 47:293–301

32.

Sawa M, Niwa M, Murakami Y (1990) Zeolites 10:307–309

33.

Sato H (1997) Catal Rev 39:395–424
Acknowledgments
This work has been performed within the Competence Centre for Catalysis (KCK) which is hosted by Chalmers University of Technology and financially supported by the Swedish Energy Agency and the member companies: AB Volvo, ECAPS AB, Haldor Topsøe A/S, Scania CV AB and Volvo Car Corporation AB. The authors would also like to thank ALS Scandinavia AB for help with the ICP-AES analysis, Lars Ilver for help with the XPS analysis and Soran Shwan for helpful hints.
About this article
Cite this article
Shishkin, A., Carlsson, P., Härelind, H. et al. Effect of Preparation Procedure on the Catalytic Properties of Fe-ZSM-5 as SCR Catalyst. Top Catal 56, 567–575 (2013). https://doi.org/10.1007/s11244-013-0016-3
Keywords
Environmental catalysis

Exhaust after-treatment

Selective catalytic reduction

Ammonia oxidation

Ion-exchange

Incipient wetness impregnation