Abstract
Monodisperse γ-Al2O3 beads with a diameter of 250 μm were prepared via a sol–gel method and the JetCutter. The bead-shaped support was used for the preparation of 0.23 % Au/γ-Al2O3 catalyst beads which were applied in the oxidation of glucose to gluconic acid. Simplified calculations of the effectiveness factor revealed that especially at high glucose concentrations the use of hydrogen peroxide would lead to much a higher catalyst activity than the use of oxygen as oxidant which was confirmed by the experimental results.
This is a preview of subscription content, log in to check access.
Access options
Buy single article
Instant access to the full article PDF.
US$ 39.95
Price includes VAT for USA
Subscribe to journal
Immediate online access to all issues from 2019. Subscription will auto renew annually.
US$ 199
This is the net price. Taxes to be calculated in checkout.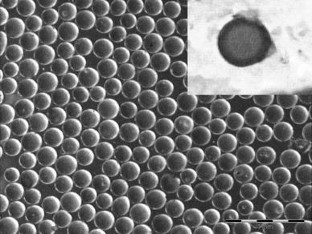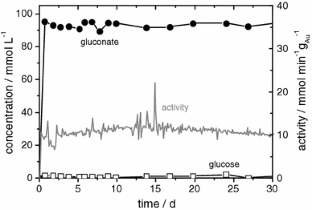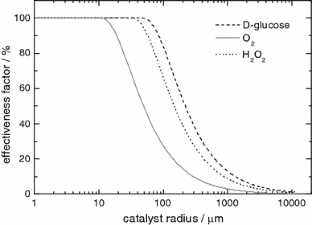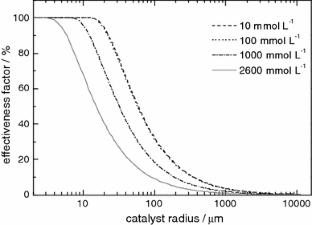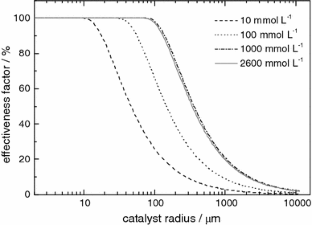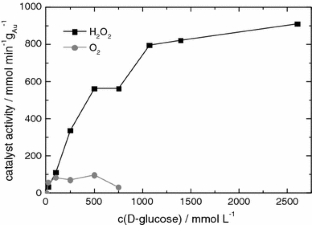 References
1.

Biella S, Prati L, Rossi M (2002) J Catal 206:242

2.

Mirescu A, Prüße U (2007) Appl Catal B 70:644

3.

Comotti M, Della Pina C, Matarrese R, Rossi M (2004) Angew Chem 116:5936

4.

Beltrame P, Comotti M, Della Pina C, Rossi M (2006) Appl Catal A 297:1

5.

Mirescu A, Prüße U (2006) Catal Commun 7:11

6.

Önal Y, Schimpf S, Claus P (2004) J Catal 223:122

7.

Comotti M, Della Pina C, Matarrese R, Rossi M, Siani A (2005) Appl Catal A 291:204

8.

Ishida T, Kinoshita N, Okatsu H, Akita T, Takei T, Haruta M (2008) Angew Chem Int Ed 47:9265

9.

Okatsu H, Kinoshita N, Akita T, Ishida T, Haruta M (2009) Appl Catal A 369:8

10.

Baatz C, Thielecke N, Prüße U (2007) Appl Catal B 70:653

11.

Thielecke N, Aytemir M, Prüße U (2007) Catal Today 121:115

12.

Baatz C, Prüße U (2007) J Catal 249:34

13.

Baatz C, Decker N, Prüße U (2008) J Catal 258:165

14.

Thielecke N, Vorlop KD, Prüße U (2007) Catal Today 122:266

15.

Prüße U, Herrmann M, Baatz C, Decker N (2011) Appl Catal A 406:89

16.

Comotti M, Della Pinna C, Falletta E, Rossi M (2006) Adv Synth Catal 348:313

17.

Ishida T, Kuroda K, Kinoshita N, Minagawa W, Haruta M (2008) J Colloid Interface Sci 323:105

18.

Saliger R, Decker N, Prüße U (2011) Appl Catal B 102:584

19.

Prüße U, Heidinger S, Baatz C (2011) Landbauforsch Volkenrode 61:261

20.

Prüße U, Dalluhn J, Breford J, Vorlop K-D (2000) Chem Eng Technol 23:1105

21.

U Prüße, K-D Vorlop (2004) Focus on biotechnology, vol 8A. In: Nedovic V, Willaert R (eds) Fundamentals of cell immobilisation biotechnology. Kluwer Academic Publishers, Dordrecht, p 295

22.

Prüße U, Bilancetti L, Bucko M, Bugarski B, Bukowski J, Gemeiner P, Le-winska D, Manojlovic V, Massart B, Nastruzzi C, Nedovic V, Poncelet D, Siebenhaar S, Tobler L, Tosi A, Vikartovska A, Vorlop K-D (2008) Chem Pap 62:364

23.

Jones RW (1989) Fundamental principles of sol–gel technology. The Institute of Metals, London

24.

Hille J, Bollmann U, Weinhold W, Spindler H, Anorg Z (1990) Allgem Chem 580:188

25.

Strenge K, Bollmann U (1991) Colloid Surf 57:139

26.

Nijhuis TA, Beers AEW, Vergunst T, Hoek I, Kapteijn F, Moulijn JA (2001) Catal Rev 43:345

27.

Wilke CR, Chang P (1955) AIChE J 1:264

28.

Baerns M, Behr A, Brehm A, Gmehling J, Hoffmann H, Onken U, Renken A (2006) Technische Chemie. VCH, Weinheim

29.

Satterfield CN (1970) Mass transfer in heterogeneous catalysis. MIT Press, Cambridge

30.

Lide DR (1996) Handbook of chemistry and physics. CRC Press, Boca Raton

31.

Prausnitz JM, Shair FH (1961) AIChE J 7:682

32.

Vaugham WM, Weber G (1970) Biochemistry 9:464

33.

Satterfield CN, Colton CK, Pitcher WH (1973) AIChE J 19:628

34.

Zilic A, Hitt DL, Alexeenko AA (2007) AIAA paper 2007-3984. In: 37th AIAA fluid dynamics conference and exhibit, Miami

35.

Lyashenko AK, Goncharov VS, Yastremski PS (1976) Zhur Struk Khim 17:1020

36.

York RL, Bratlie KM, Hile LR, Jang LK (2011) Catal Today 160:204
Acknowledgments
Thanks to Sasol Germany GmbH for kindly supplying Pural SB.
Electronic Supplementary Material
Below is the link to the electronic supplementary material.
About this article
Cite this article
Prüße, U., Jarzombek, P. & Vorlop, K. Gold-Catalyzed Glucose Oxidation Using Novel Spherical Sol–Gel Derived Alumina Supports Produced via the JetCutter. Top Catal 55, 453–459 (2012). https://doi.org/10.1007/s11244-012-9816-0
Keywords
Gold catalyst

Glucose oxidation

Hydrogen peroxide

Sol–gel

Alumina

Bead

Pore diffusion limitations