Abstract
We report the synthesis of multifunctional, hierarchical, cerium-containing HZSM-5 catalysts with various aluminum and cerium contents using a dry-gel, dual templating method. The catalysts were characterized by X-ray diffraction, N2 physisorption, scanning electron microscopy, diffuse reflectance UV–Visible spectroscopy, diffuse reflectance Fourier transform infrared spectroscopy, Fourier transform Raman spectroscopy, NH3 temperature programmed desorption and X-ray photoelectron spectroscopy. At low theoretical Si:Al ratios (15 and 20), the formation of amorphous silica–alumina materials was observed. However, at higher theoretical Si:Al ratios (30, 40, and 50), crystalline materials were formed. Furthermore, with Si:Al ratios of 50, cerium incorporation as high as 2.2 wt% was obtained using this procedure. To understand the role of aluminum and cerium in the catalyst, the crystalline materials were studied in the catalytic fast pyrolysis of glucose at 600 °C. The catalysts with cerium incorporated showed an increase in the production of oxygenated chemicals as well as CO, compared with their non-cerium containing analogs.
This is a preview of subscription content, log in to check access.
Access options
Buy single article
Instant access to the full article PDF.
US$ 39.95
Price includes VAT for USA
Subscribe to journal
Immediate online access to all issues from 2019. Subscription will auto renew annually.
US$ 199
This is the net price. Taxes to be calculated in checkout.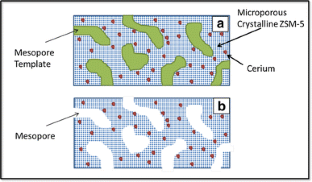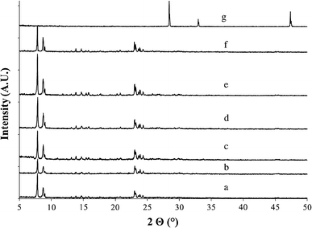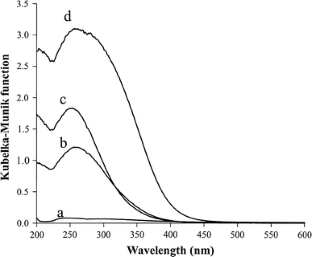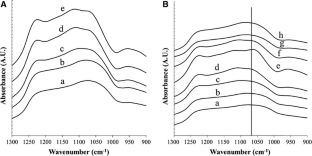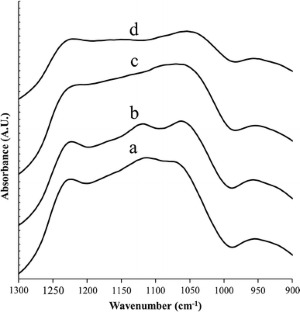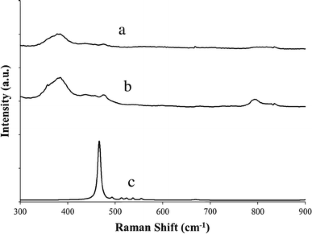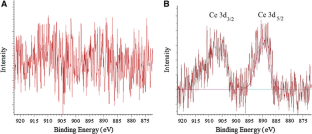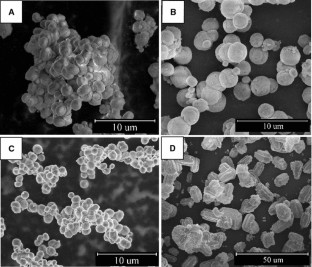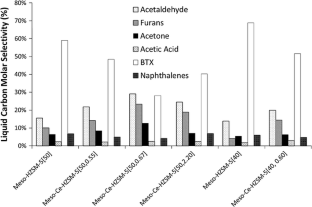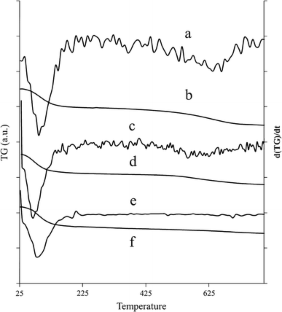 References
1.

Huber GW, Iborra S, Corma A (2006) Chem Rev 106:4044

2.

Hicks JC (2011) J Phys Chem Lett 2:2280

3.

Mohan D, Pittman CU, Steele PH (2006) Energy Fuels 20:848

4.

Wright MM, Daugaard DE, Satrio JA, Brown RC (2010) Fuel 89:S11

5.

Goyal HB, Seal D, Saxena RC (2008) Renew Sustain Energy Rev 12:504

6.

Elliott DC, Beckman D, Bridgwater AV, Diebold JP, Gevert SB, Solantausta Y (1991) Energy Fuels 5:399

7.

Peacocke GVC, Russell PA, Jenkins JD, Bridgwater AV (1994) Biomass Bioenergy 7:169

8.

Czernik S, Bridgwater AV (2004) Energy Fuels 18:590

9.

Aho A, Kumar N, Eränen K, Salmi T, Hupa M, Murzin DY (2008) Fuel 87:2493

10.

Pattiya A, Titiloye JO, Bridgwater AV (2008) J Anal Appl Pyrolysis 81:72

11.

Corma A, Huber GW, Sauvanaud L, O'Connor P (2007) J Catal 247:307

12.

French R, Czernik S (2010) Fuel Process Technol 91:25

13.

Olazar M, Aguado R, Bilbao J, Barona A (2000) AIChE J 46:1025

14.

Williams PT, Horne PA (1995) J Anal Appl Pyrolysis 31:39

15.

Lu Q, Xiong WM, Li WZ, Guo QX, Zhu XF (2009) Bioresour Technol 100:4871

16.

Lu Q, Zhang Y, Tang Z, Li W-Z, Zhu X-F (2010) Fuel 89:2096

17.

Lu Q, Li WZ, Zhang D, Zhu XF (2009) J Anal Appl Pyrolysis 84:131

18.

Lu Q, Tang Z, Zhang Y, Zhu X-F (2010) Ind Eng Chem Res 49:2573

19.

Carlson TR, Cheng YT, Jae J, Huber GW (2011) Energy Environ Sci 4:145

20.

Carlson TR, Tompsett GA, Conner WC, Huber GW (2009) Top Catal 52:241

21.

Chen NY, Degnan TF, Koenig LR (1986) ChemTech 16:506

22.

Jae J, Tompsett GA, Foster AJ, Hammond KD, Auerbach SM, Lobo RF, Huber GW (2011) J Catal 279:257

23.

Zhang HY, Cheng YT, Vispute TP, Xiao R, Huber GW (2011) Energy Environ Sci 4:2297

24.

Park HJ, Heo HS, Jeon JK, Kim J, Ryoo R, Jeong KE, Park YK (2010) Appl Catal B 95:365

25.

Neumann GT, Hicks JC (2012) ACS Catal 2:642

26.

Zhu XL, Lobban LL, Mallinson RG, Resasco DE (2010) J Catal 271:88

27.

Lappas AA, Samolada MC, Iatridis DK, Voutetakis SS, Vasalos IA (2002) Fuel 81:2087

28.

Lin YC, Huber GW (2009) Energy Environ Sci 2:68

29.

Rinaldi R, Schuth F (2009) Energy Environ Sci 2:610

30.

Corma A (2003) J Catal 216:298

31.

Zhou J, Hua Z, Liu Z, Wu W, Zhu Y, Shi J (2011) ACS Catal 1:287

32.

Chal R, Gerardin C, Bulut M, van Donk S (2011) ChemCatChem 3:67

33.

Vivier L, Duprez D (2010) ChemSusChem 3:654

34.

Laha SC, Mukherjee P, Sainkar SR, Kumar R (2002) J Catal 207:213

35.

Shao YF, Wang LZ, Zhang JL, Anpo M (2005) J Phys Chem B 109:20835

36.

Timofeeva MN, Jhung SH, Hwang YK, Kim DK, Panchenko VN, MeIgunov MS, Chesalov YA, Chang JS (2007) Appl Catal A 317:1

37.

Dai QG, Wang XY, Chen GP, Zheng Y, Lu GZ (2007) Microporous Mesoporous Mater 100:268

38.

Zhao R, Wang Y, Guo Y, Guo Y, Liu X, Zhang Z, Wang Y, Zhan W, Lu G (2006) Green Chem 8:459

39.

Bensalem A, Bozonverduraz F, Delamar M, Bugli G (1995) Appl Catal A 121:81

40.

Reddy BM, Khan A, Lakshmanan P, Aouine M, Loridant S, Volta JC (2005) J Phys Chem B 109:3355

41.

Elbaba IF, Wu C, Williams PT (2011) Int J Hydrogen Energy 36:6628

42.

Inaba M, Murata K, Saito M, Takahara I (2006) Energy Fuels 20:432

43.

Wu CF, Williams PT (2009) Int J Hydrogen Energy 34:6242

44.

Jongpatiwut S, Sackamduang P, Rirksomboon T, Osuwan S, Alvarez WE, Resasco DE (2002) Appl Catal A 230:177

45.

Stagg-Williams SM, Noronha FB, Fendley G, Resasco DE (2000) J Catal 194:240

46.

Ma L, Praharso, Trimm DL (1999) Rare Earths '98 315:187

47.

Laosiripojana N, Sangtongkitcharoen W, Assabumrungrat S (2006) Fuel 85:323

48.

Voogd P, Scholten JJF, van Bekkum H (1991) Colloids Surf 55:163

49.

Sayari A, Crusson E, Kaliaguine S, Brown JR (1991) Langmuir 7:314

50.

Wu EL, Lawton SL, Olson DH, Rohrman AC, Kokotailo GT (1979) J Phys Chem 83:2777

51.

van Koningsveld H, Jansen JC, van Bekkum H (1990) Zeolites 10:235

52.

Strunk J, Vining WC, Bell AT (2011) J Phys Chem C 115:4114

53.

Devika S, Palanichamy M, Murugesan V (2011) J Mol Catal A Chem 351:136

54.

Yuliati L, Hamajima T, Hattori T, Yoshida H (2005) Chem Commun 14:4824

55.

Zhao Q, Xu YH, Li YH, Jiang TS, Li CS, Yin HB (2009) Appl Surf Sci 255:9425

56.

Murkute AD, Jackson JE, Miller DJ (2011) J Catal 278:189

57.

Yang H, Tao Q (2010) J Am Ceram Soc 93:1056

58.

Zhang F, Wang P, Koberstein J, Khalid S, Chan SW (2004) Surf Sci 563:74

59.

Hoang TQ, Zhu XL, Lobban LL, Resasco DE, Mallinson RG (2010) Catal Commun 11:977

60.

van Donk S, Janssen AH, Bitter JH, de Jong KP (2003) Catal Rev Sci Eng 45:297

61.

Park KH, Park HJ, Kim J, Ryoo R, Jeon JK, Park J, Park YK (2010) J Nanosci Nanotechnol 10:355

62.

Hurd CD, Goldsby AR, Osborne EN (1932) J Am Chem Soc 54:2532

63.

Pradhan AR, Wu JF, Jong SJ, Tsai TC, Liu SB (1997) Appl Catal B 165:489
Acknowledgments
The authors thank the Center for Environmental Science and Technology at the University of Notre Dame for use of the center's Bruker FTIR and Perkin Elmer ICP–OES.
About this article
Cite this article
Neumann, G.T., Hicks, J.C. Effects of Cerium and Aluminum in Cerium-Containing Hierarchical HZSM-5 Catalysts for Biomass Upgrading. Top Catal 55, 196–208 (2012). https://doi.org/10.1007/s11244-012-9788-0
Keywords
MFI

Hierarchical

Biomass

Cerium

Pyrolysis