Abstract
The deactivating effect of acetonitrile (ACN) and monomethylamine (MMA) on ion-exchange resins Amberlyst™ 35 WET and Amberlyst™ 15 WET in the ETBE synthesis at different temperatures and poison concentrations has been studied. Deactivation is enhanced at high temperature and high poison concentration. MMA presents a higher deactivating effect than ACN. Amberlyst™ 35 WET is more active, and presents a higher resistance to deactivation than Amberlyst™ 15 WET. At integral regime, a stochiometric ratio of the fed poison and the active centers has been determined. At differential regime, two different periods have been observed as deactivation progresses, and an empirical expression of the exponential activity decay for Amberlyst™ 35 WET is proposed.
This is a preview of subscription content, log in to check access.
Access options
Buy single article
Instant access to the full article PDF.
US$ 39.95
Price includes VAT for USA
Subscribe to journal
Immediate online access to all issues from 2019. Subscription will auto renew annually.
US$ 199
This is the net price. Taxes to be calculated in checkout.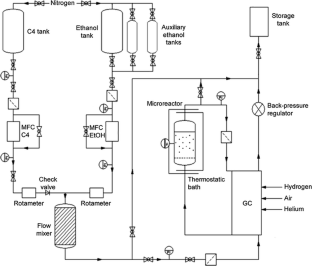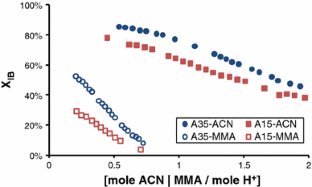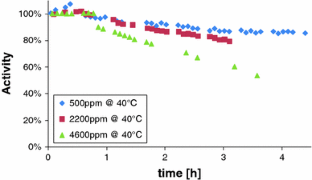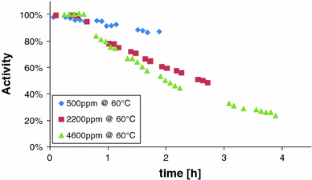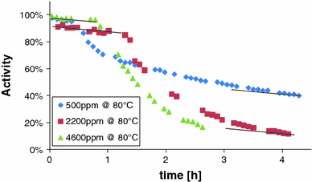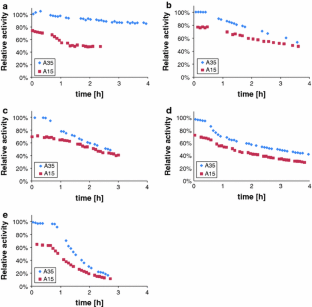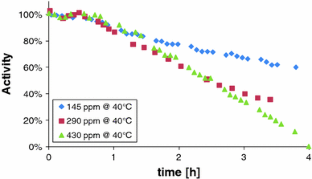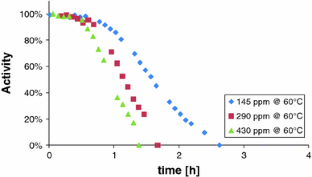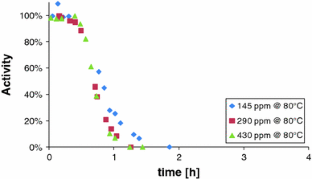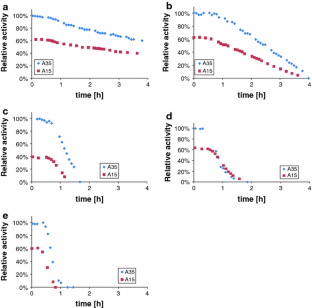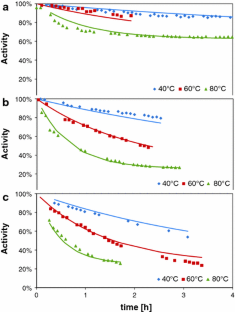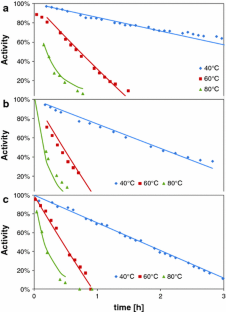 Abbreviations
A35:

Macroporous ion exchange resin AmberlystTM 35 WET

A15:

Macroporous ion exchange resin AmberlystTM 15 WET

ACN:

Acetonitrile

C4:

Olefin mixture composed mainly by compounds with 4 carbon atoms

ETBE:

Ethyl tert-butyl ether

EtOH:

Ethanol

eq:

Value at reaction equilibrium

FCC:

Fluid catalytic cracking

FID:

Flame ionization detector

GC:

Gas chromatograph

IB:

Isobutene

MFC:

Mass flow controller

MMA:

Monomethylamine

MTBE:

Methyl tert-butyl ether

ETBE:

Ethyl tert-butyl ether

r:

Reaction rate (mol g−1 h−1)

R°A/I :

EtOH/IB molar ratio at the reactor inlet (dimensionless)

T:

Temperature (K or °C)

XIB :

Isobutene conversion at the reactor outlet (dimensionless)
References
1.

Unzelman GH (1989) Oil Gas J 87(15):33

2.

Tsai MJ, Kolodziej R, Ching D (2002) Hydrocarb Process Feb:81

3.

Miracca I, Tagliabue L, Trotta R (1996) Chem Eng Sci 51:2349

4.

Hickey TP, Byeseda JJ (1995) US Patent 5421972

5.

Ramírez-Corredores MM, Hernández Z, Guerra J, Alvarez R, Medina J (2003) Fuel Process Technol 81:143

6.

Ancillotti F, Fattore V (1998) Fuel Process Technol 57:163

7.

Parra D, Izquierdo JF, Cunill F, Tejero J, Fité C, Iborra M, Vila M (1998) Ind Eng Chem Res 37:3575

8.

Quiroga M, Capeletti MR, Fígoli N, Sedran U (1999) Appl Catal A Gen 177:37

9.

Marston CR (1994) Fuel Reform 4:42

10.

A35 and A15 product data sheets. http://www.amberlyst.com. Accessed May 2010

11.

Iborra M, Tejero J, Cunill F, Izquierdo JF (2000) Ind Eng Chem Res 39:1416

12.

Izquierdo JF, Cunill F, Vila M, Iborra M, Tejero J (1994) Ind Eng Chem Res 33:2830

13.

Siril PF, Cross HE, Brown DR (2008) J Mol Catal A Chem 279:63
About this article
Cite this article
González, R., Fité, C., Cunill, F. et al. Deactivation of Ion Exchange Catalysts by Acetonitrile and Methylamine. Top Catal 54, 1054 (2011). https://doi.org/10.1007/s11244-011-9725-7
Keywords
Catalytic deactivation

Ion-exchange resins

Monomethylamine

Acetonitrile

ETBE synthesis