Abstract
Cerium–zirconia-supported ruthenium and activated carbon catalysts were used in catalytic wet air (CWAO) and wet peroxide (CWPO) oxidation of industrial wastewater. Both catalysts were active in the removal of TOC and COD from the wastewater. The degree of biodegradation of organic matter increased during CWAO. Therefore, the CWAO process could be considered as a potential pre-treatment process integrated with subsequent biological treatment to achieve the required level of purification of wastewater.
This is a preview of subscription content, log in to check access.
Access options
Buy single article
Instant access to the full article PDF.
US$ 39.95
Price includes VAT for USA
Subscribe to journal
Immediate online access to all issues from 2019. Subscription will auto renew annually.
US$ 199
This is the net price. Taxes to be calculated in checkout.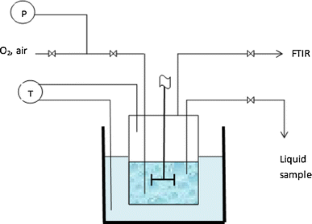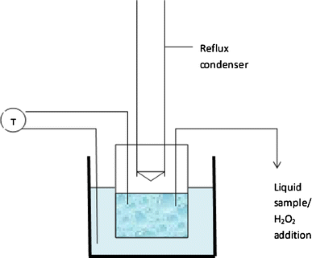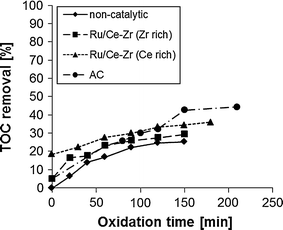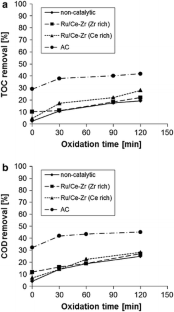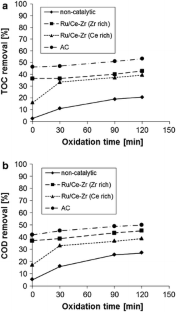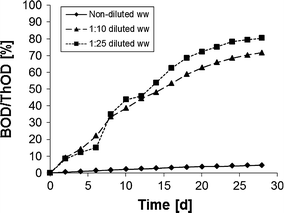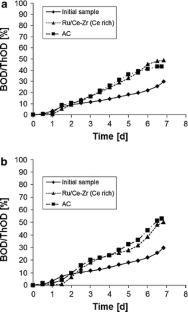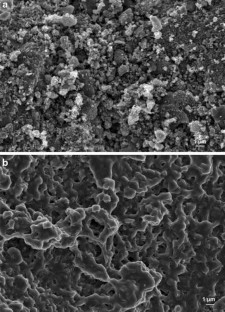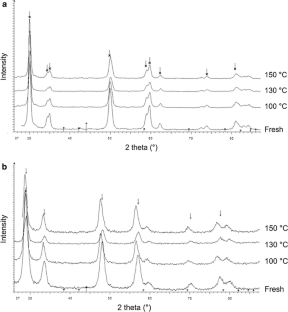 References
1.

Luck F (1999) Catal Today 53:81

2.

Mishra VS, Mahajani VV, Joshi JB (1995) Ind Eng Chem Res 34:2

3.

Kolaczkowski ST, Plucinski P, Beltran FJ, Rivas FJ, McLurgh DB (1999) Chem Eng J 73:143

4.

Duprez D, Delanoë F, Barbier J Jr, Isnard P, Blanchard G (1996) Catal Today 29:317

5.

Oliviero L, Barbier J Jr, Duprez D, Guerrero-Ruiz A, Bachiller-Baeza B, Rodríguez-Ramos I (2000) Appl Catal B 25:267

6.

Besson M, Gallezot P (2005) Top Catal 33:101

7.

Barbier J Jr, Oliviero L, Renard B, Duprez D (2005) Top Catal 33:77

8.

Mikulová J, Barbier J Jr, Rossignol S, Mesnard D, Duprez D, Kappenstein C (2007) J Catal 251:172

9.

Mikulová J, Rossignol S, Barbier J Jr, Mesnard D, Kappenstein C, Duprez D (2007) Appl Catal B 72:1

10.

Stϋber F, Font J, Fortuny A, Bengoa C, Eftaxias A, Fabregat A (2005) Top Catal 33:3

11.

Cao SL, Chen GH, Hu XJ, Yue PL (2003) Catal Today 88:37

12.

Gangwal VR, Van der Schaaf J, Kuster BFM (2005) J Catal 232:432

13.

Pigamo A, Besson M, Blanc B, Gallezot P, Blackburn A, Kozynchenko O, Tennison S, Crezee E, Kapteijn F (2002) Carbon 40:1267

14.

Korovchenko P, Donze C, Gallezot P, Michèle B (2007) Catal Today 121:13

15.

Besson M, Gallezot P, Perrard A, Pinel C (2005) Catal Today 102:160

16.

Stϋber F, Font J, Eftaxias A, Paradowska M, Suarez ME, Fortuny A, Bengoa C, Fabregat A (2005) Process Saf Environ Prot 83(B4):371

17.

Debellefontaine H, Chakchouk M, Foussard JN, Tissot D, Striolo P (1996) Environ Pollut 92:155

18.

Perathoner S, Centi G (2005) Top Catal 33:207

19.

Heponiemi A, Rahikka L, Lassi U, Kuokkanen T (2009) Chem Eng Trans 17:209

20.

Roppola K (2009) Environmental applications of manometric respirometric methods. PhD thesis and references therein. Oulu University Press, Oulu

21.

International Centre for Diffraction Data (2001) PDF-2 powder diffraction file database. 12 Campus Boulevard Newtown Square, PA 19073-3273, USA
Acknowledgements
This study was funded by the Maj and Tor Nessling Foundation and the Finnish Funding Agency for Technology and Innovation (Tekes) from the European Regional Development Fund.
About this article
Cite this article
Heponiemi, A., Rahikka, L., Lassi, U. et al. Catalytic Oxidation of Industrial Wastewater Under Mild Conditions. Top Catal 54, 1034 (2011). https://doi.org/10.1007/s11244-011-9723-9
Keywords
Catalytic wet air oxidation (CWAO)

Wet peroxide oxidation (WPO)

Ruthenium

Activated carbon

TOC removal