Abstract
Iron titanate (FeTiO3) obtained from rich titanium and iron mineral presented some absorption of UV light and photocatalytic activity for the degradation of phenol in aqueous solution. However, most of the reactant is converted to carboxylic acids that remain in the reaction mixture because natural ilmenite do not produce enough HO• radicals to completely mineralize the original reactant at the same rate as pure titania (Degussa P25). The XRD analysis of Fe-titania catalysts prepared by simple mixing of FeTiO3 and TiO2 showed that the structure of TiO2 is not modified when small amounts of FeTiO3, in the order of 10% weight, are well mixed with pure titania. Therefore, the photocatalytic activity of these catalysts is not affected by the presence of FeTiO3. But, heavy ilmenite particles induce the separation of the catalysts particles after the photocatalytic degradation processes.
This is a preview of subscription content, log in to check access.
Access options
Buy single article
Instant access to the full article PDF.
US$ 39.95
Price includes VAT for USA
Subscribe to journal
Immediate online access to all issues from 2019. Subscription will auto renew annually.
US$ 199
This is the net price. Taxes to be calculated in checkout.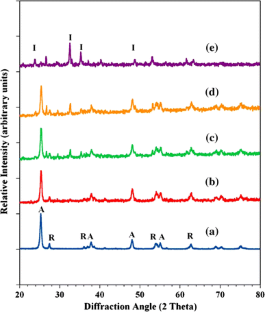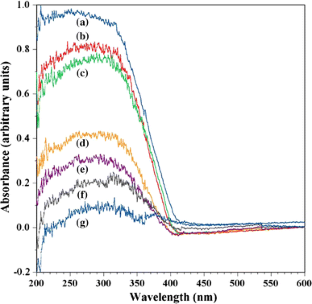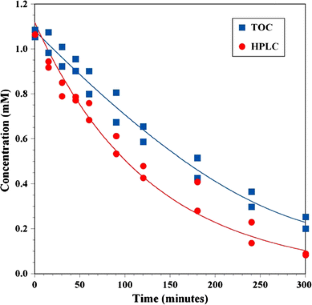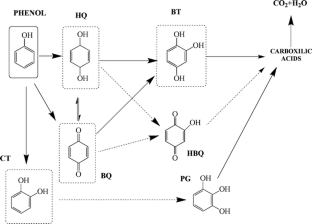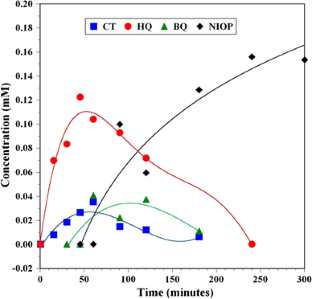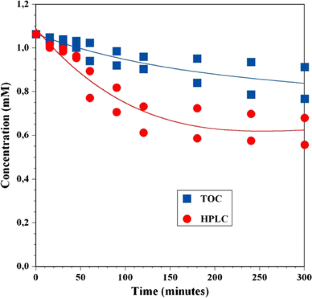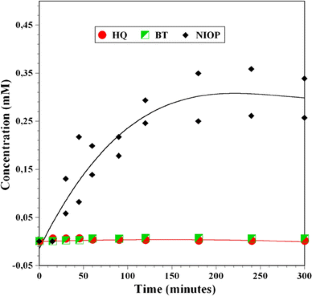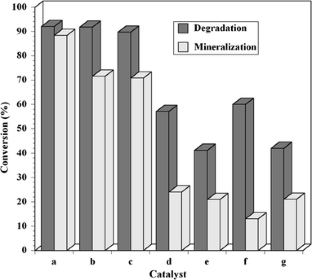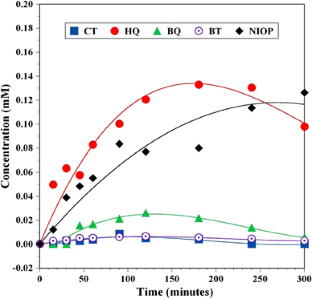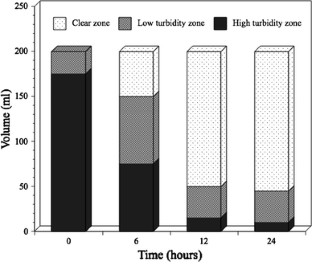 Abbreviations
BQ:

Benzoquinone

BT:

Benzenetriol

CT :

Catechol

e− :

Free electrons

EDTA:

Ethylene diamine tetra acetic acid

Eg :

Semiconductor energy band gap

h+ :

Electron holes

HO• :

Hydroxyl radicals HO•

HPLC:

High-performance liquid chromatography

HQ:

Hydroquinone

O 2 •− :

Superoxide radical-anions

PH:

Phenol

SCC:

Semiconductor catalyst

TiO2 :

Titanium dioxide

TOC:

Total organic carbon

XRD:

X ray diffraction

BQt :

Benzoquinone concentration (mM)

BTt :

Benzene-triol concentration (mM)

CO2PH:

Phenol mineralized to carbon dioxide (mM)

CTt :

Catechol concentration (mM)

HQt :

Hydroquinone concentration (mM)

IIOPt :

Total concentration of identified intermediate organic products (mM)

NIOPt :

Total concentration of non identified intermediate organic products (mM)

PHt :

Phenol concentration (mM)

PHzero :

Initial phenol concentration (mM)

TOCPH :

Total organic carbon concentration in terms of phenol concentration (mM)

TOCt :

Total organic carbon concentration (mM)

TOCzero :

Initial total organic carbon concentration (mM)
References
1.

Fujishima A, Honda K (1972) Nature 37:238

2.

Fox M, Dulay M (1993) Chem Rev 93:341

3.

Chen X, Mao SS (2007) Chem Rev 107:2891

4.

Palmisano G, Augugliaro V, Pagliaro M, Palmisano L (2007) Chem Commun 33:3425

5.

Dai K, Peng T, Chen H, Zhang R, Zhang Y (2008) Environ Sci Technol 42:1505–1510

6.

Ortiz-Gomez A, Serrano-Rosales B, Salaices M, De Lasa H (2007) Ind Eng Chem Res 46:7394

7.

Ammemiya S (2004) Titanium oxide photocatalysts. Three Bond Technical News 62:1

8.

Abdel-Mottaleb MSA, Augugliaro V, Palmisano L (2008) Int J Photoenergy 2008:1

9.

Agrios AG, Pichat P (2005) J Appl Electrochem 35:655

10.

Litter MI (1999) App Catal B 23:89

11.

Moctezuma E, González-Garcia R, Zamarripa H, Palestino G, Oros S (2006) J Environ Eng Manag 16–5:343

12.

Lin X, Xing J, Wang W, Shan Z, Xu F, Huang F (2007) J Phys Chem 111:18288

13.

Tryba B (2008) Int J Photoenergy 2008:24

14.

Diebold U (2003) Surf Sci Rep 48:53

15.

Gao B, Kim YJ, Chakraborty AK, Lee W (2008) Appl Catal B 83:202

16.

Litter MI, Navío JA (1999) J Photochem Photobiol A 98:171

17.

Ohno T, Haga D, Fujihara K, Kaizaki K, Matsumura M (1997) J Phys Chem B 101:6415

18.

Araña J, González-Díaz G, Miranda-Saracho M, Doña-Rodríguez JM, Herrera-Melián JA, Perez-Peña J, Garriga-Cabo C, Carmen-Hidalgo M, Navío-Santos JA (2003) J Mol Catal A 197:157

19.

Bezzon M, Carminati M, Lagastra C, Bellobono R, Tozzi P (2003) Fresenius Environ Bull 12:1551

20.

Bellobono R, Rossi M, Testino A, Morazzoni F, Bianchi R, Martini G, Tozzi PM, Stanescu R, Costache C, Bobirica L, Bonardi ML, Groppi F (2008) Int J Photoenergy 2008:176

21.

Lachheb H, Houas A, Herrmann JM (2008) Int J Photoenergy 2008:16

22.

Nasr-Esfahani M, Habibi MH (2008) Int J Photoenergy 2008:135

23.

Lasheen TA (2005) Hydrometallurgy 76:123

24.

Moctezuma E, Zamarripa H, Leyva E (2003) Rev Int Contam Ambient 19(3):117

25.

Leyva E, Moctezuma E, Ruíz MG, Torres-Martínez LM (1998) Catal Today 40(4):367

26.

Xiaoyan P, Dongmei J, Yan L, Xueming M (2006) J Magn Magn Mater 305:388

27.

Addamo M, Bellardita M, Carriazo D, Di Paola A, Milioto S, Palmisano L, Rives R (2008) Appl Catal B 84:742
Acknowledgments
The authors gratefully acknowledge the financial support of CONACyT (Project 103532-2009), Universidad Autónoma de San Luis Potosí (Grant C06-FAI-11-26.63) and Secretaría de Educación Publica de México (Grant PromeP-Cuerpos Académicos). The technical assistance of Dr. Rafael Barbosa and Dr. Alfredo Aguíllon of is gratefully appreciated.
About this article
Cite this article
Moctezuma, E., Zermeño, B., Zarazua, E. et al. Photocatalytic Degradation of Phenol with Fe-Titania Catalysts. Top Catal 54, 496–503 (2011). https://doi.org/10.1007/s11244-011-9613-1
Keywords
Photocatalysis

Phenol

Ilmenite

TiO2