Abstract
Rhodium-catalyzed hydroaminomethylation is employed in a new synthesis of the anti-histamines, Terfenadine and Fexofenadine. Linear selective hydroformylation is performed using a homogeneous Rh-bisphosphite catalyst, followed by reductive amination under H2/CO. The reaction can be performed without protection of the hydroxyl substituent in the starting olefins.
This is a preview of subscription content, log in to check access.
Access options
Buy single article
Instant access to the full article PDF.
US$ 39.95
Price includes VAT for USA
Subscribe to journal
Immediate online access to all issues from 2019. Subscription will auto renew annually.
US$ 199
This is the net price. Taxes to be calculated in checkout.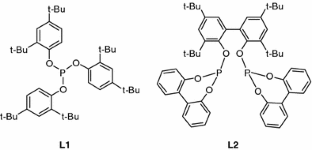 References
1.

Ahmed M, Seayad AM, Jackstell R, Beller M (2003) J Am Chem Soc 125:10311

2.

Vieira VO, Alper H (2008) Org Lett 10:485

3.

Mueller K, Koc F, Ricken S, Eilbracht P (2006) Org Biomol Chem 4:826

4.

Schmidt A, Marchetti M, Eilbracht P (2004) Tetrahedron 60:11487

5.

Ahmed M, Buch C, Routaboul L, Jackstell R, Klein H, Spannenberg A, Beller M (2006) Chem J Eur 12:8979

6.

Routaboul L, Buch C, Klein H, Jackstell R, Beller M (2005) Tetrahedron Lett 46:7401

7.

Rische T, Müller K, Eilbracht P (1999) Tetrahedron 55:9801

8.

Briggs JR, Klosin J, Whiteker GT (2005) Org Lett 7:4795

9.

Billig E, Abatjoglou AG, Bryant DR (1988) US Pat 4,769,498, to Union Carbide

10.

Kawai SH, Hambalek RJ, Just G (1994) J Org Chem 59:2620

11.

Trzeciak AM, Wolszcak E, Ziolkowsky J (1996) New J Chem 20:365

12.

Roobeek CF, van Leeuwen PWNM (1983) J Organomet Chem 259:343

13.

Jorgensen M, Lee S, Liu X, Wolkowski JP, Hartwig JF (2002) J Am Chem Soc 124:12557

14.

Fang QK, Senanayake CH, Wilkinson HS, Wald SA, Li H (1998) Tetrahedron Lett 39:2701

15.

Senanayake CH, Fang QK, Wilkinson HS (1999) US Pat 5,925,761, to Sepracor Inc.

16.

Di Giacomo B, Coletta D, Natalini B, Ni M, Pellicciari R (1999) Il Farmaco 54:600
Acknowledgements
The author thanks Dowpharma for support of this work. Helpful scientific discussions with Drs. Cynthia Rand, Jerzy Klosin and John Briggs of Dow Chemical are gratefully acknowledged.
About this article
Cite this article
Whiteker, G.T. Synthesis of Fexofenadine via Rhodium-Catalyzed Hydroaminomethylation. Top Catal 53, 1025–1030 (2010). https://doi.org/10.1007/s11244-010-9574-9
Keywords
Hydroformylation

Syngas

Carbonylation