Abstract
A ruthenium complex was found to catalyze the hydrogenation of chiral esters without the loss of their optical purities under mild and neutral conditions. This method can avoid a violent quench step and an extraction step which accompany conventional reduction using metal hydride reagents such as sodium borohydride and lithium aluminum hydride.
This is a preview of subscription content, log in to check access.
Access options
Buy single article
Instant access to the full article PDF.
US$ 39.95
Price includes VAT for USA
Subscribe to journal
Immediate online access to all issues from 2019. Subscription will auto renew annually.
US$ 199
This is the net price. Taxes to be calculated in checkout.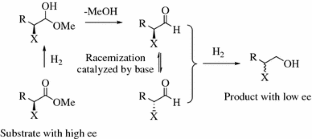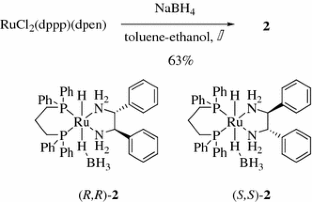 Notes
1.

Within our research, THF solvent performed better than other solvents. In addition, other types of esters such as isopropyl ester, benzyl ester and phenyl ester were not hydrogenated as effectively as methyl ester (Unpublished data)
References
1.

Farina V, Reeves JT, Senanayake CH, Song JJ (2006) Chem Rev 106:2734

2.

Noyori R, Ohkuma T (2001) Angew Chem Int Ed 40:40

3.

Noyori R (2002) Angew Chem Int Ed 41:2008

4.

Tang W, Zhang X (2003) Chem Rev 103:3029

5.

Shimizu H, Nagasaki I, Saito T (2005) Tetrahedron 61:5405

6.

Santaniello E, Ferraboschi P, Grisenti P, Manzocchi A (1992) Chem Rev 92:1071

7.

Bertschy H, Chenault HK, Whitesides GM (1995) In: Drauz K, Waldmann H (eds) Enzyme catalysis in organic synthesis a comprehensive handbook, vol II. Wiley-VCH, Weinheim, p 2227

8.

Pàmies O, Bäckvall J–E (2003) Chem Rev 103:3247

9.

Studer M, Burkhardt S, Blaser H-U (2001) Adv Synth Catal 343:802

10.

Saudan LA, Saudan CM, Debieux C, Wyss P (2007) Angew Chem Int Ed 46:7473

11.

Doucet H, Ohkuma T, Murata K, Yokozawa T, Kozawa M, Katayama E, England AF, Ikariya T, Noyori R (1998) Angew Chem Int Ed 37:1703

12.

Ohkuma T, Koizumi M, Muñiz K, Hilt G, Kabuto C, Noyori R (2002) J Am Chem Soc 124:6508

13.

Xie J–H, Zhou Z–T, Kong W–L, Zhou Q–L (2007) J Am Chem Soc 129:1868

14.

Yamakawa M, Ito H, Noyori R (2000) J Am Chem Soc 122:1466

15.

Abdur-Rashid K, Clapham SE, Hadzovic A, Harvey JN, Lough AJ, Morris RH (2002) J Am Chem Soc 124:15104

16.

Sandoval CA, Ohkuma T, Muñiz K, Noyori R (2003) J Am Chem Soc 125:13490

17.

Hamilton RJ, Leong CG, Bigam G, Miskolzie M, Bergens SH (2005) J Am Chem Soc 127:4152

18.

Hadzovic A, Song D, MacLaughlin CM, Morris RH (2007) Organometallics 26:5987

19.

Hamilton RJ, Bergens SH (2008) J Am Chem Soc 130:11979

20.

Ohkuma T, Sandoval CA, Srinivasan R, Lin Q, Wei Y, Muñiz K, Noyori R (2005) J Am Chem Soc 127:8288

21.

Lindner E, Mayer HA, Warad I, Eichele K (2003) J Organomet Chem 665:176

22.

Guo R, Chen X, Elpelt C, Song D, Morris RH (2005) Org Lett 7:1757
About this article
Cite this article
Ino, Y., Kuriyama, W., Ogata, O. et al. An Efficient Synthesis of Chiral Alcohols via Catalytic Hydrogenation of Esters. Top Catal 53, 1019–1024 (2010). https://doi.org/10.1007/s11244-010-9573-x
Keywords
Ester

Hydrogenation

Homogeneous

Ruthenium

Catalyst

Chiral

Alcohol

Amino alcohol

Diol