Abstract
W2O3–Al2O3 catalysts prepared by "sol–gel" and impregnation methods were characterised by XRD, FTIR and nitrogen adsorption. Both catalysts were tested in the isomerization of α-pinene in a batch reactor at atmospheric pressure and 150 °C. Conversion of α-pinene and selectivity to camphene was superior for the "sol–gel" catalyst than that observed for the impregnated catalyst.
This is a preview of subscription content, log in to check access.
Access options
Buy single article
Instant access to the full article PDF.
US$ 39.95
Price includes VAT for USA
Subscribe to journal
Immediate online access to all issues from 2019. Subscription will auto renew annually.
US$ 199
This is the net price. Taxes to be calculated in checkout.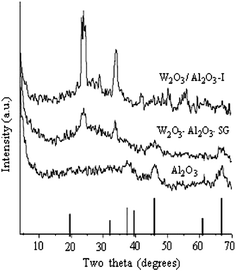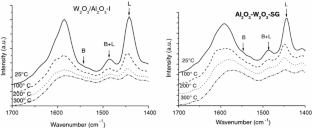 References
1.

López CM, Machado FJ, Rodríguez K, Méndez B, Hasegawa M, Pekerar S (1998) Appl Catal A 173:75

2.

Severino A, Esculcas A, Rocha J, Vital J, Lobo LS (1996) Appl Catal A 142:255

3.

Stefanis AD, Perez G, Tomlinson AAG (1995) Appl Catal A 132:353

4.

Yamamoto T, Matsuyama T, Tanaka T, Funabaki T, Yoshida SJ (2000) J Mol Catal A 155:271

5.

Rachwalik R, Olejniczak Z, Jiao J, Huang J, Hunger M, Sulikowski B (2007) J Catal 252:161

6.

Yadav M, Chudasama Ch, Jasra R (2004) J Mol Catal A 216:51

7.

Volzone C, Masini O, Comeli NA, Grzona LM, Ponzi EN, Ponzi MI (2001) Appl Catal A 214:213

8.

Kullaj S, Shkoncave B (1989) Nature 43:81

9.

Nazir M, Ahmed M, Chaudhary FM (1976) J Sci Ind Res 19:175

10.

Román-Aguirre M, Gochi YP, Robau Sánchez A, de la Torre L, Aguilar-Elguezabal A (2008) Appl Catal A 334:59

11.

Comelli NNA, Ponzi EN, Ponzi MI (2006) Chem Eng J 117:93

12.

Ebmeyer F (2002) J Mol Struc (Theochem) 582:251

13.

Chimal-Valencia O, Robau-Sánchez A, Collins-Martínez V, Aguilar-Elguézabal A (2004) Bioresour Technol 93:119

14.

Rodríguez-Gonzalez V, Gomez R, Moscosa-Santillan M, Amouroux J (2007) J Sol-Gel Sci Technol 42:165

15.

Rodríguez-González V, Zanella R, Del Angel G, Gómez R (2008) J Mol Catal A 281:93
Acknowledgments
We thank Conacyt for the financial support given to this project. A. Mantilla thanks Conacyt for scholarship support.
About this article
Cite this article
Tzompantzi, F., Valverde, M., Pérez, A. et al. Synthesis of Camphene by α-Pinene Isomerization Using W2O3–Al2O3 Catalysts. Top Catal 53, 1176–1178 (2010). https://doi.org/10.1007/s11244-010-9557-x
Keywords
α-Pinene

Isomerization

Solid-acid catalyst

Camphene

Tungsten alumina catalysts