Abstract
In this study, the formation of oxazolidinone intermediates along the reaction coordinates of two l-proline-catalyzed reactions was investigated using high-level quantum mechanical calculations. Our results suggest that the final product is produced via routes other than the currently-adopted catalytic cycle for l-proline, including routes where oxazolidinones are directly involved.
This is a preview of subscription content, log in to check access.
Access options
Buy single article
Instant access to the full article PDF.
US$ 39.95
Price includes VAT for USA
Subscribe to journal
Immediate online access to all issues from 2019. Subscription will auto renew annually.
US$ 199
This is the net price. Taxes to be calculated in checkout.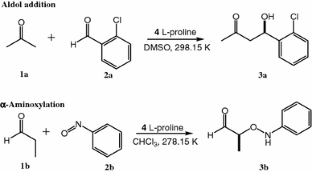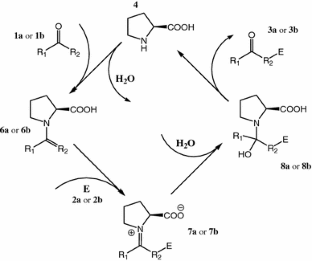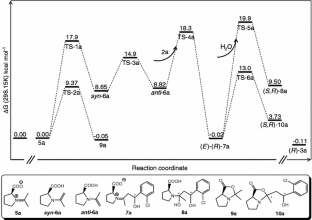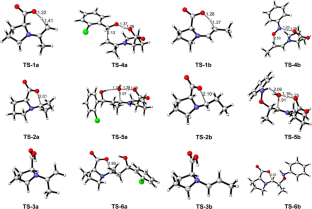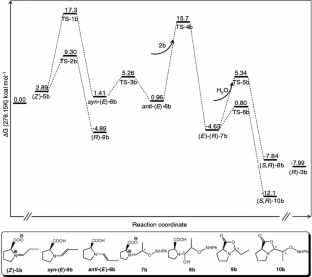 References
1.

Clayden J, Greeves N, Warren S, Wothers P (2000) Organic chemistry. Oxford University Press, Oxford

2.

Tsuji H, Yagi F, Hattori H, Kita H (1994) J Catal 148:759

3.

Climent MJ, Corma A, Iborra S, Velty A (2002) J Mol Catal A 327

4.

Gijsen HJM, Wong C-H (1995) J Am Chem Soc 117:7585

5.

Barbas CF III, Wang Y-F, Wong C-H (1990) J Am Chem Soc 112:2013

6.

Zhong G, Hoffmann T, Lerner RA, Danieshefsky S, Barbas CF III (1997) J Am Chem Soc 119:8131

7.

Cavill JL, Elliott RL, Evans G, Jones IL, Platts JA, Ruda AM, Tomkinson NCO (2006) Tetrahedron 62:410

8.

Sakthivel K, Notz W, Bui T, Barbas CF III (2001) J Am Chem Soc 123:5260

9.

Sunden H, Dahlin N, Ibrahem I, Adolfsson H, Cordova A (2005) Tetrahedron Lett 46:3385

10.

Brown SP, Brochu MP, Sinz CJ, MacMillan DWC (2003) J Am Chem Soc 125:10808

11.

Hayashi Y, Yamaguchi J, Hibino K, Shoji M (2003) Tetrahedron Lett 44:8293

12.

Hayashi Y, Yamaguchi J, Sumiya T, Hibino K, Shoji M (2004) J Org Chem 69:5966

13.

Iwamura H, Mathew SP, Blackmond DG (2004) J Am Chem Soc 126:11770

14.

Iwamura H, Wells DH, Mathew SP, Klussmann M, Armstrong A, Blackmond DG (2004) J Am Chem Soc 126:16312

15.

Mathew SP, Klussmann M, Wells A, Armstrong A, Blackmond DG (2006) Chem Comm 4291

16.

Mathew SP, Iwamura H, Blackmond DG (2004) Angew Chem 43:3317

17.

Northrup AB, MacMillan DWC (2002) J Am Chem Soc 124:6798

18.

Thomassigny C, Prim D, Greck C (2006) Tetrahedron Lett 47:1117

19.

Hajos Z, Parrish DR (1974) J Org Chem 39:1615

20.

Eder U, Sauer G, Wiechert R (1971) Angew Chem-Int Ed 10:496

21.

Zotova N, Broadbelt LJ, Armstrong A, Blackmond DG (2009) Bioorg Med Chem Lett 19:3934

22.

Zotova N, Franzke A, Armstrong A, Blackmond DG (2007) J Am Chem Soc 129:15100

23.

Rankin KN, Gauld JW, Boyd RJ (2002) J Phys Chem A 106:5155

24.

Poe S, Bogdan AR, Mason BP, Steinbacher JL, Opalka SM, McQuade DT (2008) J Org Chem 74:1574

25.

Seebach D, Beck AK, Badine DM, Limbach M, Eschenmoser A, Treasurywala AM, Hobi R (2007) Helv Chim Acta 90:425

26.

Gaussian 03, Revision E.01, Frisch MJ, Trucks GW, Schlegel HB, Scuseria GE, Robb MA, Cheeseman JR, Montgomery Jr JA, Vreven T, Kudin KN, Burant JC, Millam JM, Iyengar SS, Tomasi J, Barone V, Mennucci B, Cossi M, Scalmani G, Rega N, Petersson GA, Nakatsuji H, Hada M, Ehara M, Toyota K, Fukuda R, Hasegawa J, Ishida M, Nakajima T, Honda Y, Kitao O, Nakai H, Klene M, Li X, Knox JE, Hratchian HP, Cross JB, Bakken V, Adamo C, Jaramillo J, Gomperts R, Stratmann RE, Yazyev O, Austin AJ, Cammi R, Pomelli C, Ochterski JW, Ayala PY, Morokuma K, Voth GA, Salvador P, Dannenberg JJ, Zakrzewski VG, Dapprich S, Daniels AD, Strain MC, Farkas O, Malick DK, Rabuck AD, Raghavachari K, Foresman JB, Ortiz JV, Cui Q, Baboul AG, Clifford S, Cioslowski J, Stefanov BB, Liu G, Liashenko A, Piskorz P, Komaromi I, Martin RL, Fox DJ, Keith T, Al-Laham MA, Peng CY, Nanayakkara A, Challacombe M, Gill PMW, Johnson B, Chen W, Wong MW, Gonzalez C, Pople JA (2004) Gaussian, Inc., Wallingford, CT

27.

Becke AD (1993) J Chem Phys 98:5648

28.

Lee C, Yang W, Parr R (1988) Phys Rev B 37:785

29.

Hehre WJ, Ditchfield R, Pople JA (1972) J Chem Phys 56:2257

30.

Hariharan PC, Pople JA (1973) Theor Chim Acta 28:213

31.

Frisch MJ, Pople JA (1984) J Chem Phys 80:3265

32.

Gonzales C, Schlegel B (1988) J Chem Phys 90:2154

33.

Gonzales C, Schlegel B (1990) J Phys Chem 94:5523

34.

McQuarrie D (2000) Statistical mechanics. University Science Books, Sausalito, CA

35.

Scott A, Radom L (1996) J Phys Chem 100:16502

36.

Zhao Y, Schultz NE, Truhlar DG (2006) J Chem Theo Comput 2:364

37.

Fast PL, Sanchez ML, Truhlar DG (1999) Chem Phys Lett 306:407

38.

Curtiss LA, Redfern PC, Raghavachari K, Rassolov V, Pople JA (1999) J Chem Phys 110:4703

39.

Cossi M, Rega N, Scalmani G, Barone V (2002) J Comput Chem 24:669

40.

Barone V, Cossi M, Tomasi J (1997) J Chem Phys 107:3210

41.

Konstantinov IA, Broadbelt LJ (2009) Mol Sim (in press)

42.

Yi-Fan H, Xin L (2008) Chin J Struct Chem 27:547

43.

Isart C, Bures J, Vilarrasa J (2008) Tetrahedron Lett 49:5414

44.

List B, Hoang L, Martin HJ (2004) Proc Natl Acad Sci 101:5839

45.

Legault CY (2009) CYLview. Université de Sherbrooke, Canada

46.

Zotova N, Moran A, Armstrong A, Blackmond DG (2009) Adv Synth Catal 351:2765
Acknowledgments
Funding through the Institute for Catalysis in Energy Processes (ICEP) at Northwestern University which is sponsored by DOE is acknowledged. Computational resources used for this study were available through NERSC. We also would like to acknowledge helpful discussions with Prof. Donna Blackmond at Imperial College, UK.
About this article
Cite this article
Konstantinov, I.A., Broadbelt, L.J. The Role of Oxazolidinones in l-Proline-Assisted Aldol-Type Reactions. Top Catal 53, 1031–1038 (2010). https://doi.org/10.1007/s11244-010-9527-3
Keywords
Oxazolidinones

l

-proline

Aldol reactions

DFT