Abstract
Effects of Pt and Ba content of Pt/Ba/Al2O3 on NO x storage reduction (NSR) catalyst were investigated by means of kinetic analysis of surface nitrates using in situ FT/IR. Turnover frequencies of both storage and reduction of nitrate were significantly enhanced at higher Ba content, while those were higher at lower Pt content below 0.2 wt%.
This is a preview of subscription content, log in to check access.
Access options
Buy single article
Instant access to the full article PDF.
US$ 39.95
Price includes VAT for USA
Subscribe to journal
Immediate online access to all issues from 2019. Subscription will auto renew annually.
US$ 199
This is the net price. Taxes to be calculated in checkout.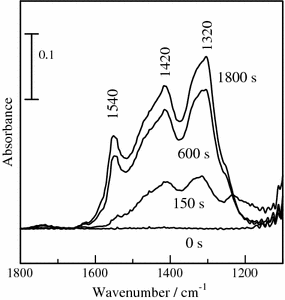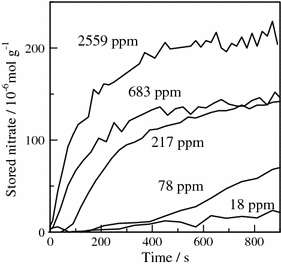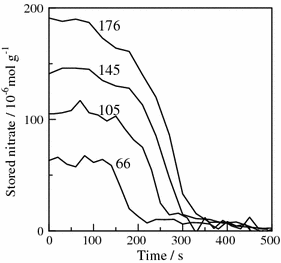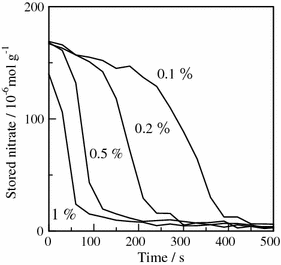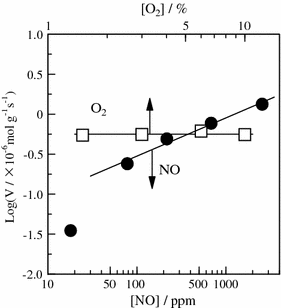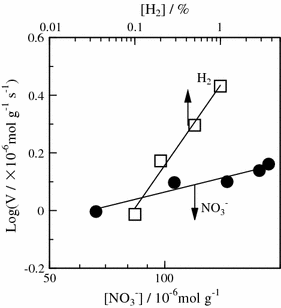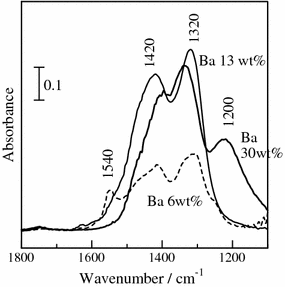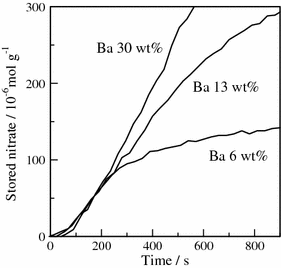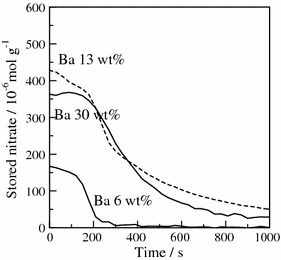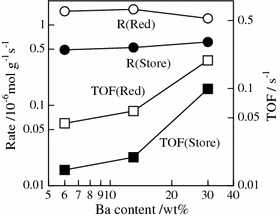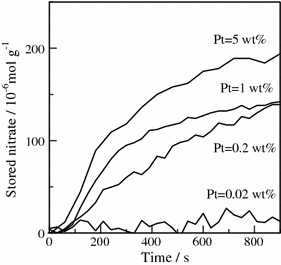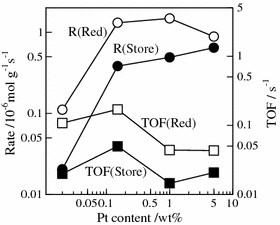 References
1.

Miyoshi N, Matsumoto S, Katoh K, Tanaka T, Harada J, Takahashi N, Yokota K, Sugiura M, Kasahara K (1995) SAE Tech. Paper 950809

2.

Takahashi N, Shinjoh H, Iijima T, Suzuki T, Yamazaki K, Yokota K, Sukuki H, Miyoshi N, Matsumoto S, Tanizawa T, Tanaka T, Tateishi S, Kasahara K (1996) Catal Today 27:63

3.

Matsumoto S (1996) Catal Today 29:43

4.

Takeuchi M, Matsumoto S (2004) Top Catal 28:151

5.

Matsumoto S (2004) Catal Today 90:183

6.

Huang HY, Long RQ, Yang RT (2001) Energy Fuels 15:205

7.

Olsson L, Fridell E (2002) J Catal 210:340

8.

Anderson JA, Bachiller-Baeza B, Fernández-García M (2003) Phys Chem Chem Phys 5:4418

9.

Amberntsson A, Fridell E, Skoglundh M (2003) Appl Catal B 46:429

10.

Macleod N, Lambert RM (2003) Chem Commun, p 1300

11.

Després J, Elsener M, Koebel M, Kröcher O, Schnyber B, Wokaun A (2004) Appl Catal B 50:73

12.

Dawody J, Skoglundh M, Wall S, Fridell E (2005) J Mol Catal A 225:259

13.

Dawody J, Eurenius L, Abdulhamid H, Skoglundh M, Olsson E, Fridell E (2005) Appl Catal A 296:157

14.

Abdulhamid H, Dawody J, Fridell E, Skoglundh M (2006) J Catal 244:169

15.

Su Y, Kabin KS, Harold MP, Amiridis MD (2007) Appl Catal B 71:207

16.

Piacentini M, Maciejewski M, Baiker A (2005) Appl Catal B 59:187

17.

Piacentini M, Maciejewski M, Baiker A (2005) Appl Catal B 60:265

18.

Piacentini M, Maciejewski M, Baiker A (2007) Appl Catal B 72:105

19.

Lietti L, Forzatti P, Nova I, Tronconi E (2001) J Catal 204:175

20.

Nova I, Castoldi L, Lietti L, Tronconi E, Forzatti P (2002) Catal Today 75:431

21.

Castoldi L, Nova I, Lietti L, Forzatti P (2004) Catal Today 96:43

22.

Han PH, Lee YK, Han SM, Rhee HK (2001) Top Catal 16:165

23.

Szanyi J, Kwak JH, Kim DH, Burton SD, Peden CHF (2005) J Phys Chem B 109:27

24.

Chen X, Schwank J, Li J, Schneider WF, Goralski CT Jr, Schmitz PJ (2005) J Mater Chem 15:366

25.

Mahzoul H, Brilhac JF, Gilot P (1999) Appl Catal B 20:47

26.

Laurent F, Pope CJ, Mahzoul H, Delfosse L, Gilot P (2003) Chem Eng Sci 58:1973

27.

Hess C, Lunsford JH (2003) J Phys Chem B 107:1982

28.

Clayton RD, Harold MP, Balakotaiah V, Wan CZ (2009) Appl Catal B 90:662

29.

Shimizu K, Saito Y, Nobukawa T, Niyoshi N, Satsuma A (2008) Catal Today 139:24

30.

Satsuma A, Shimizu K (2003) Prog Energy Combust 29:71

31.

Lesage T, Verrier C, Bazin P, Saussey J, Malo S, Hedouin C, Blanchard G, Daturi M (2004) Top Catal 30/31:31

32.

Kwak JH, Mei D, Yi C-H, Kim DH, Peden CHF, Allard LF, Szanyi J (2009) J Catal 261:17

33.

Ji Y, Toops TJ, Pihl JA, Crocker M (2009) Appl Catal B 91:329

34.

Prinetto F, Ghiotti G, Nova I, Castoldi L, Lietti L, Tronconi E, Forzatti P (2003) Phys Chem Chem Phys 5:4428

35.

Sedlmair Ch, Seshan K, Jentys A, Lercher JA (2003) J Catal 214:308

36.

Lietti L, Forzatti P, Nova I, Tronconi E (2001) J Catal 204:175

37.

Forzatti P, Castoldi L, Nova I, Lietti L, Tronconi E (2006) Catal Today 117:316

38.

Cumaranatunge L, Mulla SS, Yezerets A, Currier NW, Delgass WN, Ribeiro FH (2007) J Catal 246:29

39.

Medhekar V, Balakotaiah V, Harold MP (2007) Catal Today 121:226

40.

Clayton RD, Harold MP, Balakotaiah V (2008) Appl Catal B 81:161

41.

Okumura K, Motohiro T, Sakamoto Y, Kayama T, Kizaki Y, Shinjoh H (2009) Appl Catal A 354:111
About this article
Cite this article
Saito, Y., Shimizu, K., Nobukawa, T. et al. Effect of Pt and Ba content on NO x Storage and Reduction Over Pt/Ba/Al2O3 . Top Catal 53, 584–590 (2010). https://doi.org/10.1007/s11244-010-9491-y
Keywords
NO x storage reduction

Platinum

Barium

Kinetic study

Turnover frequency