Abstract
The metallic Cu nanoparticles have been successfully deposited on the heterogeneous TiO2 surface by the borohydride reduction of copper nitrate in water/CH3CN mixture under Ar atmosphere. The catalytic activity of the Cu–TiO2 nanocomposite was evaluated by the application to a photocatalytic cancer cell-killing under UV–visible light irradiation. Based on the obtained results, a plausible mechanism was proposed.
This is a preview of subscription content, log in to check access.
Access options
Buy single article
Instant access to the full article PDF.
US$ 39.95
Price includes VAT for USA
Subscribe to journal
Immediate online access to all issues from 2019. Subscription will auto renew annually.
US$ 199
This is the net price. Taxes to be calculated in checkout.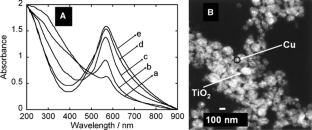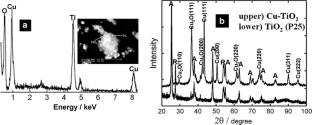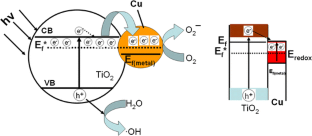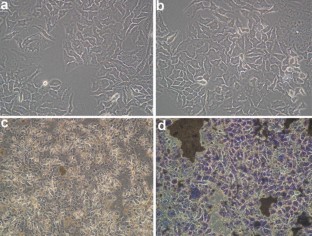 References
1.

Anpo M, Takeuchi M (2003) J Catal 216:505

2.

Dawson A, Kamat PV (2001) J Phys Chem B 105:960

3.

Bowker M, James D, Stone P, Bennett R, Perkins N, Millard L, Greaves J, Dickinson A (2003) J Catal 217:427

4.

Herrmann JM, Disdier J, Pichat P (1988) J Catal 113:72

5.

Stathatos E, Lianos P, Falaras P, Siokou A (2000) Langmuir 16:2398

6.

Schaaff TG, Blom DA (2002) Nano Lett 2:507

7.

Sun B, Vorontsov AV, Smirniotis PG (2003) Langmuir 19:3151

8.

Kim S, Choi W (2002) J Phys Chem B 106:13311

9.

Jeon S, Braun PV (2003) Chem Mater 15:1256

10.

Klosek S, Raftery D (2001) J Phys Chem B 105:2815

11.

Patra A, Friend CS, Kapoor R, Prasad PN (2003) Chem Mater 15:3650

12.

Premkumar J (2004) Chem Mater 16:3980

13.

Bryan JD, Heald SM, Chambers SA, Gamelin DR (2004) J Am Chem Soc 126:11640

14.

Kamat PV (1993) Chem Rev 93:267

15.

Bard JA (1982) J Phys Chem 86:172

16.

Burgeth G, Kisch H (2002) Coord Chem Rev 230:40

17.

Wood A, Giersig M, Mulvaney P (2001) J Phys Chem B 105:8810

18.

Jakob M, Levanon H, Kamat PV (2003) Nano Lett 3:353

19.

Subramanian V, Wolf EE, Kamat PV (2003) J Phys Chem B 107:7479

20.

Choi JY, Kim KH, Choy KC, Oh KT, Kim KN (2007) J Biomed Mater Res A 2:353

21.

Cai R, Kubota Y, shuin T, Sakai H, Hashimoto K, Fujishima A (1992) Cancer Res 52:2346

22.

Xu ZP, Zeng QH, Lu GQ, Yu AB (2006) Chem Eng Sci 61:1027

23.

Bideau M, Claudel B, Faure L, Rachimoellah M (1990) Chem Eng Commun 93:167

24.

Okamoto KI, Yamamoto Y, Tanaka H, Tanaka M, Itaya A (1985) Bull Chem Soc Jpn 58:2015

25.

Hufschmidt D, Bahnemmann D, Testa JJ, Emilio CA, Litter MI (2002) J Photochem Photobiol A 148:223

26.

Abdulla-Al-Mamun M, Kusumoto Y (2009) Chem Lett 38:826

27.

Abdulla-Al-Mamun M, Kusumoto Y, Muruganandham M (2009) Mater Lett 63:2007

28.

Wagner CD, Riggs WM, Davis LE, Moulder SF, Mullenberg GE (1979) Handbook of X-ray photoelectron spectroscopy. Perkin-Elmer Corporation, Physical Electronics Division, New York

29.

Subramanian V, Wolf EE, Kamat PV (2004) J Am Chem Soc 126:4943

30.

Harbour JR, Tromp J, Hair ML (1985) Can J Chem 63:204

31.

Fujihira M, Satoh Y, Osa T (1981) Nature 293:206

32.

Linsebigler AL, Lu G, Yates JT Jr (1995) Chem Rev 95 735

33.

Abdulla-Al-Mamun M, Kusumoto Y, Mihata A, Islam MS, Ahmmad B (2009) Photochem Photobiol Sc. 8:1125
Acknowledgements
The present work was partly supported by Grant-in-Aid for Scientific Research (B) (19360367) from Japan Society for the Promotion of Science (JSPS). The authors wish to thank Prof. Junichi Kurawaki for his informative discussions.
About this article
Cite this article
Abdulla-Al-Mamun, M., Kusumoto, Y., Ahmmad, B. et al. Photocatalytic Cancer (HeLa) Cell-Killing Enhanced with Cu–TiO2 Nanocomposite. Top Catal 53, 571–577 (2010). https://doi.org/10.1007/s11244-010-9489-5
Keywords
Water/CH3CN mixture
Cu–TiO2 nanocomposite

Photocatalysis

Cancer cell-killing