Abstract
A series of calcium containing silicate mixed oxide materials has been developed for biodiesel production. It has been shown that these materials can catalyze transesterification reactions from feedstocks with various fatty acid contents. However, their reaction kinetics for biodiesel synthesis was very slow compared to that of homogeneous-catalyst-catalyzed reactions. Herein, we report fast-reacting solid catalysts for biodiesel production. Two types of materials have been developed: a non-porous and an anionic-surfactant-templated catalysts. Compared to previously reported transesterification reaction by mesoporous calcium containing silicate catalysts, the reaction rates from both families were much faster. In addition, both the preparation time of catalysts and the cost of preparation were significantly reduced. Details in material synthesis and its effect on catalysis are discussed.
This is a preview of subscription content, log in to check access.
Access options
Buy single article
Instant access to the full article PDF.
US$ 39.95
Price includes VAT for USA
Subscribe to journal
Immediate online access to all issues from 2019. Subscription will auto renew annually.
US$ 199
This is the net price. Taxes to be calculated in checkout.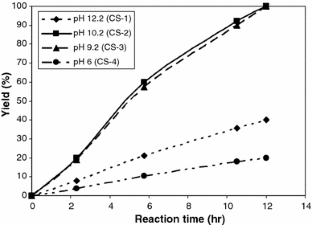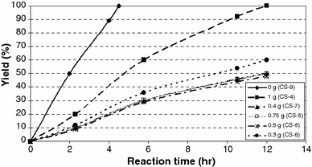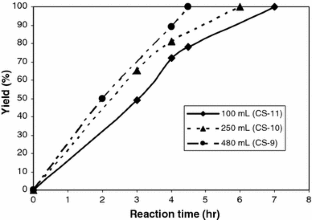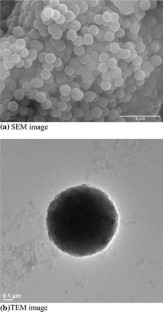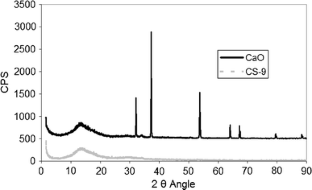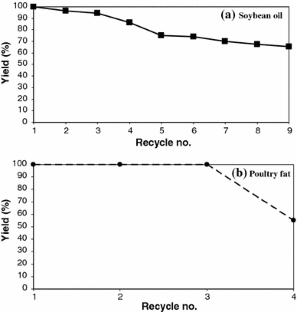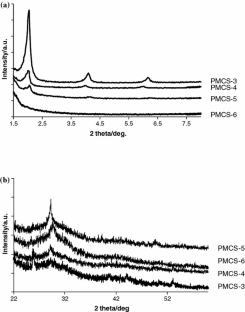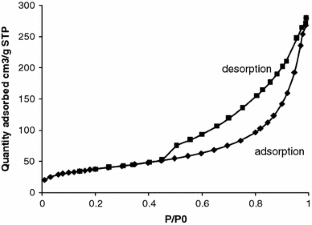 References
1.

Ma F, Hanna M (1999) Biodiesel production: a review. Bioresour Technol 70:1–15

2.

Lin VSY, Nieweg JA, Verkade JG, Reddy Chinta RV, Kern C (2008) US Patent, Patent Publication Number US20080021232 A1

3.

Pale-Grosdemange C, Simon ES, Prime KL, Whitesides GM (1991) J Am Chem Soc 113:12–20

4.

Huo Q, Margolese DI, Ciesla U, Feng P, Gier TE, Sieger P, Leon R, Petroff PM, Schuth F, Stucky GD (1994) Nature 368:317–321

5.

Che S, Garcia-Bennett AE, Yokoi T, Sakamoto K, Kunieda H, Terasaki O, Tatsumi T (2003) Nat Mater 2:801–805

6.

Kresge CT, Leonowicz ME, Roth WJ, Vartuli JC, Beck JS (1992) Nature 359:710–712

7.

Zhao D, Feng J, Huo Q, Melosh N, Frederickson GH, Chmelka BF, Stucky GD (1998) Science 279:548–552

8.

Venkat Reddy CR, Oshel R, Verkade JG (2006) Energ Fuel 20:1310–1314

9.

Kouzu M, Yamanaka SY, Hidaka JS, Tsunomori M (2009) Appl Catal A 355:94–99

10.

Garcia-Bennett AE, Kupferschmidt N, Sakamoto Y, Che S, Terasaki O (2005) Angew Chem Int Ed 44:5317–5322

11.

Garcia-Bennett AE, Miyasaka K, Terasaki O, Che S (2004) Chem Mater 16:3597–3605

12.

Gao C, Sakamoto Y, Sakamoto K, Terasaki O, Che S (2006) Angew Chem Int Ed 45:4295–4298

13.

Gao C, Qiu H, Zeng W, Sakamoto Y, Terasaki O, Sakamoto K, Chen Q, Che S (2006) Chem Mater 18:3904–3914

14.

Gao C, Sakamoto Y, Terasaki O, Che S (2008) Chem Eur J 14:11423–11428

15.

Chen JJ, Thomas JJ, Taylor HFW, Jennings HM (2004) Cem Concr Res 34:1499–1519

16.

Kruk M, Jaroniec M (2001) Chem Mater 13:3169–3183
About this article
Cite this article
Hsin, T., Chen, S., Guo, E. et al. Calcium Containing Silicate Mixed Oxide-Based Heterogeneous Catalysts for Biodiesel Production. Top Catal 53, 746–754 (2010). https://doi.org/10.1007/s11244-010-9462-3
Keywords
Mixed oxides

Calcium containing silicate materials

Heterogeneous catalysts

Biodiesel

Transesterification