Abstract
This work deals with the effect of Mn or Fe addition on the NO x storage–reduction properties of a Pt/Ba/Al2O3 model catalyst. NO x storage capacity, SO2 poisoning and regeneration and NO x removal efficiency under rich/lean cycling conditions are studied. Fe addition to Pt/Ba/Al2O3 leads only to a small increase of NO x storage capacity, and more interestingly, to a better sulfur removal due to the inhibition of bulk barium sulfate formation. Unfortunately, the NO x storage property cannot be fully recovered. Moreover, Fe addition results in a decrease in the NO x removal efficiency. Mn addition also improves the NO x storage capacity, but no significant influence on the sulfur elimination is observed. Mn-doped catalyst does not improve the NO x removal efficiency, but NH3 selectivity is found to drastically decrease at 400 °C, from 20 to 3%. In addition, the NO x conversion can be improved at higher H2 concentration in the rich pulse, always keeping NH3 selectivity at low level.
This is a preview of subscription content, log in to check access.
Access options
Buy single article
Instant access to the full article PDF.
US$ 39.95
Price includes VAT for USA
Subscribe to journal
Immediate online access to all issues from 2019. Subscription will auto renew annually.
US$ 199
This is the net price. Taxes to be calculated in checkout.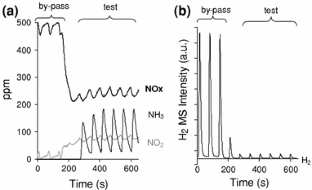 References
1.

Rohr F, Göbel U, Kattwinkel P, Kreuzer T, Müller W, Philipp S, Gélin P (2007) Appl Catal B 70:189

2.

Choi JS, Partridge WP, Daw CS (2007) Appl Catal B 77:145

3.

Adams KM, Graham GW (2008) Appl Catal B 80:343

4.

Clayton RD, Harold MP, Balakotaiah V (2008) Appl Catal B 84:616

5.

Lietti L, Nova I, Forzatti P (2008) J Catal 257:270

6.

Corbos EC, Elbouzzaoui S, Courtois X, Bion N, Marecot P, Duprez D (2007) Top Catal 42–43:9

7.

Corbos EC, Courtois X, Bion N, Marecot P, Duprez D (2008) Appl Catal B 80:62

8.

Eguchi K, Kondo T, Hayashi T, Arai H (1998) Appl Catal B 16:69

9.

Dawody J, Skoglundh M, Fridell E (2004) J Mol Catal A 209:215

10.

Bentrup U, Bruckner A, Richter M, Fricke R (2001) Appl Catal B 32:229

11.

Xiao J, Li X, Deng S, Wang F, Wang L (2007) Catal Commun 8:926

12.

Liang X, Li J, Lin Q, Sun K (2007) Catal Commun 8:1901

13.

Wu Z, Jiang B, Liu Y (2008) Appl Catal B 79:347

14.

Yamazaki K, Suzuki T, Takahasi N, Yojota K, Sugiura M (2001) Appl Catal B 30:459

15.

Fanson PT, Horton MR, Delgass WN, Lauterbach J (2003) Appl Catal B 46:393

16.

Corbos EC, Courtois X, Can F, Marécot P, Duprez D (2008) Appl Catal B 84:514

17.

Laberty C, Alphonse P, Duprat AM, Rousset A (1997) Thermochim Acta 306:51

18.

Tang RY, Zhang S, Wang C, Liang D, Lin L (1987) J Catal 106:440

19.

Corbos EC, Courtois X, Bion N, Marecot P, Duprez D (2007) Appl Catal B 76:357

20.

Schmauke T, Menzel M, Roduner E (2003) J Mol Catal A 194:211
About this article
Cite this article
Lê, P.N., Corbos, E.C., Courtois, X. et al. Influence of Mn and Fe Addition on the NO x Storage–Reduction Properties and SO2 Poisoning of a Pt/Ba/Al2O3 Model Catalyst. Top Catal 52, 1771 (2009). https://doi.org/10.1007/s11244-009-9345-7
Keywords
NO x

Storage

Reduction

SO2 poisoning

Pt

Ba

Fe

Mn