Abstract
With the introduction of stringent emission standards in the US in 2007 (Tier II Bin8, 5) an exhaust aftertreatment for NO x reduction is required for compliance with the emission regulations. A new approach consists in the synergetic combination of existing technologies NSC (NO x Storage Catalyst) and SCR (Selective Catalytic Reduction) with onboard generation of ammonia as the reducing agent for the SCR. It is shown in this work that the performance of the combined system exceeds those of each one considered separately, especially after ageing. The generation of ammonia is correlated to the ammonia selectivity during the regeneration of the NSC. The selectivity is primarily dependent on the temperature, A/F ratio (Air/Fuel) and the rich time. It is shown that the development of a suitable control strategy leads to a high level of NO x reduction under transient conditions in an FTP driving cycle. Due to the complexity and high development costs of current exhaust aftertreatment systems, modelling and simulation were identified as an important aspect in the development process. A system simulation tool named ExACT (Exhaust Gas Aftertreatment Components Toolbox) developed at Daimler is presented. By using the simulation already at an early stage, specific development work can be carried out prior to the experimental work on an engine test bench.
This is a preview of subscription content, log in to check access.
Access options
Buy single article
Instant access to the full article PDF.
US$ 39.95
Price includes VAT for USA
Subscribe to journal
Immediate online access to all issues from 2019. Subscription will auto renew annually.
US$ 199
This is the net price. Taxes to be calculated in checkout.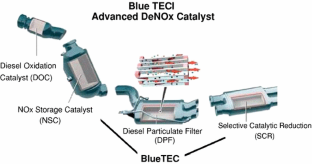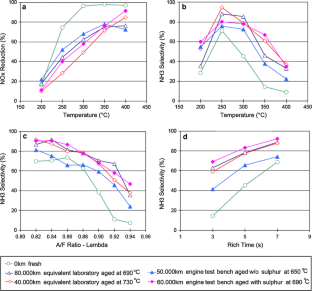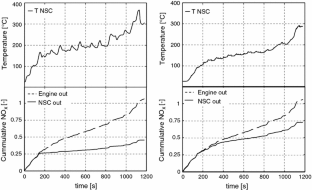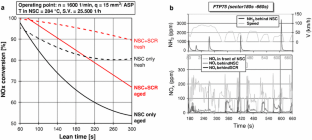 References
1.

Krämer M, Abthoff J, Duvinage F, Ruzicka N, Krutzsch B, Liebscher T, SAE 1999-01-1328

2.

Kato K, Inoue T, Nohira H, Nakanishi K, Iguchi S, Kihara T, Muraki H, Toyota JKK, EP 0 573 672 B1, Priority 27.12.1991 (JP 358125/91)

3.

Pischinger S, Schön C, Weibel M, Krutzsch B, Pfaff R, Boegner W, Mercedes-Benz AG, DE 195 43 219 C1, Priority 20.11.1995

4.

Konrad B, Krutzsch B, Voigtländer D, Weibel M, DaimlerChryslerAG, EP 957 242 B1, Priority 09.05.1998

5.

Wunsch R, Binder K, Günther J, Hertzberg A, Konrad B, Krutzsch B, Ölschlegel H-J, Renfftlen S, Voigtländer D, Weibel M, Weirich M, Wenninger G, DaimlerChrysler AG, DE 10131588 A1, Priority 03.07.2001

6.

Schommers J, Enderle C, Breitbach H, Lindemann B, Stotz M, Paule M. 15. Aachener Kolloquium 2006

7.

HIGHTECH REPORT, Daimler AG, Issue 02/2007

8.

Shelef M, Gandhi HS (1972) Ind Eng Chem Prod Res Dev 11(4):393

9.

Epling WS, Yezerets A, Currier NW (2007) Appl Catal B: Environ 74:117–129

10.

Waldbüßer N (2005) PhD work D386, Technische Universität Kaiserslautern

11.

Chatterjee D, Burkardt T, Weibel M, Tronconi E, Nova I, Ciardelli C (2006) SAE Tech Paper 2006-01-0468

12.

Koci P, Plat F, Stepanek J, Kubicek M, Marek M (2008) Catal Today 137:253

13.

Güthenke A, Chatterjee D, Weibel M, Waldbüßer N, Kočí P, Marek M, Kubíček M (2007) Chem Eng Sci 62:5357

14.

Bremm S, Pfeifer M, Leyrer J, Mueller W, Kurze S, Paule M, Keppeler B, Vent G. SAE 2008-01-1184

15.

Güthenke A, Chatterjee D, Weibel M, Krutzsch B, Koci P, Marek M, Nova I, Tronconi E (2008) Adv Chem Eng 33:104
About this article
Cite this article
Weibel, M., Waldbüßer, N., Wunsch, R. et al. A Novel Approach to Catalysis for NO x Reduction in Diesel Exhaust Gas. Top Catal 52, 1702 (2009). https://doi.org/10.1007/s11244-009-9329-7
Keywords
NSC

SCR

NO x reduction
NO x storage

Ammonia

BlueTEC

Diesel