Abstract
Water gas shift (WGS) reaction can lead to a reduction of the CO content in the H2-rich gas derived from HCs reforming to about 0.5–1%. Au-based catalysts supported on CeO2 and CeO2-based mixed oxides were prepared, characterized and tested for a potential application in a medium temperature WGS stage. In particular, catalytic activity tests performed with a realistic reformate stream (40% H2, 20% H2O, 11% CO2, 5% CO in He) showed how a 3% Au catalyst supported on CeO2 + ZrO2 reached equilibrium conditions at about 400 °C at WSV = 0.333 NL min−1 g cat −1 .
This is a preview of subscription content, log in to check access.
Access options
Buy single article
Instant access to the full article PDF.
US$ 39.95
Price includes VAT for USA
Subscribe to journal
Immediate online access to all issues from 2019. Subscription will auto renew annually.
US$ 199
This is the net price. Taxes to be calculated in checkout.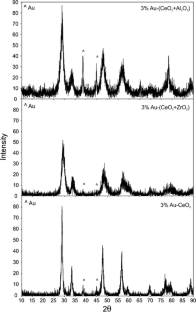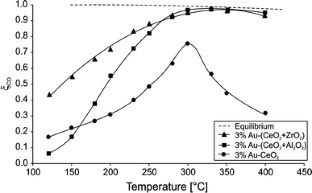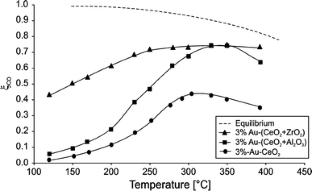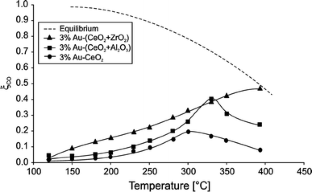 References
1.

Ghenciu AF (2002) Curr Opin Solid State Mater Sci 6:389

2.

Luengnaruemitchai A, Osuwan S, Gulari E (2003) Catal Commun 4:215

3.

Specchia S, Tillemans FWA, van den Oosterkamp PF, Saracco G (2005) J Power Sources 145:683

4.

Haruta M, Yamada N, Kobayashi T, Iijima S (1989) J Catal 115:301

5.

Haruta M, Tsubota S, Kobayashi T, Kageyama H, Genet MJ, Delmon B (1993) J Catal 144:175

6.

Andreeva D, Idakiev V, Tabakova T, Andreev A (1996) Appl Catal A 134:275

7.

Sakurai H, Ueda A, Kobayashi T, Haruta M (1997) Chem Commun 3:271

8.

Tabakova T, Idakiev V, Andreeva D, Mitov I (2000) Appl Catal A 202:91

9.

Haruta M, Daté M (2001) Appl Catal A Gen 222:427

10.

Haruta M (1997) Catal Surv Jpn 1:61

11.

Andreeva D, Idakiev V, Tabakova T, Andreev A (1996) J Catal 158:354

12.

Andreeva D, Idakiev V, Tabakova T, Giovanoli R (1998) Bulg Chem Commun 30:64

13.

Baiker A, Kilo M, Maciejewski M, Menzi S, Wokaun A (1993) In: Proceedings of the 10th ICC, 19–24 July 1992, Budapest. Elsevier, Amsterdam, p. 1257

14.

Kozlova A, Sugiyama S, Kozlov A, Asakura K, Iwasawa Y (1998) J Catal 176:426

15.

Yuan Y, Asakura K, Kozlova A, Wan H, Tsai K, Iwasawa Y (1998) Catal Today 44:333

16.

Haruta M (2002) Cattech 6:102

17.

Casaletto MP, Longo A, Venezia AM, Martorana A, Prestianni A (2006) Appl Catal A Gen 302:309

18.

Sandoval A, Gomez-Cortes A, Zanella R, Dıaz G, Saniger JM (2007) J Mol Catal A Chem 278:200

19.

Andreeva D, Ivanov I, Ilieva L, Sobczak JW, Avdeev G, Tabakova T (2007) Appl Catal A Gen 333:153

20.

Idakiev V, Tabakova T, Tenchev K, Yuan ZY, Ren TZ, Su BL (2007) Catal Today 128:223

21.

Chang LH, Sasirekha N, Rajesh B, Chen Y-W (2007) Sep Purif Technol 58:211

22.

Patil KC, Aruna ST, Mimani T (2002) Curr Opin Solid State Mater Sci 6:507

23.

Civera A, Pavese M, Saracco G, Specchia V (2003) Catal Today 83:199

24.

Interrante LV, Hampden-Smith MJ (1998) Chemistry of advanced materials: an overview. Wiley-VCH, New York

25.

Newsome DS (1980) Catal Rev Sci Eng 21:275
Acknowledgements
Institute CNR-IMM "Consiglio Nazionale delle Ricerche—Istituto per la Microelettronica e Microsistemi" (Catania, Italy) is gratefully acknowledged for the support in HRTEM analysis.
About this article
Cite this article
Galletti, C., Specchia, S., Saracco, G. et al. Gold-Supported Catalysts for Medium Temperature-Water Gas Shift Reaction. Top Catal 52, 688–692 (2009). https://doi.org/10.1007/s11244-009-9213-5
Keywords
Hydrogen clean-up

Medium temperature-water gas shift reaction

Gold catalysts

CeO2/CeO2 + Al2O3/CeO2 + ZrO2 carriers