Abstract
In order to determine the chemical mechanism for the (amm)oxidation of propane and propene on multi-metal oxide (MMO) catalysts, we have carried out quantum mechanical (QM) calculations for model reactions on small clusters that we have used to train the parameters for the ReaxFF reactive force field, which enables molecular dynamics (MD) simulations for reactions on the complex reconstructed surfaces of MMO. We report here insights from the QM on the reaction mechanisms of selective (amm)oxidation of propene on bismuth molybdate catalysts and the oxidative dehydrogenation of propane on vanadium oxide catalysts. We also report the application of ReaxFF to predict the stable surfaces of the M1 phases of the MoVTeNbO catalysts.
This is a preview of subscription content, log in to check access.
Access options
Buy single article
Instant access to the full article PDF.
US$ 39.95
Price includes VAT for USA
Subscribe to journal
Immediate online access to all issues from 2019. Subscription will auto renew annually.
US$ 199
This is the net price. Taxes to be calculated in checkout.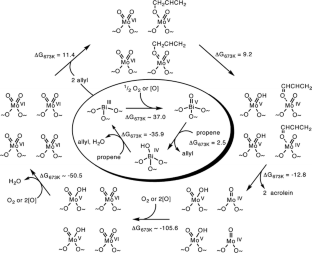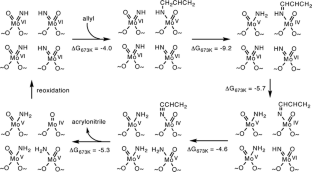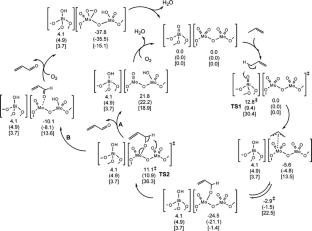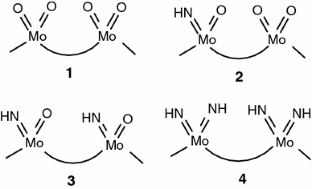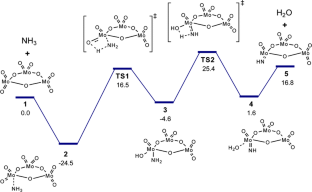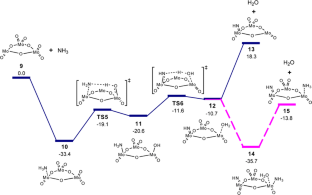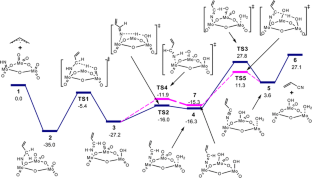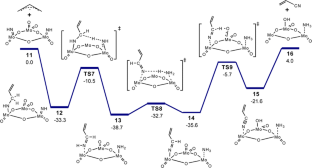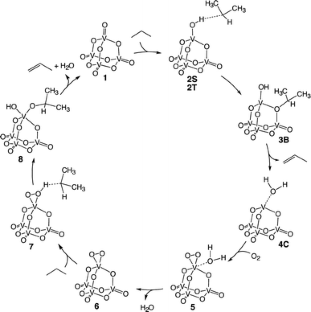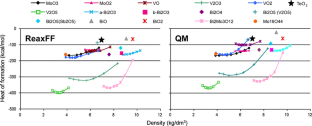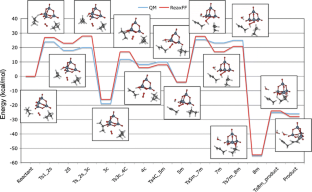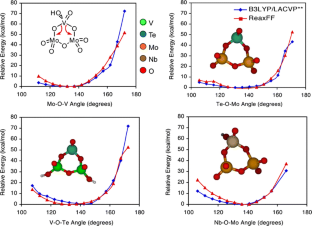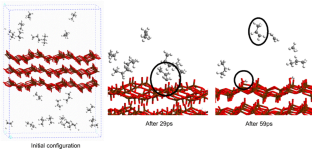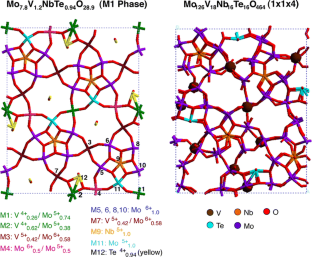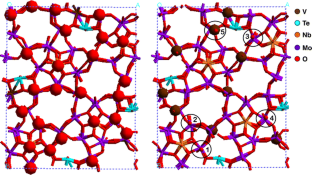 References
1.

Ullmann's Encyclopedia of Industrial Chemistry (2007) Electronic release. Wiley-VCH, Weinheim

2.

Ushikubo T, Oshima K, Kayo V, Umezawa T, Kiyono T, Sawaki I (1994) Mitsubishi Kasei Corporation. US Patent # 5,281,745

3.

U.S. Patents 4,746,641 (1988), 4,788,317 (1988), 4,843,055 (1989) Assigned to the Standard Oil Company

4.

Blanksby SJ, Ellison GB (2003) Acc Chem Res 36:255

5.

Grasselli RK (2007) 234th ACS national meeting, Boston, MA, August 19–23

6.

Allison JN, Goddard WA (1985) III ACS symposium series No. 279. Grasselli RK, Brazdil JF (eds) Solid state chemistry in catalysis. American Chemical Society, Washington, DC, 23

7.

Jang YH, Goddard WAIII (2001) Top Catal 15:273

8.

Jang YH, Goddard WAIII (2002) J Phys Chem B 106:5997

9.

Grasselli RK, Burrington JD, Buttrey DJ, DeSanto P, Lugmair G, Volpe AF, Weingand T (2003) Top Catal 23:5

10.

(a) Swift HE, Bozik JE, Ondrey JA (1971) J Catal 21:212; (b) Grzybowska G, Haber J, Janas J(1977) J Catal 49:150; (c) Martir W, Lunsford JH (1981) J Am Chem Soc 103:3728; (d) White MG, Hightower JW (1983) J Catal 82:185

11.

Desanto P Jr, Buttrey DJ, Grasselli RK, Lugmair CG, Volpe AF Jr, Toby BH, Vogt T (2004) Z Kristallogr 219:152

12.

Grasselli RK (2005) Catal Today 99:23

13.

van Duin ACT, Dasgupta S, Lorant F, Goddard WAIII (2001) J Phys Chem A 105:9396

14.

Chenoweth K, van Duin ACT, Goddard WAIII (2008) J Phys Chem A 112:1040

15.

Strachan A, van Duin ACT, Dasgupta S, Chakraborty D, Goddard WAIII (2003) Phys Rev Lett 91:098301

16.

van Duin ACT, Strachan A, Stewman S, Zhang Q, Goddard WAIII (2003) J Phys Chem A 107:3803

17.

Zhang Q, Cagin T, van Duin ACT, Goddard WAIII (2004) Phys Rev B 69:045423

18.

Nielson KD, van Duin ACT, Oxgaard J, Deng W, Goddard WAIII (2005) J Phys Chem A 109:493

19.

Cheung S, Deng W, van Duin ACT, Goddard WAIII (2005) J Phys Chem A 109:851

20.

Jaguar 6.5 (2006) Schrodinger, LLC, Portland, Oregon

21.

(a) Hay PJ, Wadt WR (1985) J Chem Phys 82:299; (b) Goddard WA III (1968) Phys Rev 174:659; (c) Melius CF, Olafson BO, Goddard WA III (1974) Chem Phys Lett 28:457

22.

(a) Hariharan PC, Pople JA (1972) Chem Phys Lett 16:217; (b) Francl MM, Pietro WJ, Hehre WJ, Binkley JS, Gordon MS, DeFrees DJ, Pople JA (1982) J Chem Phys 77:3654

23.

(a) Becke AD (1992) J Chem Phys 96:2155; (b) Becke AD (1992) J Chem Phys 97:9173; (c) Becke AD (1993) J Chem Phys 98:1372; (d) Becke AD (1993) J Chem Phys 98:5648

24.

Lee C, Yang W, Parr RG (1998) Phys Rev B 37:785

25.

Keith JA, Gonzales J, Oxgaard J, Goddard WA III (Manuscript in preparation)

26.

Berendsen HJC, Postma JPM, van Gunsteren WF, DiNola A, Haak JR (1984) J Chem Phys B 81:3684

27.

Pudar S, Oxgaard J, Chenoweth K, van Duin ACT, Goddard WAIII (2007) J Phys Chem C 111:16405

28.

Pudar S, Oxgaard J, Chenoweth K, van Duin ACT, Goddard WA III (Manuscript in preparation) J Phys Chem C

29.

Burrington JD, Kartisek CT, Grasselli RK (1983) J Catal 81:489

30.

Burrington JD, Kartisek CT, Grasselli RK (1984) J Catal 87:363

31.

Grasselli RK, Burrington JD (1984) Ind Eng Chem Prod Res Dev 23:393

32.

Cheng M-J, Chenoweth K, Oxgaard J, van Duin A, Goddard WAIII (2007) J Phys Chem C 111:5115

33.

Fu H, Liu Z-P, Li Z-H, Wang W-N, Fan K-N (2006) J Am Chem Soc 128:11114

34.

Goddard WAIII, van Duin A, Chenoweth K, Cheng M-J, Pudar S, Oxgaard J, Merinov B, Jang YH, Persson P (2006) Top Catal 38:93

35.

Grzybowska-Swierkosz B, Haber J, Janas J (1997) J Catal 49:150

36.

Grzybowska-Swierkosz B (1997) Appl Catal A 157:409

37.

Argyle MD, Chen K, Bell AT, Iglesia E (2002) J Phys Chem B 106:5421

38.

Argyle MD, Chen K, Bell AT, Iglesia E (2002) J Catal 208:139

39.

Desanto P Jr, Buttrey DJ, Grasselli RK, Lugmair CG, Volpe AF Jr, Toby BH, Vogt T (2003) Top Catal 23:23

40.

Vitry D, Morikawa Y, Dubois JL, Ueda W (2003) Appl Catal A 251:411

41.

Grasselli RK, Buttrey DJ, DeSanto P Jr, Burrington JD, Lugmair CG, Volpe AF Jr, Weingand T (2004) Catal Today 91–92:251

42.

Murayama H, Vitry D, Ueda W, Fuchs G, Anne M, Dubois JL (2007) Appl Catal A 318:137

43.

Guliants VV, Bhandari R, Swaminathan B, Vasudevan VK, Brongersma HH, Knoester A, Gaffney AM, Han S (2005) J Phys Chem B 109:24046

44.

Guliants VV, Bhandari R, Brongersma HH, Knoester A, Gaffney AM, Han S (2005) J Phys Chem B 109:10234

45.

Guliants VV, Bhandari R, Hughett AR, Bhatt S, Schuler BD, Brongersma HH, Knoester A, Gaffney AM, Han S (2006) J Phys Chem B 110:6129
Acknowledgements
We thank Dr. Robert Grasselli for continued encouragement and helpful discussions. The computers used in these projects were provided by ARO-DURIP and ONR-DURIP grants. Partial support was also provided by DOE (DE-AC02-06CH11357 and DE-PS36-03GO93015)
About this article
Cite this article
Goddard, W.A., Chenoweth, K., Pudar, S. et al. Structures, Mechanisms, and Kinetics of Selective Ammoxidation and Oxidation of Propane over Multi-metal Oxide Catalysts. Top Catal 50, 2–18 (2008). https://doi.org/10.1007/s11244-008-9096-x
Keywords
Multi-metal oxide

MMO

Bismuth molybdate

MoVTeNbO

Vanadium oxide

ReaxFF

Reactive force field

Quantum mechanics

Reaction mechanisms

Catalysis