Effect of ring substitution on synthesis of benzimidazolium salts and their silver(I) complexes: characterization, electrochemical studies and evaluation of anticancer potential
Abstract
A series of bidendate 5,6-dimethyl benzimidazolium-based N-heterocyclic carbene (NHC) proligands and their silver complexes were synthesized. The synthetic approaches to the proligands were constrained by the methyl substituents, which impose a significant impact on the reactivity according to their sigma electron-donating abilities. The corresponding silver(I) complexes were obtained by in situ deprotonation of the NHCs and characterized by physicochemical and spectroscopic methods. In addition, a single-crystal X-ray diffraction study of complex C5 revealed its dinuclear structure. Irreversibility of redox events was observed in electrochemical studies of these complexes. In vitro anticancer studies of the azolium salts and their silver(I) complexes against human breast cancer (MDA-MB-231), colon cancer (HCT-116) and normal endothelial (EA.hy926) cells revealed that all the compounds are more cytotoxic to cancer cells than to normal cells and the complexes are more potent than their corresponding NHC proligands. Increased chain length, the presence of methyl substituents on the benzimidazole ring and aryl linker and two silver centres all enhance the biopotency of these complexes.
Graphical abstract
Substituted benzimidazolium-based
N
-heterocyclic carbene (NHC) proligands and silver complexes are advantageous anticancer tools for medicinal chemistry.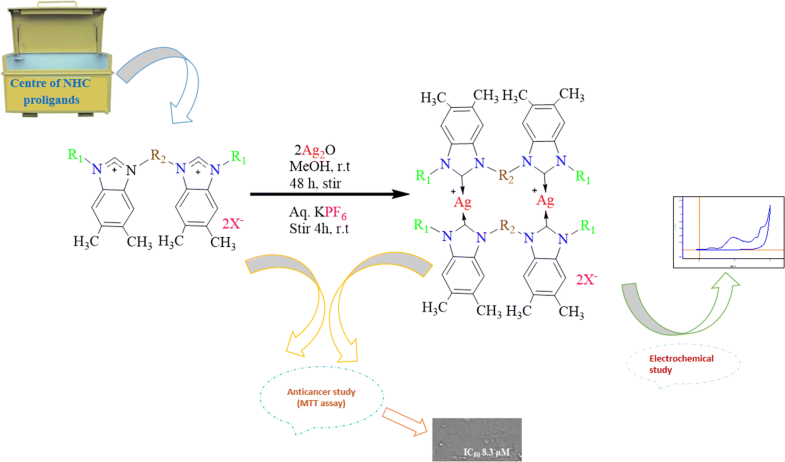 Notes
Acknowledgements
Aqsa Habib would like to thank Higher Education Commission (HEC), Pakistan, for financial support during International Research Support Initiative Program (IRSIP) (1-8/HEC/HRD/2017/6940). She would also like to appreciate the efforts of Prof. Davit Zargarian (University de Montreal, Canada) for facilitating during research work in his laboratory during IRSIP period and Dr. Loic Mangin (University de Montreal, Canada) for solving crystal structure and helpful discussion for the preparation of this manuscript. Dr. Muhammad Adnan Iqbal is thankful to HEC for awarding research grant No. NRPU-8396 under National Research Program for Universities (NRPU).
Compliance with ethical standards
Conflict of interest
The authors declare no conflicts of interest.
Copyright information
© Springer Nature Switzerland AG 2019