Abstract
A series of copper(I) coordination complexes, CuI(Phen)[2-(Dpp)bp] (1) (Phen = phenanthroline, 2-(Dpp)bp = 2-(Diphenylphosphino)-biphenyl), Cu2I2(Phen)[2-(Dpp)bp] (2), CuI(2-PBI)[2-(Dpp)bp] (3) and (2-PBI = 2-(pyridin-2-yl)-1H-benzo[d]imidazole) and CuI(Bipy)[2-(Dpp)bp] (Bipy = 2,2′-bipyridine) (4) have been synthesized. X-ray crystal structure studies revealed that complexes 1, 3 and 4 showed mononuclear structures with the copper atoms coordinated by iodide, a chelating nitrogen-donor ligand, and a monodentate phosphine ligand. However, the coordination centers display different distortions of their tetrahedral geometries, according to the steric hindrance of the bulky phosphine ligands. Complex 2 has a dinuclear structure, with trigonal and tetrahedral coordination centers. Variations in the aromatic system of the N-heterocyclic ligands result in different luminescence properties. Thus, the emission maxima for these complexes range from 580 to 642 nm, with lifetimes of τ = 0.6–0.9 and 1.6–4.2 μs. TD-DFT calculations reveal the origin of the luminescence to be metal–ligand charge transfer, as well as halogen–ligand charge transfer. The optical absorption spectra and thermal stabilities of the complexes have also been studied.
This is a preview of subscription content, log in to check access.
Access options
Buy single article
Instant access to the full article PDF.
US$ 39.95
Price includes VAT for USA
Subscribe to journal
Immediate online access to all issues from 2019. Subscription will auto renew annually.
US$ 199
This is the net price. Taxes to be calculated in checkout.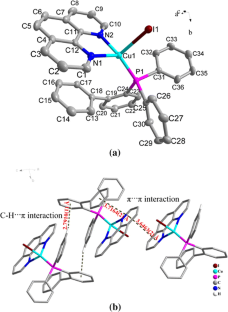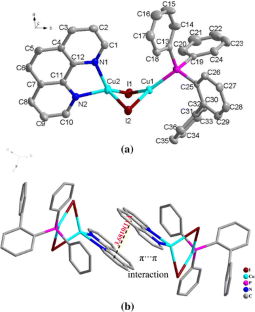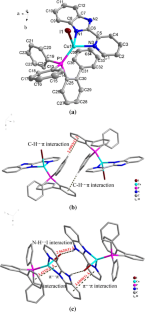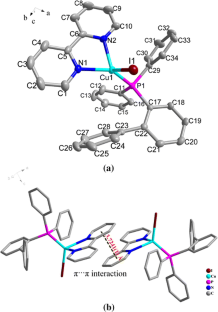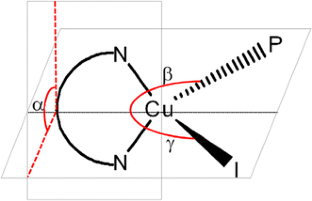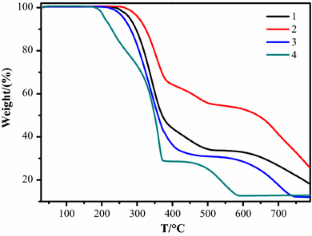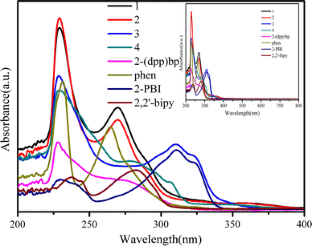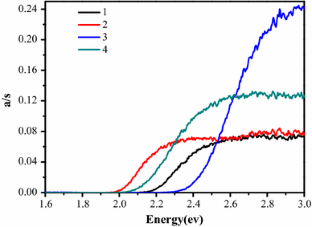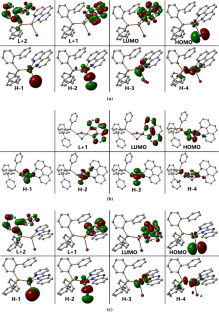 References
1.

Elie M, Sguerra F, Meo FD, Weber MD, Marion R, Grimault A, Lohier JF, Stallivieri A, Brosseau A, Pansu RB, Renaud JL, Linares M, Hamel M, Costa RD, Gaillard S (2016) ACS Appl Mater Interfaces 8:14678–14691

2.

Weber MD, Garino C, Volpi G, Casamassa E, Milanesio M, Barolo C, Costa RD (2016) Dalton Trans 45:8984–8993

3.

Zhang QS, Ding JQ, Cheng YX, Wang LX, Xie ZY, Jing XB, Wang FS (2007) Adv Funct Mater 17:2983–2990

4.

Moudam O, Kaeser A, Nicot BD, Duhayon C, Holler M, Accorsi G, Armaroli N, Seguy I, Navarro J, Destruel P, Nierengarten JF (2007) Chem Commun 3077–3079

5.

Aslanidis P, Cox PJ, Tsipis AC (2010) Dalton Trans 39:10238–10248

6.

Xu XY, Xiao HN, Deng AP (2014) Opt Mater 36:1542–1554

7.

Lu GY, Fang J (2016) Sens Actuators B 233:347–354

8.

Hsu CW, Lin CC, Chung MW, Chi Y, Lee GH, Chou PT, Chang CH, Chen PY (2011) J Am Chem Soc 133:12085–12099

9.

Liu ZW, Qayyum MF, Wu C, Whited MT, Djurovich PI, Hodgson KO, Hedman B, Solomon EI, Thompson ME (2011) J Am Chem Soc 133:3700–3703

10.

Tsuboyama A, Kuge K, Furugori M, Okada S, Hoshino M, Ueno K (2007) Inorg Chem 46:1992–2001

11.

Hashimoto M, Igawa S, Yashima M, Kawata I, Hoshino M, Osawa M (2011) J Am Chem Soc 133:10348–10351

12.

Zink DM, Volz D, Baumann T, Mydlak M, Flügge H, Friedrichs J, Nieger M, Brase S (2013) Chem Mater 25:4471–4486

13.

He LH, Chen JL, Zhang F, Cao XF, Tan XZ, Chen XX, Rong G, Luo P, Wen HR (2012) Inorg Chem Commun 21:125–128

14.

Starosta R, Puchalska M, Cybinska J, Barysa M, Mudring AV (2011) Dalton Trans 40:2459–2468

15.

Ishii T, Kenmotsu M, Tsuge K, Sakane G, Sasaki Y, Yamashita M, Breedlove BK (2012) Theor Chem Phys 26:377–392

16.

Cooney KD, Cundari TR, Hoffman NW, Pittard KA, Temple MD, Zhao Y (2003) J Am Chem Soc 125:4318–4324

17.

Maini L, Braga D, Mazzeo PP, Ventura B (2012) Dalton Trans 41:531–539

18.

Elagab HA, Alt HG (2015) Inorg Chim Acta 431:266–275

19.

Sheldrick GM (1997) Bruker SHELSTL-PC. University of Gottingenm Germany, Göttingen

20.

Frisch GWTMJ, Schlegel HB, Scuseria GE, Robb MA, Cheeseman JR, Scalmani G, Barone V, Mennucci B, Petersson GA, Nakatsuji H, Caricato M, Li X, Hratchian HP, Izmaylov AF, Bloino J, Zheng G, Sonnenberg JL, Hada M, Ehara M, Toyota K, Fukuda R, Hasegawa J, Ishida M, Nakajima T, Honda Y, Kitao O, Nakai H, Vreven T, Montgomery JAJ, Peralta JE, Ogliaro F, Bearpark M, Heyd JJ, Brothers E, Kudin KN, Staroverov VN, Kobayashi R, Normand J, Raghavachari K, Rendell A, Burant JC, Iyengar SS, Tomasi J, Cossi M, Rega N, Millam JM, Klene M, Knox JE, Cross JB, Bakken V, Adamo C, Jaramillo J, Gomperts R, Stratmann RE, Yazyev O, Austin AJ, Cammi R, Pomelli C, Ochterski JW, Martin RL, Morokuma K, Zakrzewski VG, Voth GA, Salvador P, Dannenberg JJ, Dapprich S, Daniels AD, Farkas O, Foresman JB, Ortiz JV, Cioslowski J, Fox DJ (2009) Gaussian, Inc., Wallingford CT

21.

Chai WX, Hong MW, Song L, Jia GH, Shi HS, Guo JY, Shu KY, Guo B, Zhang Y, You W, Chen X (2015) Inorg Chem 54:4200–4207

22.

Hong MW, Song L, Zhao Y, Qin LS, Wang CY, Shi HS, Guo JY, Tao XD, Shu KY, Chai WX (2014) J Clust Sci 25:1627–1640

23.

Zhang X, Song L, Hong MW, Shi HS, Xu K, Lin Q, Zhao Y, Tian Y, Sun J, Shu KY, Chai WX (2014) Polyhedron 81:687–694

24.

Zhao Y, Chai WX, Song L, Zhang Y, Shi HS, Tao XD, Shu KY (2016) Phosphorus Sulfur 191:1123–1128

25.

Jin QH, Xin XL, Dong CJ, Zhu HJ (1998) Acta Cryst 54:1087–1089

26.

Abdellah I, Bernoud E, Lohier JF, Alayrac C, Toupet L, Lepetitcd C, Gaumont AC (2012) Chem Commun 48:4088–4090

27.

Gholivand K, Farshadfer K, Roe SM, Gholami A, Esrafili MD (2016) CrystEngComm 18:2873–2884

28.

Khan A, Sharma P, Rajnikant P, Gupta VK, Padha N, Sharma R (2016) J Chem Sci 128:185–191

29.

Saha G, Sarkar KK, Mondal TK, Sinha C (2012) Inorg Chim Acta 387:240–247

30.

Barron PF, Engelhardt LM, Healy PC, Kildea JD, White AH (1988) Inorg Chem 27:1829–1834

31.

Chen JL, Cao XF, Gu W, Su BT, Zhang F, Wen HR, Hong RJ (2012) Inorg Chem Commun 15:65–68

32.

Chadwick AT (1970) J Am Chem Soc 92:2956–2965

33.

Chadwick AT (1977) Chem Rev 77:313–346

34.

Mathew J, Thomas T, Suresh CH (2007) Inorg Chem 46:10800–10809

35.

Chen JL, Cao XF, Wang JY, He LH, Liu ZY, Wen HR, Chen ZN (2013) Inorg Chem 52:9727–9740

36.

Zhang K, Zhang D (2014) Spectrochim Acta A 124:341–348

37.

Kotüm G (1969) Reflectance spectroscopy. Springer, New York

38.

Wendlandt WW (1966) Reflectance spectroscopy. Interscience Publishers, New York

39.

Cao G, Rabenberg LK, Nunn CM, Mallouk TE (1991) Chem Mater 3:149–156

40.

Xin XL, Chen M, Ai YB, Yang FL, Li XL, Li FY (2014) Inorg Chem 53:2922–2931

41.

Zhang L, Li B, Su ZM (2009) J Phys Chem C 113:13968–13973
Acknowledgements
This research was supported by the Natural Science Foundation of Zhejiang Province (No. LY16B030009), National Natural Science Foundation of China (No. 61205184), and 521 Talent Cultivation of Zhejiang Sci-Tech University (521 talent project of ZSTU).
About this article
Cite this article
Chen, D., Chai, W. & Song, L. Syntheses, steric hindrance effects, luminescent properties and TD-DFT calculations for a series of copper(I) iodide coordination complexes. Transit Met Chem 43, 517–527 (2018). https://doi.org/10.1007/s11243-018-0237-1
Received:

Accepted:

Published:

Issue Date: