Abstract
The N,S bidentate proligand S-hexyl-β-N-(4-methoxybenzylidene)dithiocarbazate (HL), obtained by condensation of S-hexyldithiocarbazate with 4-methoxybenzaldehyde, has been used to synthesize six metal complexes, namely NiL2, CuL2, ZnL2, CdL2, PdL2 and PbL2, which have been characterized by physicochemical techniques and spectroscopic methods. Single crystal structural analyses for NiL2, CuL2 and PdL2 show that these are square-planar complexes with each metal bischelated by the Schiff base in its deprotonated monoanionic form. In all three cases, the ligands show a trans configuration, although they crystallize in different space groups. All the metal complexes with the exception of the nickel derivative show a significant decrease in fluorescence intensity with respect to the free proligand HL. Free HL and all six complexes were tested for antibacterial activity against three pathogenic gram-negative organisms. The metal complexes show moderate although diverse activities; however, free HL as well as the copper(II) complex did not reveal any antibacterial activity against the tested organisms.
This is a preview of subscription content, log in to check access.
Access options
Buy single article
Instant access to the full article PDF.
US$ 39.95
Price includes VAT for USA
Subscribe to journal
Immediate online access to all issues from 2019. Subscription will auto renew annually.
US$ 199
This is the net price. Taxes to be calculated in checkout.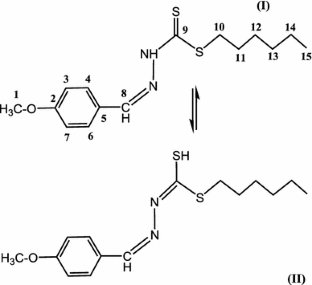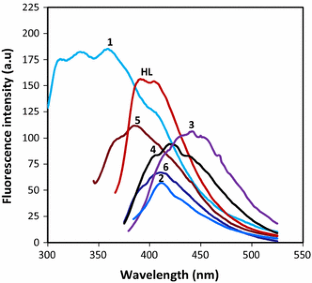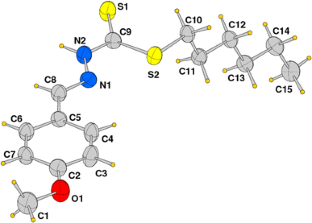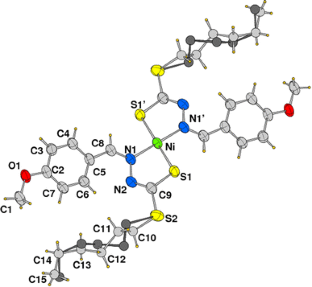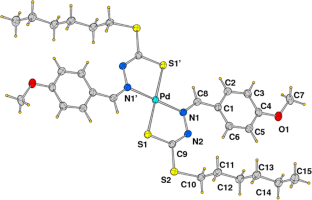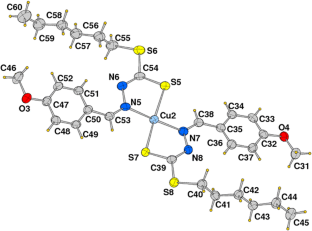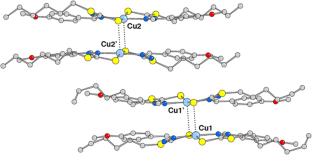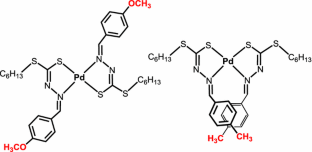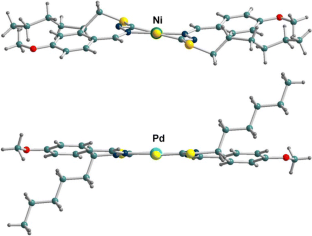 References
1.

Hogarth G (2005) Transition metal dithiocarbamates: 1978–2003. In: Karlin KD (ed) Progress in inorganic chemistry, vol 53. Wiley, Hoboken

2.

Qiu X-Y, Zhang C, Li S-Z, Cao G-X, Qu P, Zhang F-Q, Ma J-G, Zhai B (2014) Inorg Chem Commun 46:202–206

3.

How FN-F, Crouse KA, Tahir MIM, Tarafder MTH, Cowley AR (2008) Polyhedron 27:3325–3329

4.

Biswal D, Pramanik NR, Chakrabarti S, Drew MGB, Mitra P, Acharya K, Biswas S, Mondal TK (2015) New J Chem 39:8681–8694

5.

Low ML, Maigre L, Tahir MIM, Tiekink ERT, Dorlet P, Guillot R, Ravoof TB, Rosli R, Pages J-M, Policar C, Delsuc N, Crouse KA (2016) Eur J Med Chem 120:1–12

6.

Low ML, Maigre L, Dorlet P, Guillot R, Pagès J-M, Crouse KA, Policar C, Delsuc N (2014) Bioconjug Chem 25:2269–2284

7.

Low ML, Paulus G, Dorlet P, Guillot R, Rosli R, Delsuc N, Crouse KA, Policar C (2015) Biometals 28:553–566

8.

Md Yusof EN, Ravoof TBSA, Tiekink ERT, Veerakumarasivam A, Crouse KA, Tahir MIM, Ahmad H (2015) Int J Mol Sci 16:11034–11054

9.

Kundu S, Mondal D, Bhattacharya K, Endo A, Sanna D, Garribba E, Chaudhury M (2015) Inorg Chem 54:6203–6215

10.

Qiu X-Y, Li S-Z, Shi A-R, Li Q-Q, Zhai B (2012) Chin J Struct Chem 31:555–561

11.

Bharti N, Maurya MR, Naqvi F, Azam A (2000) Bioorg Med Chem Lett 10:2243–2245

12.

Bharti N, Maurya MR, Naqvi F, Bhattacharya A, Bhattacharya S, Azam A (2000) Eur J Med Chem 35:481–486

13.

Maurya MR, Khurana S, Azam A, Zhang W, Rehder D (2003) Eur J Inorg Chem 1966–1973

14.

Pramanik NR, Chakraborty M, Biswal D, Mandal SS, Ghosh S, Chakrabarti S, Sheldrick WS, Drew MGB, Mondal TK, Sarkar D (2015) Polyhedron 85:196–207

15.

Bharati P, Bharti A, Chaudhari UK, Bharty MK, Kashyap S, Singh UP, Singh NK (2015) Inorg Chim Acta 425:100–107

16.

Begum MS, Howlader MBH, Miyatake R, Zangrando E, Sheikh MC (2015) Acta Cryst E71:o199

17.

Rigaku (2010). Crystal structure. Version 4.0. Rigaku Corporation, Tokyo

18.

Sheldrick GM (2008) Acta Cryst A64:112–122

19.

Rigaku (1995) ABSCOR. Rigaku Corporation, Tokyo

20.

Watkin DM, Pearce L, Prout CK (1993) CAMERON.Chemical Crystallography Laboratory. University of Oxford, Oxford

21.

Farrugia LJ (1999) J Appl Crystallogr 32:837–838

22.

Zangrando E, Begum MS, Howlader MBH, Sheikh MC, Miyatake R (2016) IUCrData 1:x160521

23.

Gülcan M, Sönmez M, Berber İ (2012) Turk J Chem 36:189–200

24.

Valgas C, de Souza SM, Smânia EFA, Smânia A Jr (2007) Braz J Microbiol 38:369–380

25.

Tarafder MTH, Khoo T-J, Crouse KA, Ali AM, Yamin BM, Fun H-K (2002) Polyhedron 21:2691–2698

26.

Takjoo R, Takjoo R, Yazdanbakhsh M, Kaju AA, Yaguang C (2010) Chin J Chem 28:221–228

27.

Singh RV, Mitharwal P, Singh R, Mital SP (2014) Am Chem Sci J 4:117–137

28.

Shaker SA, Mohammed HA, Salih AA (2010) Aust J Basic Appl Sci 4:5178–5183

29.

da Maia PIS, de Fernandes AGA, Silva JJN, Andricopulo AD, Lemos SS, Lang ES, Abram U, Deflon VM (2010) J Inorg Biochem 104:1276–1282

30.

Roy S, Mandal TN, Barik AK, Gupta S, Butcher RJ, Nethaji M, Kar SK (2008) Polyhedron 27:593–601

31.

Takjoo R, Centore R, Ramasami LRP (2012) J Coord Chem 65:1569–1579

32.

Pramanik NR, Ghosh S, Raychaudhuri TK, Ray S, Butcher RJ, Mandal SS (2004) Polyhedron 23:1595–1603

33.

Roy S, Mandal TN, Barik AK, Pal S, Gupta S, Hazra A, Butcher RJ, Hunter AD, Zeller M, Kar SK (2008) Polyhedron 26:2603–2611

34.

Khaledi H, Ali HM, Olmstead MM (2011) Inorg Chim Acta 366:233–240

35.

Islam MAAAA, Sheikh MC, Alam MS, Zangrando E, Alam MA, Tarafder MTH, Miyatake R (2014) Transit Met Chem 39:141–149

36.

Islam MAAAA, Tarafder MTH, Sheikh MC, Alam MA, Zangrando E (2011) Transit Met Chem 36:531–537

37.

Yazdanbakhsh M, Takjoo R, Frank W, Kaju AA (2009) J Coord Chem 62:3651–3660

38.

Ravoof TBSA, Crouse KA, Tahir MIM, How FNF, Rosli R, Watkins DJ (2010) Transit Met Chem 35:871–876

39.

Jang YJ, Lee UK, Kweon B (2011) Bull Korean Chem Soc 26:925–929

40.

Kumaran JS, Priya S, Jayachandramoni N, Mahalakshmi S (2013) J Chem, Article ID 260358:1–10

41.

Singh K, Kushawaha SK, Bharty MK, Dulare R, Butcher RJ (2009) J Mol Struc 936:257–263

42.

Ali MA, Tan AL, Mirza AH, Santos JH, Abdullah AHBH (2012) Transit Met Chem 37:651–659

43.

Jorge FE, Autschbach J, Ziegler T (2003) Inorg Chem 42:8902–8910

44.

Majumder A, Rosair GM, Mallick A, Chattopadhyay N, Mitra S (2006) Polyhedron 25:1753–1762

45.

Önal Z, Zengin H, Sönmez M (2011) Turk J Chem 35:905–914

46.

Aazam ES, Husseiny AFEL, Al-Amri HM (2012) Arab J Chem 5:45–53

47.

Anitha C, Sheela CD, Tharmaraj P, Shanmugakala R (2013) Int J Inorg Chem, Article ID 436275:1–10

48.

Das D, Chand BG, Sarker KK, Dinda J, Sinha C (2006) Polyhedron 25:2333–2340

49.

Zangrando E, Begum MS, Sheikh MC, Miyatake R, Hossain MM, Alam MM, Hasnat MA, Halim MA, Ahmed S, Rahman MN, Ghosh A (2017) Arab J Chem 10:172–184

50.

Zangrando E, Islam MT, Islam MAAAA, Sheikh MC, Tarafder MTH, Miyatake R, Zahan R, Hossain MA (2015) Inorg Chim Acta 427:278–284

51.

Dronskowski R (2005) Computational chemistry of solid state materials. WILEY-VCH Verlag GmbH & Co. KGaA, Weinheim

52.

Hummel W, Huml K, Burgi H-B (1988) Helv Chim Acta 71:1291–1302
Acknowledgements
The author M. S. Begum thanks the Department of Chemistry, Shahjalal University of Science and Technology, Sylhet-3114, Bangladesh, for laboratory facilities, and MCS thanks the Department of Applied Chemistry, Faculty of Engineering, University of Toyama, Japan, for analytical facilities.
Electronic supplementary material
Below is the link to the electronic supplementary material.
About this article
Cite this article
Begum, M.S., Zangrando, E., Sheikh, M.C. et al. Bischelated complexes of a dithiocarbazate N,S Schiff base ligand: synthesis, characterization and antimicrobial activities. Transit Met Chem 42, 553–563 (2017). https://doi.org/10.1007/s11243-017-0160-x
Received:

Accepted:

Published:

Issue Date: