Abstract
The complex [RuIII(edta)(H2O)]− (edta4− = ethylenediaminetetraacetate) catalyzes the oxidation of thiourea (TU) by peroxomonosulfate ion (HSO5 −). The kinetics of the catalytic oxidation process was studied by using stopped-flow and rapid-scan spectrophotometry as a function of [RuIII(edta)(H2O)−], [HSO5 −] and [TU] at a constant pH of 6.2 (phosphate buffer) and temperature of 25 °C. Spectral and kinetic data are suggestive of a catalytic pathway involving rapid formation of a [RuIII(edta)(TU)]− intermediate complex by reaction of [RuIII(edta)(H2O)]− with TU, followed by the oxidation of the coordinated TU in which HSO5 − reacts directly with the S atom of TU coordinated to the RuIII(edta) complex. Analysis of the reaction mixture at the end of the reaction revealed the formation of formamidine disulfide (TU2) as a major product; however, thiourea dioxide (TUO2) and sulfate were also observed if the reaction mixture was kept for longer time periods. A detailed mechanism in agreement with the spectral and kinetic data is presented.
This is a preview of subscription content, log in to check access.
Access options
Buy single article
Instant access to the full article PDF.
US$ 39.95
Price includes VAT for USA
Subscribe to journal
Immediate online access to all issues from 2019. Subscription will auto renew annually.
US$ 199
This is the net price. Taxes to be calculated in checkout.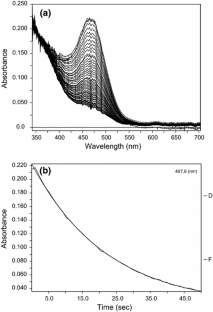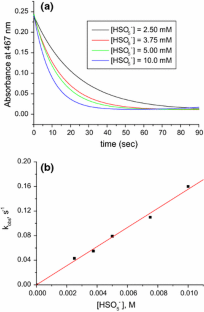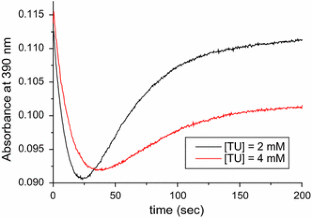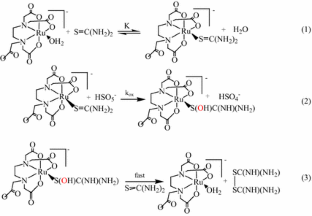 References
1.

Curtis WE, Muldrow ME, Parker NB, Barkley R, Linas SL, Repine JE (1988) Proc Natl Acad Sci 85:3422

2.

Sprong RC, Aarsman CJM, van Oirschot JFLM, van Asbeck BS (1997) J Lab Clin Med 129:470

3.

Kelner MJ, Bagnell R, Welch KJ (1990) J Biol Chem 265:1306

4.

Lai Y-L, Wu H-D, Chen CF (1998) J Cardiovasc Pharmacol 32:714

5.

Wang W, Schuchmann MN, Schuchmann H-P, Knolle W, von Sonntag J, von Sonntag C (1999) J Am Chem Soc 121:238

6.

Simoyi RH, Epstein IR, Kustin K (1994) J Phys Chem 98:551

7.

Sharma V, Joshi WV, Millero FJ, Connor D (1999) Environ Sci Technol 33:2645

8.

Kudrik EV, Theodoridis AK, van Eldik R, Makarov SV (2005) Dalton Trans 6:1117–1122

9.

Henry NPO, Harutyuneran KY, Byrd JE (1979) Inorg Chem 18:197

10.

Chatterjee D, Paul B, Mukherjee R (2013) Dalton Trans 42:10056–10060

11.

Baly J (1986) J Electroanal Chem 214:481–483

12.

Diamantis AA, Dubrwaski JV (1981) Inorg Chem 20:1142

13.

Matsubara T, Creutz C (1979) Inorg Chem 18:1956–1966

14.

Bajaj HC, van Eldik R (1988) Inorg Chem 27:4052–4055

15.

Chatterjee D, Sikdar A, Patnam VR, Theodoridis A, van Eldik R (2008) Dalton Trans 29:3851–3856

16.

Gao Q, Wang G, Sun Y, Epstein IR (2008) J Phys Chem A 112:5771
Acknowledgments
Papiya Sarkar thanks CSIR, New Delhi, for junior research fellowship (CSIR-JRF).
Electronic supplementary material
Below is the link to the electronic supplementary material.
About this article
Cite this article
Sarkar, P., Chatterjee, D. Oxidation of thiourea by peroxomonosulfate ion catalyzed by a ruthenium(III) complex: kinetic and mechanistic studies. Transition Met Chem 41, 9–13 (2016). https://doi.org/10.1007/s11243-015-9991-5
Received:

Accepted:

Published:

Issue Date:
Keywords
Ruthenium

Thiourea

H2O2 System

Hedta

Kinetic Trace