Abstract
Reactions of three tetrazole carboxylate ligands, namely 5-(4-pyridyl)tetrazole-2-acetic acid (Hpytza), 1,3,5-tris(tetrazol-5-yl)benzene-N2,N2′,N2″-triacetic acid (H3tzpha) and 5-aminotetrazole-1-propanoic acid (Hatzpa) with Mn(NO3)2·6H2O in the presence of KOH afforded three new complexes, [Mn(pytza)2] (1), [Mn3(tzpha)2(H2O)12]·2CH3OH·10H2O (2) and [Mn(atzpa)2(H2O)2] (3), respectively. These complexes were characterized by elemental analysis, IR spectroscopy and single-crystal X-ray diffraction. Complex 1 displays a three-dimensional network while 2 and 3 show one-dimensional chains. Furthermore, the luminescence properties of these complexes were investigated at room temperature in the solid state.
This is a preview of subscription content, log in to check access.
Access options
Buy single article
Instant access to the full article PDF.
US$ 39.95
Price includes VAT for USA
Subscribe to journal
Immediate online access to all issues from 2019. Subscription will auto renew annually.
US$ 199
This is the net price. Taxes to be calculated in checkout.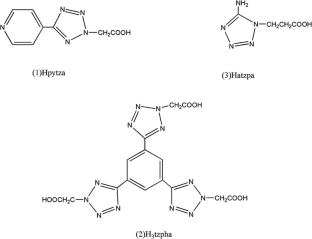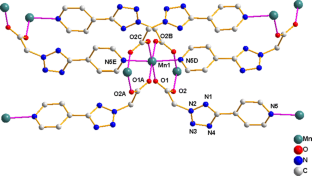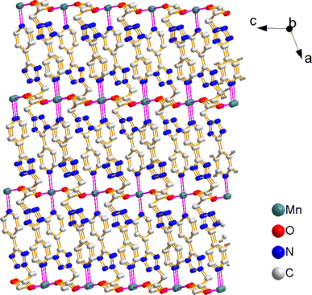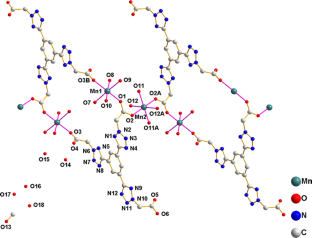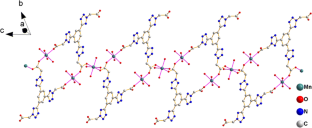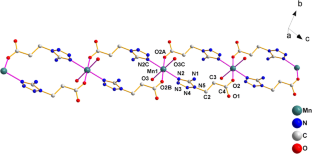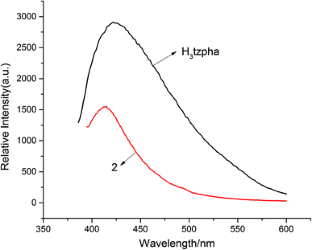 References
1.

Deng HX, Grunder S, Cordova KE, Valente C, Furukawa H, Hmadeh M, Gándara F, Whalley AC, Liu Z, Asahina S, Kazumori H, O'Keeffe ML, Terasaki O, Stoddart JF, Yaghi OM (2012) Science 336:1018

2.

Xi K, Cao ZS, Peng ZX, Ducati C, Kumar RV, Cheetham AK (2013) Chem Commun 49:2192

3.

Mallick A, Saha S, Pachfule P, Roy S, Banerjee R (2010) J Mater Chem 20:9073–9080

4.

Yang SJ, Nam S, Kim T, Im JH, Jung H, Kang JH, Wi S, Park B, Park CR (2013) J Am Chem Soc 135:7394–7397

5.

Nagarathinam M, Saravanan K, Phua EJH, Reddy MV, Chowdari BVR, Vittal JJ (2012) Angew Chem 124:5968–5972

6.

Chen DY, Zou JH, Li WX, Xu B, Li QY, Yang GW, Wang J, Ding YM, Zhang Y, Shen XF (2014) Inorg Chem Commun 40:35–38

7.

JH Zou, JN Zhu, HJ Cui, Z Wang, DL Zhu, H T, FF Zhang, J Wang, QY Li, GW Yang (2015) Aust J Chem 68: 889–895

8.

Fujita M, Tominaga M, Hori A, Therrien B (2005) Acc Chem Res 33:369

9.

Menozzi E, Busi M, Massera C, Ugozzoli F, Zuccaccia D, Macchioni A, Dalcanale E (2006) J Org Chem 71:2617

10.

Wriedt M, Yakovenko AA, Halder GJ, Prosvirin AV, Dunbar KRM, Zhou HC (2013) J Am Chem Soc 135:4040–4050

11.

Wriedt M, Sculley JP, Yakovenko AA, Ma YG, Halder GJ, Balbuena PB, Zhou HC (2012) Angew Chem Int Ed 51:9804–9808

12.

Zou JH, Chen DY, Yang GW, Li QY, Yang J, Shen L (2015) RSC Adv 5:27887–27890

13.

Chen WB, Qiu YX, Lin XM, Yang M, Yan H, Gao FX, Yang ZJO, Dong W (2013) J Coord Chem 66(10):1700–1708

14.

Li QY, Tian H, Li XY, Zou JH, Mei GD, Qiu LJ, Wei B, Yang GW (2015) RSC Adv. 5:43741–43749

15.

Yang GW, Zhang FF, Wu Q, Cao MJ, Bai Y, Li QY, Wei B, Zou JH (2015) RSC Adv 5:84439–84445

16.

Auriga CrystalClear (2005) Rigaku Corporation. Tokyo, Japan

17.

Sheldrick GM (1997) SHELXS-97, program for solution of crystal structures. University of Gottingen, Germany

18.

Sheldrick GM, SHELXL-97 (1997) SHELXL-97, program for refinement of crystal structures. University of Gottingen, Germany

19.

Yang GW, He MH, Shen W, Li QY, Shen L, Yang J (2012) J Chem Crystallogr 42:721–726

20.

Zhu P, Li HM (2011) J Mol Struct 992:106–110

21.

Zou JH, Tian H, Wang Z, Li FS, Zhang FF, Zhao LY, Zhang P, Zhu DL, Yang GW, Li QY (2014) Z Anorg Allg Chem 640:2566–2570

22.

Wang BJ, Zou JH, Li WX, Wang Z, Xu B, Li S, Zhai YS, Zhu DL, Li QY, Yang GW (2014) J Organomet Chem 749:428–432

23.

Li X, Wu BL, Niu CY, Niu YY, Zhang HY (2009) Cryst Growth Des 9:3423

24.

Wua MF, Zheng FK, Xu G, Wua AQ, Li Y, Chen HF, Guo SP, Chen F, Liu ZF, Guo GC, Huang JS (2010) Inorg Chem Commun 13:250
Acknowledgments
The authors acknowledge financial support from the Natural Science Foundation of Jiangsu Province (Grant No. BK2012210), the Natural Science Foundation of the Jiangsu Higher Education Institutions of China(Grant No. 10KJB430001) and the Opening Fund of Jiangsu Key Laboratory of Advanced Functional Materials (Grant No. 12KFJJ010).
About this article
Cite this article
Shen, L., Cao, M.J., Zhang, F.F. et al. Three new manganese(II) coordination complexes based on tetrazole carboxylate ligands. Transition Met Chem 41, 125–131 (2016). https://doi.org/10.1007/s11243-015-0003-6
Received:

Accepted:

Published:

Issue Date:
Keywords
Carboxylate Group

Tridentate Ligand

Supramolecular Network

Pyridyl Ring

Triacetic Acid